The 75 Best Twitter Accounts of 2012
Page 3 of 3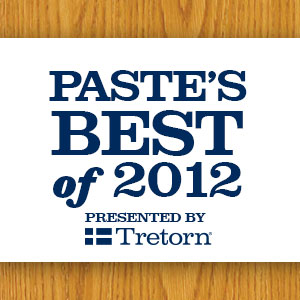 There are different kinds of exceptional when it comes to Twitter, from the perfectly crafted zingers of Tim Siedell to Arjun Basu's short stories that says way more than 140 characters should be able to say. The comedians, actors, musicians and others on this list have mastered the art of brevity. The fake accounts are the rare ones who manage to go deeper than the simple joke of their existence. Some, like TweenHobo and NotTildaSwinton have become characters in their own right. And HumbleBrag has identified one of the medium's most satire-worthy trends (and turned it into a book deal). Here are our 75 favorite Twitter Accounts of 2012.


25. Conan O'Brien – @conanobrien
Twitter Bio: The voice of the people. Sorry, people.
Followers: 7.3 million
Best Recent Tweet: Me loudly singing "Oklahoma!" is just as accurate as a Breathalyzer.
Runner-Up: In order to justify eating veal, I just pretend the calf was funnier than me.


24. Ken Jennings – @KenJennings
Twitter Bio: Ken Jennings is the author of the new book Because I Said So! Your grandma loves/hates him because he was on Jeopardy! for a long time.
Followers: 103k
Best Recent Tweet: what if Eeyore recorded an album but everyone was all "is this the new Magnetic Fields?" & he got bummed & hanged himself w/ his own tail
Runner-Up: Rationally, I now understand that my parents were always Santa, but I still don't get how they made it to all those houses in one night.


23. Jon Wurster – @JonWurster
Twitter Bio: It's nice to be nice to the nice.
Followers: 29k
Best Recent Tweet: Can anyone confirm this thing I just heard about Instagram selling our photos to Obama so he can pick out who goes before the death panels?
Runner-Up: If Vince Lombardi was alive now & saw how many players have dreadlocks I am positive he'd say, "Is this the NFL or a Steel Pulse concert?"


22. B.J. Novak – @bjnovak
Twitter Bio: One time Larry David was seated at a table behind me at a restaurant
Followers: 347k
Best Recent Tweet: I am working on a book of advice aimed at Steve Harvey.
Runner-Up: do you think the pope is super proud of father john misty


21. Fake AP Stylebook – @fakeapstylebook
Twitter Bio: Style tips for proper writing. contact: fakeapstylebook at gmail dot com. No submissions, please. All material copyright The Bureau Chiefs, LLC.
Followers: 303k
Best Recent Tweet: If you wrote a column making a hilariously incorrect election prediction, an apology or resignat—ha ha just kidding, it's cool.
Runner-Up: Do not bracket nonrestrictive phrases with commas. Nonrestrictive phrases yearn to be free and feel the wind in their hair.


20. Sammy Rhodes – @prodigalsam
Twitter Bio: I would unfollow myself if I could.
Followers: 42k
Best Recent Tweet: These new Instagram filters are amazing if you want to know what food looked like in the 60's.
Runner-Up: Saw a Vespa crash into a Toyota Prius today. There was glitter everywhere.


19. Alec Sulkin – @thesulk
Twitter Bio: Breaker of Swift Mustache Hairs
Followers: 492k
Best Recent Tweet: I can tweet puns if I want because I'm a groan man.
Runner-Up: Remember, to thine own self be true. To everyone else, be an astronaut.


18. Brendan O'Hare – @brendohare
Twitter Bio: I just started college and it's whatever and I like comedy things and I am the lead singer of the music band N*Sync.
Followers: 5k
Best Recent Tweet: "We've got too many Irons in the fire." – Jeremy Irons, assessing a family reunion gone horribly wrong
Runner-Up: If you think college is the best 4 years of your life then can you help me catch the person who just threw up all in front of my door


17. Jen Statsky – @jenstatsky
Twitter Bio: Writer, Late Night with Jimmy Fallon. Lead singer, Train.
Followers: 41k
Best Recent Tweet: Woman across from me will NOT shut up about her where she works. Ugh, I hate job interviews.
Runner-Up: "Hey, pass me that flesh colored band-aid." – Robot asking for duct tape


16. Alex Baze – @bazecraze
Twitter Bio: Cynical shell. Soft, chewy center.
Followers: 55k
Best Recent Tweet: I like to think my father is looking down from heaven and smiling, but he's actually at an Indian casino with his new wife.
Runner-Up: Guns don't avoid critical thinking by leaning on tired aphorisms. People do.


15. John Roderick – @johnroderick
Twitter Bio: Singer of The Long Winters.
Followers: 22k
Best Recent Tweet: I had to go deep into the farthest recesses of Uniqlo, through canyons of pink jeans with 29" waists, to find the cavern of lost dad-khakis.
Runner-Up: Pot is legal in Washington now. Middle-aged Seattle bohemians need to find a new inconsequential law to break to stay edgy.

14. Mike Birbiglia – @birbigs
Twitter Bio: History always retweets itself.
Followers: 208k
Best Recent Tweet: The Rolling Stones are finally hanging up their skin.
Runner-Up: Great art makes you feel less alone. Twitter's totally like, "you're alone, bro."


13. The Mountain Goats – @mountain_goats
Twitter Bio: born howling
Followers: 57k
Best Recent Tweet: I guess the oft-cited remark of Lady Astor is really true: the bassist for this one Italian black metal band is completely sick
Runner-Up: everybody keeps talking about new industry models so I hid 8 new songs on a chip in Big Mouth Billy Basses around the country. happy hunting



12. Jim Gaffigan – @jimgaffigan
Twitter Bio: Husband to hot wife, father of 5, comedian, actor, writer, former sleeper Dad is Fat available for pre order now
Followers: 1.4 million
Best Recent Tweet: Boy, babies sure don't like wasabi.
Runner-Up: Why do the people that work in coffee shops always seem like the ones that need caffeine?


11. Guy Endore-Kaiser – @GuyEndoreKaiser
Twitter Bio: Wilfred, FX
Followers: 53k
Best Recent Tweet: Are you spectacularly unfunny? But have heard the way funny people talk? Ever considered a career in morning radio?
Runner-Up: How come they can send a lifeless, unfeeling robot to Mars, but that lifeless, unfeeling robot can't be @AnnCoulter?



10. Tween Hobo – @tweenhobo
Twitter Bio: I'm only twelve, but I'm a hard twelve. (© Tween Hobo, 2012)
Railroad to Bieberville · http://believermag.tumblr.com/post/24478422614/review-tweenhobo#notes
Followers: 10k
Best Recent Tweet: As a gun-owning child my heart goes out to all the senators who are too scared to talk to the press
Runner-Up: Kids should have guns. Teachers should have guns. I should have a falcon. We should live on a desolate war-torn planet. Eyes shld be lasers.
In 140 characters: An example of character-driven humor, perfect for Twitter.


9. Stephen Colbert – @StephenAtHome
Twitter Bio: http://www.ColbertNation.com
Followers: 2.8m
Best Recent Tweet: I love Xmas decorations! I spray all my windows with fake frost, including my windshield. Apologies to everyone I hit on my way 2 work.
Runner-Up: Trapped Andy Serkis in a damp cave under my studio. He seems happy.
In 140 characters: Each guest on his show gets an almost-always-hilarious introductory joke.


8. Sixth Form Poet – @sixthformpoet
Twitter Bio: Please buy my book, I owe people money.
Followers: 61k
Best Recent Tweet: "I just want sex, no strings attached." – Deluded puppet
Runner-Up: When people cry for help, it's normally just a cry for help.
In 140 characters: Bone-dry humor from across the Pond.


7. Kelly Oxford – @kellyoxford
Twitter Bio: Writer. Designed to make you feel like everything is going well. I am your Perestroika.
Followers: 426k
Best Recent Tweet: When the kids are being too loud I tell them their faces went through my vagina and then they shut up and run away.
Runner-Up: Son yelled, "This Hobo has a cell phone? Who's he talking to?!" beside a hobo on a cell phone, so I don't have to see anything else today.
In 140 characters: An early rise to fame on Twitter thanks to personal, hilarious stories from everyday life.


6. Michael Ian Black – @michaelianblack
Twitter Bio: I make stuff, actually I make up stuff, stories mostly, collaborations of thoughts, dreams, and actions. Thats me.
Followers: 1.8 million
Best Recent Tweet: One man thought "Let's name the band Spandau Ballet" and four other men agreed.
Runner-Up: Is the end of the world the same time for both coasts?
In 140 characters: A glimpse into the brain of one of our most creative funnymen.


5. Modern Seinfeld – @seinfeldtoday
Twitter Bio: What if Seinfeld was still on the air? (Tweets by @BuzzFeedJack and @JoshGondelman.)
Followers: 213k
Best Recent Tweet: George is caught in his underwear on Google Street View. Jerry is convinced that Dr. Zizmor is a fraud. Elaine is accused of dog racism.
Runner-Up: George's parents claim their house was destroyed by "Sandy," move in with George. He discovers the house is fine. Sandy is a loud neighbor.
In 140 characters: Plotlines for a modern-day Seinfeld.


4. Tim Siedell – @badbanana
Twitter Bio: Sometimes I just want to give it all up and become a handsome billionaire.
Followers: 634k
Best Recent Tweet: I'll wait for the American version of The Hobbit starring John Krasinski.
Runner-Up: The world's oldest person has died. As is often the case, I assume she lost a knife fight with the second oldest person.
In 140 characters: Highest batting average of anyone trying to be funny in their tweets.


3. Patton Oswalt – @pattonoswalt
Twitter Bio: Mr. Oswalt is a former wedding deejay from Northern Virginia.
Followers: 1.1 million
Best Recent Tweet: Wait, which one of The Eagles flew off with a baby? Don Henley, right? I mean, that's CLASSIC Henley right there.
Runner-Up: "Well, this was a gimme." — whoever has to title the porn version of PACIFIC RIM
In 140 characters: Actor, comedian, Twitter genius.


2. Jenny Johnson – @JennyJohnsonHi5
Twitter Bio: Writer, wife, asshole and owner of 2 dogs. http://www.witstream.com/#jenny_johnson Follow me on Instagram: jennyjohnsonhi5
Followers: 366k
Best Recent Tweet: I thought by the time I was a successful 34-year old adult, I'd be tired of putting people's yard reindeers in sex positions. I was wrong.
Runner-Up: Most people don't realize this, but you can eat organic, gluten-free food without telling everyone around you.
In 140 characters: Unfiltered witticisms from Chris Brown's nemesis.



1. Rob Delaney – @robdelaney
Twitter Bio: Comedian, Writer, 6'3 217 lbs. Get ROB DELANEY LIVE at the BOWERY BALLROOM at http://itun.es/us/rHlqI
Followers: 694k
Best Recent Tweet: Secret Santa one time my cousin Tim & I touched penis heads. (How does Secret Santa work?)m
Runner-Up: Type 2 diabetes. RT @McDonalds What is the perfect # of McNuggets – 6, 10, 20 or unlimited?
In 140 characters: If anyone is going to make you blush on Twitter, Rob Delaney is trying his best to be that guy. There is no "too far."

Follow PasteMagazine and Josh Jackson on Twitter.
Others Tagged With