The 10 Best New Beers of 2012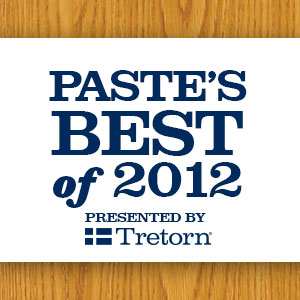 Paste's Best of 2012 series continues through Dec. 31 and is made possible by our friends at Tretorn.
The number of micro and craft breweries in the U.S. passed 1,000 in 2012 according to Brewers Association. Add to that more than 1,000 brewpubs, and you've got a lot of new beer releases coming out in America alone. In trying to keep up with the lastest—with a lot of help from folks at Athens, Ga.'s Trappeze Pub and Atlanta's Hop City—we've stumbled upon some great ones. Here are our 10 favorite new American beers of 2012. Let us know your favorites in the comments section below.


10. Stone 16th Anniversary Ale
City: San Diego, Calif.
Style: Imperial IPA
ABV: 10%
Few breweries do hoppy beers as well as Stone, and for its 16th anniversary it created a giant, hoppy double IPA with a rye malt twist. Amarillo and Calypso hops give it a citrus-y flavor. And European malts gives it a boozy boost. It's a complex and flavorful combination.


9. Oskar Blues Deviant Dale's IPA
City: Longmont, Colo.
Style: Imperial IPA
ABV: 8%
We've long been fans of Dale's Pale Ale—enough so that a few million of the cans had the Paste logo on it a few years back. This year, the folks at Oskar Blues doubled-down on their flagship IPA, putting an 8% imperial version in tallboy cans. Plenty of malts and a ridiculous amount of hops make it a powerful, citrus-flavored ale.


8. Avery Odio Equum
City: Boulder, Colo.
Style: Farmhouse Ale
ABV: 7.1%
This fall release is #13 in Avery's barrel-aged series. It's a really nice sour ale brewed with red raspberries and wild yeast strains and aged for a full year in Cabernet Sauvignon barrels. If you're not afraid of sour beers, this is an American entry of the style worth tasting.


7. Brash Item Nine Ale
City: Ipswich, Mass.
Style: Wheat Ale
ABV: 9%
The only contract-brewed beer on the list is from the new kids at Brash Beer Company, brewing at Ipswich Ale Brewery. It's a wheat ale that tastes a lot like a hop bomb of a double IPA, but it's really something unique. Brash says it's the best wheat beer in the world, and we can't think of a good argument against that claim.


6. 21st Amendment Marooned On Hog Island
City: San Francisco
Style: Stout
ABV: 7.9%
This beer is a collaboration with the Hog Island Oyster Company and is brewed with 450 pounds of Sweetwater oyster shells. Of course, it's not the first oyster beer—that's a tradition that dates back to New Zealand in the 1920s. It's a tradition that surprisingly works. The seafood flavor is noticeable but subtle—it tastes like beer—really good beer. A perfect compliment to your next seafood dinner.


5. Samuel Smiths Organic Chocolate Stout
City: Tadcaster, England
Style: Stout
ABV: 5%
There are subtle chocolate beers and there are syrupy sweet chocolate beers. Then there's Samuel Smith's new chocolate beer, which is anything but subtle, but doesn't just taste like someone poured in half a bottle of Hershey's Syrup. It doesn't hurt that Sam Smith knows how to make a great stout to begin with, and the roasted organic chocolate just makes it taste like a rich, creamy dessert.


4. Timmermans Pumpkin Lambicus
City: Brussels, Belgium
Style: Fruit beer/lambic
ABV: 4%
Timmermans may be the oldest Lambic brewer in the world, but that doesn't mean they're resting on tradition. The 310-year-old brewery released the brand new pumpkin Lambic this past fall using the same centuries-old process with only wild yeasts native to the Senne Valley. A pumpkin-flavored Lambic doesn't sound like something that should work, but the result is as delicious as it is unusual.


3. Cigar City Cucumber Saison
City: Tampa, Fla.
Style: Saison
ABV: 5%
Available:
Cucumbers have long been a part of cocktail tradition, but this was an inspired recipe from Florida's best brewery. The cucumber flavor is prominent in this farmhouse ale, creating a surprisingly good flavor. Brewed with Citra and Sorachi Ace hops, it's the perfect beer to cool off a hot Tampa summer.


2. The Bruery 5 Golden Rings
City: Placentia, Calif.
Style: Belgian-style Golden
ABV: 11.5%
Different hops can give off pineapple notes, but the Bruery isn't that subtle. "The fifth verse" of its "12 Beers of Christmas" series is actually brewed with pineapple juice and spices resulting in a sweet, flavorful Christmas treat. Unfiltered and bottle-conditioned, it's also a good candidate for your beer cellar and celebrated with Christmases future.


1. Clown Shoes Porcine Unidragon
City: Ipswich, Mass.
Style: Russian Imperial Stout
ABV: 12.5%
I understand if you have a thing against clowns. They're kinda creepy, and that most famous clown, Ronny McD, doesn't exactly represent "quality." But this Massachusetts brewery almost redeems clowns for me, especially with their awesomely named Porcine Unidragon, a monstrously big stout aged in bourbon barrels. The picture of a black half-unicorn, half-dragon chasing a frightened pig on the label doesn't over-promise. Made with Beechwood-smoked malts, the Unidragon delivers.

Others Tagged With