The 30 Best Dwight Schrute Quotes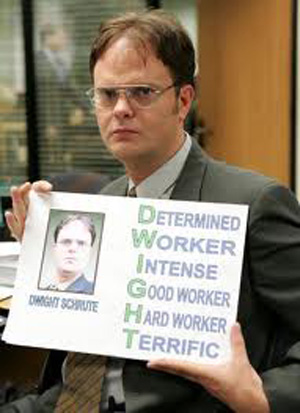 Page 1 of 3
Dwight Schrute is undoubtedly one of television's most interesting characters. And although this will be the last season of The Office, we have probably learned more from Dwight in the nine-season run of the show than all our years in school combined. While this knowledge is not always useful, if we're ever on a beet farm, dueling a coworker over a girl, or the assistant (to the) regional manager of a paper company, we'll have Dwight to thank for our preparedness.
The writers gave us a character with ridiculous logic and principles; Rainn Wilson provided the perfect cadence and delivery. The result: an unprecedented TV character with hundreds of quotable lines.
No easy task, but we've pared it down to our favorite 30 Dwight quotes here.
30. Loyalty
"Would I ever leave this company? Look, I'm all about loyalty. In fact, I feel like part of what I'm being paid for here is my loyalty. But if there were somewhere else that valued loyalty more highly… I'm going wherever they value loyalty the most."
29. Speed Scale
"I am fast. To give you a reference point I am somewhere between a snake and a mongoose… And a panther."
28. Security
"Security in this office park is a joke. Last year I came to work with my spud-gun in a duffel bag. I sat at my desk all day with a rifle that shoots potatoes at 60 pounds per square inch. Can you imagine if I was deranged?"
27. Every Position
"I grew up on a farm. I have seen animals having sex in every position imaginable. Goat on chicken. Chicken on goat. Couple of chickens doing a goat, couple of pigs watching."
26. Superior Brain Power
"Through concentration, I can raise and lower my cholesterol at will."
25. A Long Line of Fighters
"I come from a long line of fighters. My maternal grandfather was the toughest guy I ever knew. World War II veteran, killed twenty men, and spent the rest of the war in an Allied prison camp. My father battled blood pressure and obesity all his life. Different kind of fight."
24. Dwight Surveillance
As a volunteer Sheriff's Deputy I've been doing surveillance for years. One time I suspected an ex-girlfriend of mine of cheating on me, so I tailed her for six nights straight. Turns out… she was. With a couple of guys actually, so… mystery solved.
23. Friends
"And I did not become a Lackawanna County volunteer sheriff's deputy to make friends. And by the way, I haven't."
22. Pull the Plug
"As a farmer I know that when an animal is sick sometimes the right thing to do is put it out of its misery. With the electricity we are using to keep Meredith alive, we could power a small fan for two days. You tell me what's unethical."
21. Second Life
"I signed up for Second Life about a year ago. Back then, my life was so great that I literally wanted a second one. Absolutely everything was the same…except I could fly."
Others Tagged With