10 Great Film-Inspired Prints
It's time to strip those plain, ol' movie posters off the wall and replace them with something a little more creative—like a print of Bill Murray's various hats or a selection of movie characters in 8-bit style. These prints are pretty awesome and fancy enough to make a cozy spot on the highest-brow of dwellings. Scroll to the bottom to see a full gallery of prints, and don't miss our 10 Great Music-Inspired Prints.
1. Dancing Plague of 1518
Brazilian designer Niege Borges' Dancing Plague of 1518 is a series of movie posters illustrating some of film history's most iconic dance sequences. He explains on his website, "In 1518, a bunch of people from a French town called Stransbourg were affected by something called dancing mania." His posters pay homage that incident, which grew to a reported 400 people who danced for several days. Monty Python, Risky Business and Little Miss Sunshine are just a few of the films featured in the series. You can view them all on the Dancing Plague of 1518 blog.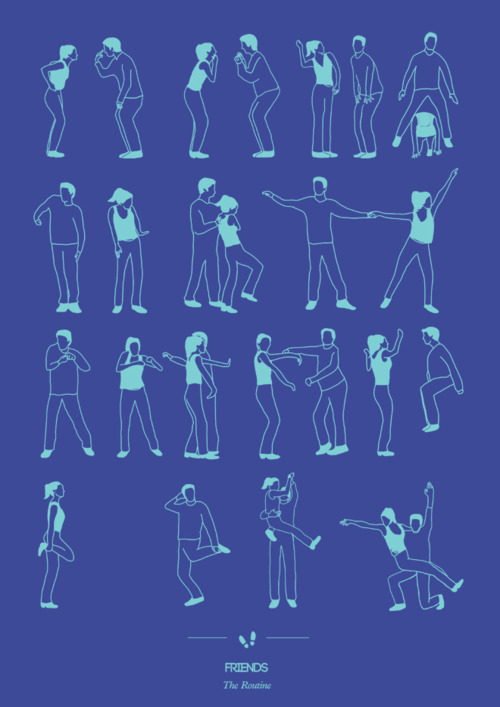 2. A Visual Compendium of Notable Haircuts in Hollywood
PopChart Lab gets a nod once again. We love their prints and this compendium of Hollywood haircuts is no exception. It features some of our favorite celebrity and character coiffures. Let's be honest, One Hundred and One Dalmatians would be nothing without Cruella Deville's untamed mane, and nobody wants to imagine a hairless Chewbacca.

3. Bill Murray
Pop-culture illustrator Derek Eads has a series of prints honoring the one and only Bill Murray. His Murrays print features cartoon renderings of the man himself as his most famous characters. The Bill's Hat Collection poster is an aggregation of the hats worn by the actor in his various roles from Carl Spackler's bucket hat to Steve Zissou's red beanie.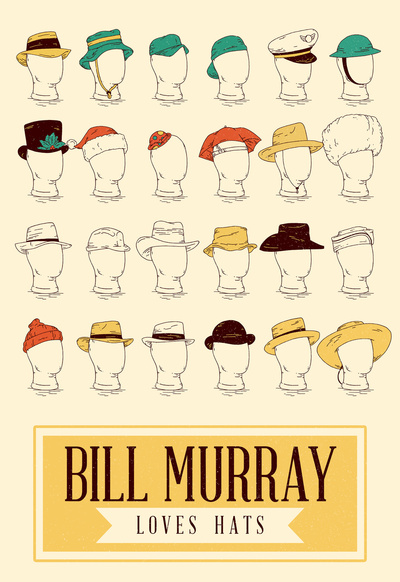 4. 8-Bit Characters
Australian illustrator Fitz Fitzpatrick's 8-bit movie posters are as retro as the films featured in the series. Aliens, Back to the Future, Star Wars and Monty Python are just a few of the 8-bit depictions.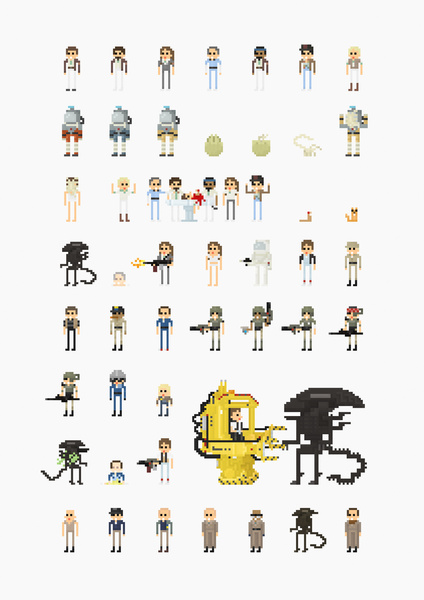 5. People Who Wear Stripes
Simply put, this is a poster of people who wear stripes. Several of those people happen to be film characters like the Lollipop Guild, Timmy from Jurassic Park, Rocky and Harry Potter. Noelle Stevenson created the illustration for an assignment while she was a student at the Maryland Institute College of Art.
6. Movie Capsules
Greg Guillemin's capsule prints are more than posters; they're pop-culture guessing games and viral sensations. His Famous Capsules print rose to popularity on Reddit, with Redditors working collaboratively to compile an answer key. His Movie Capsules print zeros in on some of the most famous characters in film. How many can you recognize?
7. Group Portraits
Italian artist Ale Giorgini's poster series showcases some of the greatest cult classics in film. His group portraits feature a who's who of the characters in films like The Big Lebowski, Pulp Fiction and The Goonies.
8. Iconic Icons
Maxime Pecourt's movie poster series is all about icons on icons on icons. Magic carpets, minaret, and swords are just a few of the images within the genie bottle on his Aladdin poster. The Matrix poster features a dangling phone made from sunglasses, a red pill, and guns…lots and lots of guns.
9. Wes Anderson Triptych
Alan Segama created this ode to Wes Anderson's films for a thesis project. His triptych posters were created using only vector graphics and feature The Royal Tenenbaums, The Life Aquatic and The Darjeeling Limited.
10. Minimalist Lord of the Rings and The Hobbit
Lord of the Rings is a film trilogy that is anything but minimalist, yet that's exactly what Adam James' collection of posters for the series are. There's one poster for each of the three films, as well as The Hobbit. The posters feature recognizable iconography from each of the films.
Others Tagged With