Few things go together like drinking beer and listening to music. We're even combining beer and music for a series of festivals this year. It's a combination so universal, it's no wonder why brewers like to have their beverages associated with their customers' favorite bands and artists. Some have even brewed beers with the style and artistry of these musicians in mind.
So crack open a cold one and check out these 10 music-inspired beers.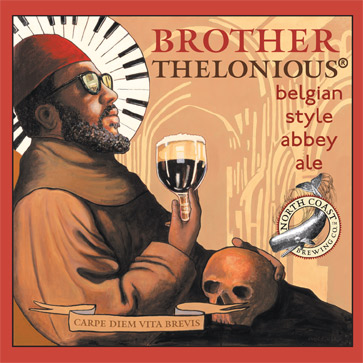 1. North Coast Brewing Co.'s Brother Thelonious Belgian Style Abbey Ale
California's North Coast Brewing Co. not only brewed a beer inspired by the legendary jazz pianist, but the brewer donated a portion of the proceeds from the sale of each bottle of the ale to the Thelonious Monk Institute of Jazz, an organization that supports jazz education. This Belgian-style Abbey ale boasts a strong ABV of 9.3% and is known to be sweet with a spicy kick. Raisins, bananas and apples are among some of its tasting notes.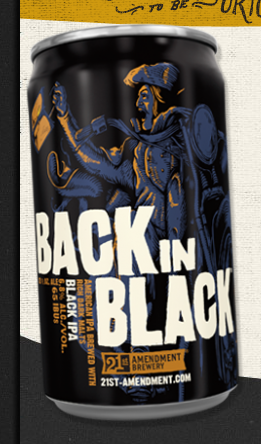 2. 21st Amendment Brewery's Back in Black IPA
The beer itself was actually inspired by Paul Revere and his historic midnight ride. But we couldn't ignore the obvious reference to Australian rock band AC/DC emblazoned on their label. They named it "Back in Black" after the band's hit song in 1980, for goodness sake. The Back in Black IPA was brewed the beer in the American IPA-style in honor of Revere. Brewed with Centennial and Columbus flavor hops and four different malts, the Back in Black IPA is, according to 21st Amendment, midnight black in color with an ABV of 6.8%.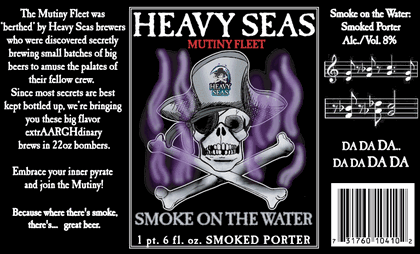 3. Heavy Seas's Smoke on the Water Porter
Though there's a giant skull-and-cross-bones emblem on the label, there's no doubt that Heavy Seas' Smoke on the Water Porter is inspired by Deep Purple's 1973 hit "Smoke on the Water." From the partial printing of the song's sheet music on its label to the smoked malts used to brew the beer itself, the British rock band's song is all over this Heavy Seas smoked porter. Along with an ABV of 8.0%, Heavy Seas' Smoke on the Water Porter is mostly known for its chocolate, soy sauce and mildly smoky tasting notes.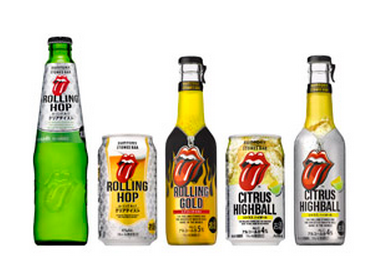 4. Suntory Liquors Limited's Stones Bar Rolling Hop
As part of a series of Rolling Stones-inspired alcoholic products, Suntory Liquors' Stones Bar Rolling Hop was released in Japan in June of last year. The beer's reference to music is most prominently on its label with The Rolling Stones' famous "Lips & Tongue" icon monogrammed on the front. Stones Bar Rolling Hop beer has a 4% ABV and has a citrus aroma with a clean yet bubbly finish.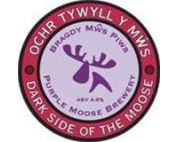 5 Purple Moose Brewery's Dark Side of the Moose.
One of the greatest albums of all time deserves to have nothing short of an award-winning namesake beer. And Welsh-brewer Purple Moose Brewery did not disappoint. This dark ale has won 25 awards just over the last seven years, most recently taking bronze and silver medals in the 2013 CAMRA Champion Winter Beer of Britain Competition and the 2012 International Beer Challenge, respectively. Brewed with roasted barley and Bramling Cross hops, this Pink Floyd-inspired dark ale has an ABV of 4.6%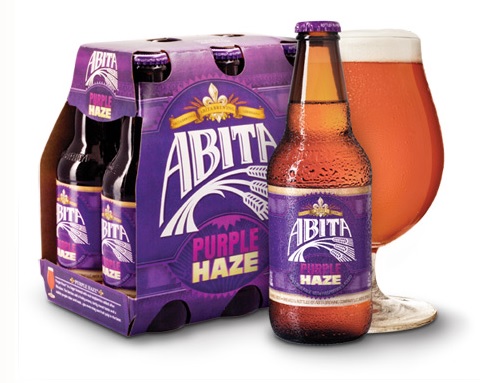 6. Abita Brewery's Purple Haze
The name of this Abita Brewery lager is a nod to the brewery's post-filtration use of berries in the brewing, the beer's slight purple color and haze, and the 1967 song by Jimi Hendrix of the same name. In addition to raspberries, the Purple Haze lager is brewed with Vanguard hops and pilsner and wheat malts. Its fruity, sweet flavor often lends well to being used as a dessert beer by drinkers who often pair the lager with chocolate, chiffon cakes or mascarpone-based desserts. Abita Brewery's Purple Haze lager has an ABV of 4.2%.
7. Terrapin Brewery's So Fresh and So Green, Green Ale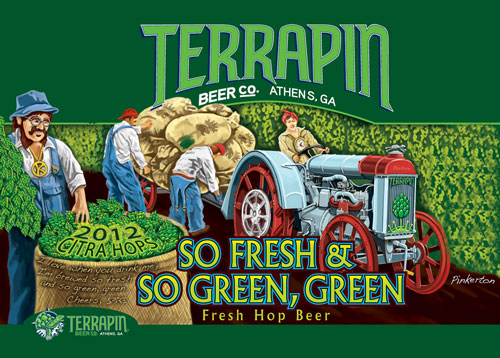 Terrapin Brewery's So Fresh and So Green, Green Ale is the only hip-hop inspired beer on this list. The Athens, Ga.-based brewery's ale gets it's name from the Atlanta rap duo Outkast. So Fresh and So Green, Green is a reference to Outkast's 2001 song "So Fresh, So Clean." The "green" in Terrapin's So Fresh and So Green, Green Ale is the use of fresh, green "wet hops" in the brewing of this ale. The hops varietal used is different every year. Last year, Citra hops were used in addition to three kinds of malts. Terrapin's Outkast-inspired ale has an ABV of 6.6%.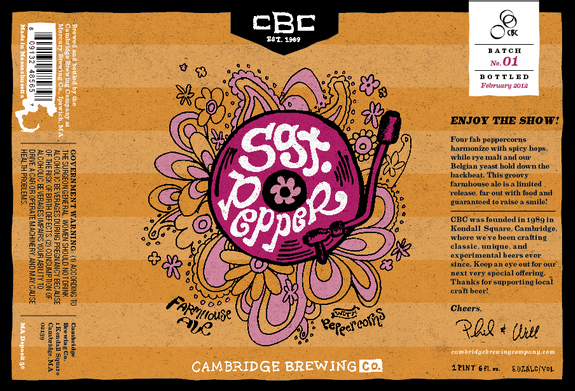 8. Sgt. Pepper Farmhouse Ale by Cambridge Brewing Company
Cambridge Brewing Company's Sgt. Pepper beer is both a reference to the brewer's use of peppercorns in the brewing of Sgt. Pepper and the iconic 1967 Beatles' album Sgt. Pepper's Lonely Hearts Club Band. The influence of the Fab Four is seen throughout this farmhouse: from the psychedelic, flower-power-infused design on its label to the actual inclusion of four different kinds of peppercorns in the beer to "harmonize with spicy hops while the malted rye and our Belgian yeast hold down the backbeat." Cambridge Brewing Co.'s Sgt. Pepper is made with Magnum and Spalter hops and three kinds of malts. This Beatles-inspired farmhouse ale has an ABV of 6.0%.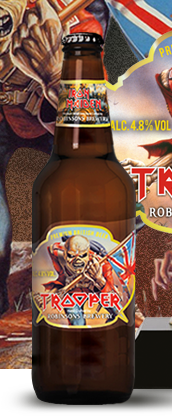 9. Iron Maiden and Robinsons Brewery's The Trooper
This beer wasn't just inspired by Iron Maiden, it was co-designed by the English heavy metal band. The Trooper was brewed by Robinsons Brewery and named after Iron Maiden's 1983 single "The Trooper." Iron Maiden's influence in this beer runs so deep that even the label features a figure charging ahead with a tattered Union Jack flag, just like the flag, Maiden vocalist Bruce Dickinson is known to wield during Iron Maiden concerts, according to a press release. The Trooper is brewed with Cascade, Bobec, and Goldings hops, is known to feature citrus tasting notes, and has an ABV of 4.7%.


10. Dogfish Head Craft Brewery's Faithfull Ale
No brewery has been more committed to music than Dogfish Head. The Delaware brewery has released a whole music series, paying tribute to the likes of Miles Davis, The Grateful Dead, Deltron 3030, Robert Johnson and, in celebration of the band's 20th band anniversary (and that of its debut album Ten), Pearl Jam. In 2011, Dogfish Head Craft Brewery released a Belgian-style golden ale called Faithfull (a reference to Pearl Jam's 1998 song of the same name). The beer's label has the band's name featured prominently on the front and a nod to Pearl Jam's 20-year success. The beer itself was brewed with black currants and has an ABV of 7.0%.
Others Tagged With