The 12 Best New TV Shows of 2013 (So Far)
Great shows can now be found in a number of different corners of the TV landscape. Our dozen favorite new TV series of 2013 so far come from 10 different networks—including happy surprises from Netflix, The History Channel and BBC America. With more promising debuts on the horizon (Showtime's Ray Donovan, HBO's American Gods, ABC's S.H.I.E.L.D., NBC's Believe and The Sixth Gun), 2013 looks to be a very good year for television.
The seven dramas and five comedies below don't include any new traditional sitcoms, though we're holding out a sliver of hope for Fox's How To Live With Your Parents (For the Rest of Your Life). But so far, it's parody shows and thrillers that are leading the way.
(All times noted below are EST)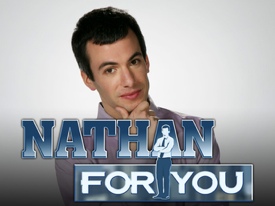 12. Nathan For You
Comedy Central
Thursdays, 10:30 pm
Nathan For You is a show that has a simple premise, star Nathan Fielder goes to various businesses and helps them improve in any way he can, but it's the level of intricacy and shock that makes Nathan For You the funniest new show this year. Nathan's ideas are both brilliant and stupid at the same time, and Nathan is incredible at utilizing real-world reactions to fit into whatever story and scheme he is going for and evolving it to a much funnier premise than he even began with. An idea for discount gas can lead to Nathan on top of a mountain learning the health benefits of drinking your own pee, or a "8 Minutes or Less" pizza guarantee leaves Nathan bonding with a pizza delivery guy over their poor success with women. Nathan For You is ridiculously hilarious, always surprising and one of the most enjoyable and original shows in years.—Ross Bonaime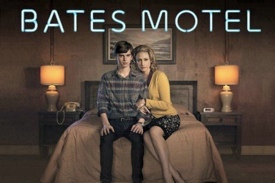 11. Bates Motel
A&E
Mondays, 10 pm
Telling the origin story of one of cinema's greatest villains of all time, Norman Bates, is a tricky situation to navigate. Bates Motel is a modern take on the Psycho psycho, with Freddie Highmore as the teenage Bates and Vera Farmiga as mother Norma. The town, his family and his past all add to the mental deconstruction of Norman as he fights the weird happenings in his mind and grows accustomed to his new home at the Bates Motel. In its first four episodes, Bates Motel still hasn't quite nailed the terror of the Bates family, but this slow build into the character that has caused horror for decades is one that is worth sticking with so far.—Ross Bonaime

10. Out There
IFC
Fridays, 10 pm
The characters may be strange-looking furry animals, but the stories of Out Thereare all too human. Created by Ryan Quincy—lead animator for South Park—the show has a gentler heart, as two outcasts navigate small-town adolescence. Quincy voices the lead, Chad Stevens, and Justin Roiland is his best friend Chris Novak. The pair cope with struggles at school and home, where Chris is plagued by his mother's deadbeat hippie boyfriend Terry, voiced by Fred Armisen. Megan Mullally and Linda Cardellini round out the cast in an adult cartoon that never feels gratuitous in its search for a laugh.—Josh Jackson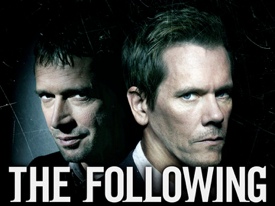 9. The Following
Fox
Mondays, 9pm
There have been a lot of serial-killer shows cropping up in 2013, and the first to hit the airwaves remains one of the best. The Following had a lot of anticipation surrounding it ever since creator Kevin Williamson (<iScream) announced he nabbed Kevin Bacon for the actor's first starring role on television. The series is certainly about death, but it's about more than murder. Bacon's Ryan Hardy is a broken former FBI agent who is forever linked with the sociopath Joe Carroll (James Purefoy). Years ago Hardy captured Carroll after the professor killed 14 of his coed students. Now the killer has escaped thanks to his loyal followers. Carroll's cult follows his off-kilter ideology, which is based off of his obsession with Edgar Allen Poe. The gothic overtones allow for crafty and omniscient cinematography coupled with a killer soundtrack. While all of those are undeniably on point, it's really Bacon and Purefoy, along with a superb supporting cast including Natalie Zea, Shawn Ashmore. These stars are joined by a slew of newcomers playing cult members that force viewers to sympathize with them one second, before realizing how grotesque their actions are. This show certainly has the entire package and has already built a loyal fan-base almost as dedicated as Carroll's followers.—Adam Vitcavage

8. Legit
FX
Thursdays, 10:30 pm
On the outside, Legit looks like a show about Australian comedian Jim Jefferies doing and saying whatever he feels like, regardless of the effect on the world around him. But we've seen that type of show before and Jefferies knows it. Instead, Legit has Jefferies trying to better himself and his friends, even when his activities might be unsavory. In the pilot, Billy, played by DJ Qualls, wants Jefferies to help him have sex with a woman for the first time, since he has been stricken with muscular dystrophy. Jefferies takes Billy to a brothel, which comes off as more empathetic than lurid. There's a darkness and griminess to Legit, but it all surprisingly comes from a place with heart and caring.—Ross Bonaime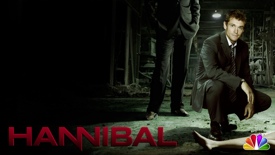 7. Hannibal
NBC
Thursdays, 10 pm
It's so easy to be cynical when it comes to our entertainment. The past few years has seen a surge in reboots, remakes, revamps, retoolings, etc. While a few good projects slip by, the majority of them feel less like a creative revisiting of an older property and more like the result of some executives wanting to minimize financial risks with a recognizable name-brand. One could easily be convinced that NBC's Hannibal is the latter—a soulless money grab playing on our nostalgia and love of the Hannibal Lecter series and all it's psychological horror and gory glory. I'm happy to report, however, that Hannibal is not that show. In fact, it's a beautifully shot, haunting and intelligent program—probably the best Hannibal Lecter-based property since Silence of the Lambs. Adapted for TV by Pushing Daisies and Dead Like Me scribe Bryan Fuller and boasting a pilot directed by 30 Days of Night filmmaker David Slade, Hannibal has prestige written all over it. The series serves as a prequel to the 1981 Thomas Harris novel Red Dragon, with Hugh Dancy's brilliant yet troubled detective Will Graham (played by William Peterson in 1986's Manhunter and Edward Norton in 2002's Red Dragon) joining forces with the equally brilliant psychiatrist/secret people eater Dr. Lecter (Mads Mikkelsen) to pursue and capture serial killers. Dancy and Mikkelsen both (excuse the pun) kill in their roles and the show's visual styling is alternatively gorgeous and nightmare inducing.—Mark Rozeman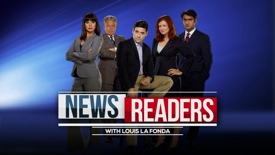 6. Newsreaders
Adult Swim
Thursdays, Midnight
At this point I've maybe watched more news parodies than actual news shows. There's been so many of them. Newsreaders might seem superfluous in a world with The Daily Show, The Colbert Report and The Onion News Network, but this Childrens Hospital spin-off fills a fake news niche that I didn't even realize was empty. Newsreaders doesn't care about the news or politics or current events—it's an absurd mockery of vacuous newsmagazines that's primarily interested in packing as many jokes into 12 minutes as possible. It's basically a sketch show with a recurring roster of correspondents played by comedy pros including Burning Love's Beth Dover and the excellent Kumail Nanjiani, with Mather Zickel's unflappable host Louis La Fonda tying everything together. Its most obvious bits are probably the best, including Alison Becker's pandering, cosplaying tech reporter (a segment that eventually twists into a zombie movie) and Ray Wise's violently angry Andy Rooney stand-in. Compared to Childrens Hospital, it's a more controlled and rigidly formatted strand of surrealism, without either the highs or lows of its more adventurous parent.—Garrett Martin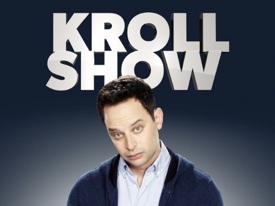 5. Kroll Show
Comedy Central
Wednesdays, 10:30 pm
For years Nick Kroll has been perfecting characters like Spanish radio DJ El Chupacabra and guido Bobby Bottleservice through his stand-up and podcast appearances, but on Kroll Show, he brings these and many other characters to television. What transpires is almost like SCTV by way of Tim and Eric, as Kroll has his hilarious characters grow, change and intermingle throughout the first season in a sketch show unlike any other on TV. It's a flurry of great ideas, brilliant comedians like John Mulaney and Jon Daly, and parody that is so busy and insane it probably shouldn't work. But all these puzzle pieces fit together perfectly in a way that makes Kroll Show one of the most unique shows of 2013.—Ross Bonaime


4. Vikings
History
Sundays, 10pm
The appeal to History's historical drama is its resemblance to Game of Thrones or Spartacus. There's brutality, sex and bloodshed, but not in copious amounts. Instead the show strives on its historical plot. And if it's slightly inaccurate, it's an entertaining and enlightening viewing experience for the casual historian (i.e. the majority of us). Vikings follows the young Ragnar Lodbrok (Travis Fimmel) as he sets out on adventures and raids across Europe. These range from a voyage to a English monastery where they slay or enslave all of the monks to a gruesome rivalry with Early Haraldson, a local chief who's hellbent on keeping power and crushing any who stand in his way. All of this takes place in locations from Ireland to Norway that will take your breath away. Sometimes you have to just sit in awe as the violence unfolds in front of such beautiful cinematography.—Adam Vitcavage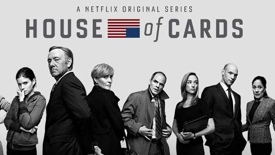 3. House of Cards
Netflix
Streaming
It's been called a gamble. It's been called a revolutionary step in television. However you look at it, House of Cards is certainly an experience that you need to witness. Whether you watch all 13 episodes in one sitting or spaced out over a few weeks, the show has an undeniable draw that will suck you in. The political thriller, starring the incomparable Kevin Spacey, is an adaptation of BBC's show of the same name. It sets out to take on drama juggernauts from HBO, Showtime and AMC; succeeding in part. The most compelling aspects of the show is Spacey's take on U.S. Representative Frank Underwood. He's able to carry scenes and sometimes entire episodes. The series focuses on Underwood's decision to cut allegiances with his party after the newly elected President Walker (Michael Gill) reneges a promise made that changes the political landscape of America. The series also stars Robin Wright as Underwood's wife Claire and Kate Mara as a journalist who bends the rules to get ahead. The show lies somewhere between the exceptionally boundary pushing Homeland and the intelligence of the early West Wing episodes. The first season proved the gamble was worth it; however, it will take a strong second season to answer whether or not it is a revolutionary leader or not.—Adam Vitcavage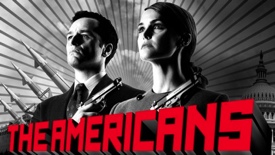 2. The Americans
FX
Wednesdays, 10pm
We're living in the golden age of the TV anti-hero—viewers are well practiced in rooting for and sympathizing with characters who are ostensibly the bad guys. But The Americans takes this notion to a whole other level. This is the Enemy with a capital "E." FX's new series transports the viewer back to the '80s when the Cold War was at its height and makes two covert Russian spies the show's protagonists. The genius of the show begins with its casting: Keri Russell and Matthew Rhys star as Philp and Elizabeth Jennings, a seemingly benign suburban couple who are actually KGB agents. That's right; the show cast two TV stars from quintessentially American shows (Felicity and Brothers & Sisters) and made them ruthless, murderous spies. Russell and Rhys are giving the performances of their careers as they defy our expectations. And Noah Emmerich's brings an eerie calm and palpable pain to the role of FBI Agent Stan Beeman. And it's a thrilling ride. Nearly every week, alliances are tested, characters commit acts of unspeakable horror and others are killed off. But, at its heart, the show isn't about the Cold War at all. It's about marriage and family which serve as a constant undercurrent to all the spy shenanigans. After finishing up its first season on May 1, the drama will return for a second season next year.—Amy Amatangelo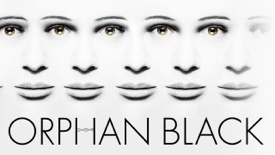 1. Orphan Black
BBC America
Saturdays, 9pm
Sci-fi television is a difficult racket. While shows like Battlestar Galactica or Fringe occasionally make good, network and cable channels alike are littered with the bodies of mediocre-to-poor projects with horrendous special effect, wooden acting or derivative (or worse, dull) plotlines, if not all three at once. In their second time at the bat with an original scripted show, BBC America appears to have hit the proverbial goldmine. The series centers on Sarah, a young delinquent who—in attempt to escape a troubling situation—decides to steal the identity of a nearby woman who commits suicide. The hook? The dead woman (named Beth) looks exactly like Sarah. Moreover, as Sarah attempts to navigate her new life as Beth, she keeps running into similar doppelgängers wherever she goes. Anchored by a phenomenal lead performance by Tatiana Maslany as Sarah/Beth, Orphan Black is the kind of high-concept, thrilling show that desperately leaves you wringing your hands in anticipation for the next installment. And unlike similar shows, whose flashy premise disguises a lack of creativity and foresight, the second episode is as compelling and only deepens the mystery and world building.—Mark Rozeman
Others Tagged With