The 20 Best Flaming Lips Songs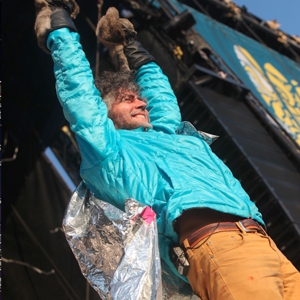 Page 1 of 2
Tomorrow, Wayne Coyne and his band of fearless freaks will unleash The Terror, their 13th studio album. While it's nearly impossible to whittle their 30-year career down to 20 tracks, we're counting down our favorites below in anticipation of the new record. Be sure to let us know your favorites in the comments section.
20. Guy Who Got a Headache and Accidentally Saves the World
Sometimes we slave away for years in pursuit of greatness, and sometimes we stumble upon it. The protagonist of this Clouds Taste Metallic track gets a migraine and "thinking that his head surely would explode, his thoughts go deeper" until he saves the world and wins the Nobel prize. That metallic flavor of those clouds? It comes from their silver lining.

19. Moth in the Incubator
"Moth in the Incubator" only clocks in at 4:12, but it still manages to squeeze in three distinct movements. We start with the sparse, spacey intro before moving into the song's driving middle, finally breaking out into a trippy jam to bring it home.

18. The Spiderbite Song
By now, we all know the legend of this Soft Bulletin track: Multi-instrumentalist Steven Drozd got bitten by a poisonous spider and nearly had to have his arm amputated, and Wayne Coyne penned this song about his bandmate's close call. But Drozd later revealed that the "spider bite" was actually an infection from shooting heroin. Today, he's clean and sober, making Coyne's declaration of "I was glad that it didn't destroy you, how sad that would be" all the more poignant.

17. Evil
"Evil" is much bleaker than most of the band's catalog, and, like much of Embryonic, it's a good indication of what we can expect on The Terror. Here, they play with the soundscape, giving us drones and darker lyrics that carry them outside their comfort zone.

16. Turn it On
This one's a feel-good anthem, an ode to being unafraid to be yourself. "Turn it on and turn it all the way up," indeed.

15. Waitin' For A Superman
A pretty melancholy number, "Waitin' For A Superman" reminds us things can sometimes get too weighty even for superheroes. "Tell everybody waiting for Superman that they should try to hold on best they can," Coyne sings. "He hasn't dropped them, forgot them or anything / It's just too heavy for Superman to lift."

14. Free Radicals
This At War With The Mystics track features a positively addictive guitar riff and the band at its most political. Donald Trump gets name-dropped (and not in a good way), and Coyne sneers "you think you're radical, but you're not so radical / In fact, you're fanatical." Preach, Wayne.

13. Five Stop Mother Superior Rain
Off of 1990's In a Priest Driven Ambulance, this song is the Flaming Lips sounding the closest they ever will to alt-country.

12. It Overtakes Me
The first words we hear on this track are Wayne Coyne saying, "You can turn it up even a little bit more," and he's right; this is one to play loud. It starts out with a funky bassline that won't quit—well, before it kinda does halfway through and the song becomes sparse and ethereal.

11. Shine On Sweet Jesus
We know we're in for a weird ride from the first few bars of this one, as carnival noises devolve into '90s fuzz.

Others Tagged With