The 25 Best Songs of 2013 (So Far)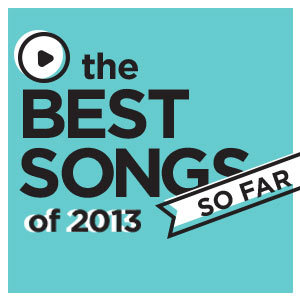 Page 1 of 2
With a quarter of the year in our rear-view mirror, it's time to take that first look at the best songs of 2013 released so far. With some passionate lobbying from the rest of the Paste staff, I've put together a playlist of 25 of my favorites. I was surprised to see how many brand new acts made my list. It's been a great year for new artists.
Not all these albums are out yet, but the singles are available online. This is by no means comprehensive—there's plenty I haven't yet heard—and it's simply based on my personal tastes. Please add your picks in the comments section, and hopefully we'll all discover a few new favorites.
25. Telekinesis – "Ghosts and Creatures"
From the album Dormarion
I'm not sure that Dormarion is the album that sees Telekinesis finally get their due, but the Doves-like choruses that sound like choirs on "Ghosts and Creatures" should certainly help.

24. Foals – "Inhaler"
From the album Holy Fire
I love the pounding low end on this song and the way it anchors the falsetto vocals of Foals' frontman Yannis Philippakes. Who else is mining the the particular caverns of post-punk where The Cult found its gold?

23. Young Summer – "Fever Dream"
I never know what to expect from Nashville's Trent Dabbs. His last project, Sugar + The Hi-Lows recalled early-'60s pop and R&B. Now, he's collaborated with Washington, D.C., singer Bobbie Allen (aka Young Summer) on an electropop gem that sounds more like Florence + The Machine.

22. Holly Williams – "Drinkin'"
Every so often I'm reminded just how good country music can be—and then depressed remembering how unlikely it'll be for country radio to actually play it.

21. Frightened Rabbit – "Late March, Death March"
From the album Pedestrian Verse
Scotland's Frightened Rabbit might be best known for emotionally climactic ballads that work well soundtracking equally emotionally climactic scenes in movies and film. But on Pedestrian Verse, they cut loose on tracks like "Holy" and "Late March, Death March," the latter of which sounds downright joyful despite Scott Hutchison's characteristically miserable lyrics.

20. Caveman – "In the City"
From the album Caveman
Music doesn't get much dreamier than "In the City" on the brand new spaced-out, self-titled album from New York five-piece Caveman.

19. Emmylou Harris & Rodney Crowell
From the album Old Yellow Moon
Two legends of Americana are reunited on this lovely duets record. The harmonies on "Bluebird Wine" are appropriately intoxicating. Plus, is that a jawharp?

18. CHVRCHES – "Recover"
From the album Recover EP
Lauren Mayberry has the voice of an '80s pop star, but the Scottish electropop band will resonate with fans of acts like Robyn or even Grimes—catchy vocals over layers of synth.

17. Great Peacock – "Take Me to the Mountain"
From the Great Peacock EP
The Nashville duo of Andrew Nelson and Blount Floyd play rootsy rock, kind of like Ryan Adams when he's not bored. But the giant swelling chorus and bridge of "Take Me to the Mountain" will also resonate with fans of bands like Dawes and Fanfarlo.

16. Local Natives – "Ceilings"
From the album Hummingbird
Local Natives' polyrhythms take a back seat to Taylor Rice's happily meandering vocal melodies on this track from the Silver Lake, Calif. band's sophomore release. It was a tough call between this and the more upbeat "Wooly Mammoth," though.

15. Mikal Cronin – "Weight"
It seems like forever that I've been tempted to trot out the "Beatle-esque" cliché to describe a band, and the bouncy melodies here are above such a tired trope. But this song from San Francisco singer/songwriter Mikal Cronin—who's yet to release his Merge Records debut—is pretty fab.

14. Max Frost – "White Lies"
This genre-blending single release from Austin, Texas' Max Frost plays like a jolt of energy. Soulful vocals float atop a "Hey Ya" kind of groove.
13. Haim – "Falling"
From the album Haim
If we're going to have a do-over on the 1980s, the Haim sisters Este, Danielle and Alana are among those adding something constructive to the synth-pop of yore, including a very 2013 groove and gigantic hooks. Nü-New Wave?