The 10 Best Moments of Lollapalooza 2013
So that's another Lollapalooza for the history books. The venerable festival has already announced that it will return to Chicago's Grant Park from Aug. 1- 3 in 2014, but before you purchase more sunscreen, Paste correspondent Michael Tedder recounts the goth legends, rap upstarts, free roaming bass drops and other memorable moments from this year's festival.
10. Jessie Ware
U.K. R&B singer Jessie Ware is a Sade for a post-dubstep world. Her voice glides over bumpy, chirpy tracks with a stately elegance that has earned her several pop hits…in Europe. Here she's more of a boutique curio for R&B bloggers, but the beauty of music festivals is that they can bring together enough disparate fans to make a cult icon seem like a mass icon. Well, for at least for the few minutes that Ware's fans sang the "we can be the greatest/we can be the greatest" refrain back at her during "Wildest Moments."
9. Beach House
Though it's probably just a coincidence, it certainly felt like the temperature dropped 15 degrees once the stridently sedate Baltimore dream pop group Beach House took the stage. Dressed appropriately in all black (they were playing right before The Cure, after all), they briefly indulged in a charming bit of smoke-machine addled head banging, but were mostly content to let songs like "Lazuli" build from a few whispered keyboard lines to a maelstrom of fazed-out melodies that drew on-lookers to the stage like a trio of goth sirens.
8. Crazy Crowd Moments
There were so many different Breaking Bad t-shirts in the audience that one began to hope that Heisenberg might drop by for a DJ set. But the weirdest pop-culture moment came from the fan that, for reasons known only to them, put a cardboard cut-out of Nicolas Cage doing an Insane Nicolas Cage face (possibly from Vampire's Kiss but I'm not 100% about that) on a pole and marched it all around Grant Park. There's nothing like looking around a crowd during Father John Misty and getting a sharp reminder that people can be pretty darn weird at these things.
7.Father John Misty
Speaking of Father John Misty, the songwriter otherwise known as Joshua Tillman was in good spirits during his Friday afternoon set. Though he had to play his dusky tunes with extra verve to avoid getting drowned out by the omnipresent bass drops emanating from the nearby dance tent, he made sure to direct his annoyance into some extra saucy stage banter, at one point thanking Lollapalooza's official sponsor "unicorns" and working up a bit with the audience where he asked them how they were doing, and they were instructed to answer "eh." (The "morons" in the back of the crowd were specifically instructed not to mess this up, as it seemed like a big moment for him.)
6. Baroness
Last year should have been the summer of Baroness. Their expansive album Yellow & Green was released to great reviews, and they began attracting fans from outside the metal community when a bus accident cut short their momentum. But after a line-up change (they're now touring with a completely new rhythm section) and some time convalescing, Baroness are back doing what they do best: stomping around like an awakened elder beast with a hangover. Though guitarists/singers John Baizley and Peter Adams didn't say much, they didn't have to, their "lean back and headbang during the solo" poses said all that needed to be said about how good it was to be back.
5. Frightened Rabbit
Frightened Rabbit singer Scott Hutchinson doesn't care if you can sing. He just wants you to go "ohh" really loudly while his band played "Swim Until You Can't See Land." And that's what people did, and the song sounded so overwhelmingly triumphant that it seemed absurd that the band was tucked away on a side stage instead of playing the main stage set their big hearted anthems call for.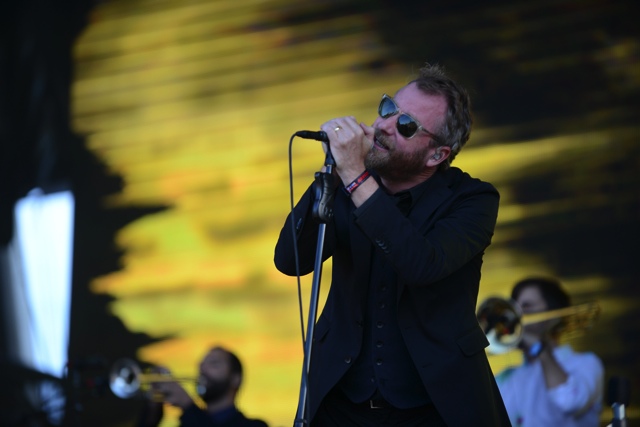 4. The National
No matter how hot the weather is, Matt Berringer of The National will dress up like he's going to church. And now matter how big the crowd, even if it's thousands of people deep, he will get drunk, wander around the stage screaming and looking confused, and then try to walk through the entire field, without missing a single note of "Mr. November." That's an impressive dedication to an aesthetic.
3. Angel Haze
New York rapper Angel Haze woke up at 6 in the morning to get to Lollapalooza, she said from the stage, and then she had to catch a different flight once her plane was delayed, and arrived just 20 minutes before her 2pm set time. But there was no way she was going to miss this show, she told the crowd, which could have been a subliminal diss at festival no-shows Death Grips and Azaelia Banks, but was probably just an indication that this is a performer that clearly feasts on the rabid enthusiasm of an audience. If she was jet lagged at all, it didn't show in her fiery performance. Chicago crowds are infamous for getting annoyed whenever people go on about New York, but no one seemed to mind Haze's boasts that she "runs New York," as she made a convincing case that it was a nigh indisputable fact.
2. Tegan and Sara
Tegan and Sara are normally some of the best in the banter business, but they kept it tight and chatter lite for their headlining set, and focused mainly on pogo anthems from their John Hughes-worthy new album Hearthrob and fan favorites like "Back In Your Head." But Tegan couldn't resist the opportunity to have fun at her sister's expense, telling the crowd that the last time they played Lollapalooza, Sara walked off the stage and then passed out from heat stroke. Every few songs, Tegan would quickly check in or point out "she's still here!" Hearthrob has helped break the sisters into the mainstream, and this Lollapalooza comeback is just another jewel in what's turned out to be a banner year for the pair.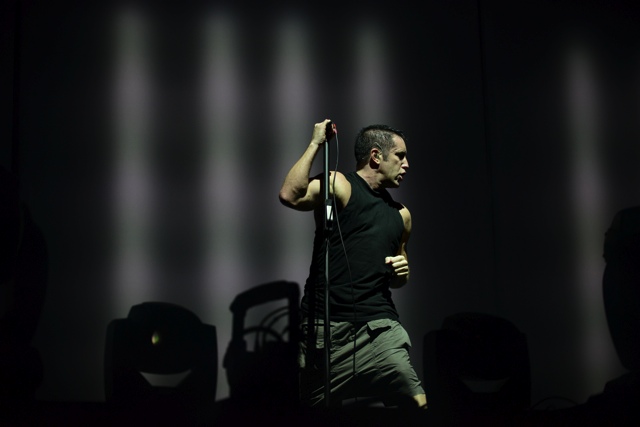 1. Nine Inch Nails, New Order and The Cure
This Lollapalooza was a verifiable buffet for aging goths. Nine Inch Nails, New Order and The Cure all in the same weekend? That's almost worth venturing out into the sunshine for! It's impossible to single out one as all three gave stellar sets (though Bernard Sumner should really stop wearing t-shirts that say "New Order" on them), so here's the best from each: The Cure, spurred on by new guitarist Reeves Gabrels, delivered a hyper-distorted version of "Fascination Street" that mirrored the nightmarish quality of the lyrics, New Order played "Love Will Tear Us Apart" in front of a banner reading "Joy Division Forever" to a hushed crowd, and a vice-tight performance of Nine Inch Nails' new anthem "Came Back Haunted" proved there's still some gas in Trent Reznor's hate machine.
Others Tagged With