5 Reasons To Get Excited About Romeo & Juliet's Hailee Steinfeld
The Coen Brothers have made plenty of brilliant decisions throughout the course of their career, but casting a young Hailee Steinfeld in their 2010 remake True Grit was one of their best. Steinfeld was only 14 when her unforgettable performance as Mattie Ross garnered her an Oscar nomination for Best Supporting Actress, and she truly held her own on-screen, carrying the fantastic American western tale alongside veteran actors Jeff Bridges, Josh Brolin, and Matt Damon.
At this point, Miss Steinfeld may be best known as the girl from True Grit—and while that's certainly not a bad thing—that may soon change. Right around the time that she was getting attention from the Academy, Steinfeld was also cast as Juliet Capulet in Julian Fellowes' upcoming remake Romeo & Juliet. And in the two years since then, she has been cast in eight other films, four of which come out this year. Since we'll be seeing a lot of her, we think it is officially time to get excited about 16-year-old Hailee Steinfeld. Here are just a few of her upcoming roles that have us ready to fall in love with her all over again.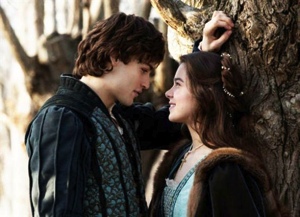 1. Her Romeo & Juliet Casting Caused Quite The Stir
When scenes from the original script of Julian Fellowes Romeo & Juliet were published in a British newspaper, Hailee Steinfeld's casting caused quite a bit of controversy. Because of the nude scenes in the script, the general public was concerned that a 14-year-old girl would be bringing the script to life. But a little controversy can be a good thing, and Fellowes later came out and explained that the script was originally written with a 20-year-old actress in mind (another possible sign of good things to come—as Steinfeld must have delivered a pretty impressive audition). Once Hailee officially became the new Juliet, all nude scenes were removed, which—naturally—resulted in a different sort of controversy, as some fans of the beloved tale felt that the story should not be told without a few steamy scenes. You may not be able to please everyone, but since the first "full trailer": http://www.pastemagazine.com/articles/2013/07/watch-the-first-trailer-for-romeo-juliet.html has been released, we think viewers can look forward to a performance that captures the budding sensuality and innocence appropriate for young Juliet.
Release Date: September 6, 2013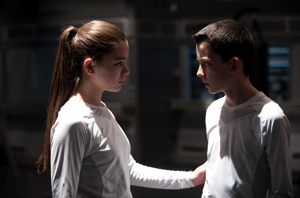 2. She's Going Sci-Fi In Ender's Game
Ender's Game deserved a spot on our 40 Most Anticipated Movies of 2013 list for quite a few reasons. The movie is based on the beloved Orson Scott Card novel, and Gavin Hood—who brought us Tsotsi—is directing. Steinfeld will be taking on the role of Petra Arkanian, one of only a few female students trained to fight aliens in the futuristic Battle School. Once again she'll be starring alongside some acting heavyweights, including Harrison Ford and Viola Davis. And, once again, we expect Steinfeld to hold her own, and to introduce viewers to an exciting new version of Petra.
Release Date: November 1, 2013
3. She'll Be Teaming Up Kristen Wiig And Guy Pearce In Hateship Loveship
Based on the popular collection of short stories by Alice Munro, Hateship Loveship is an indie dramedy that promises lighthearted fun, even as it will surely deal with some heavy issues. In this film we'll get to see Steinfeld take on a slightly unfamiliar role—the bad girl. The young actress will find herself in good company again, as she plays a mischievous teen whose father (Guy Pearce) is a former addict. Things get especially complicated when she begins orchestrating a romance between Pearce's character and her nanny, played by Kristen Wiig. We're excited to see how Steinfeld fares alongside the likes of a comedian like Wiig, and we also can't wait to see if she has any scenes with the inimitable Jennifer Jason Leigh.
Release Date: September 7, 2013
4. She Plays Mark Ruffalo's Daughter In Can A Song Save Your Life?
Another one of our Most Anticipated Movies of 2013, Can A Song Save Your Life? comes to us from acclaimed director and former member of The Frames, John Carney. While the musical romance/drama focuses on the artistic relationship between Keira Knightley and Mark Ruffalo's characters, Steinfeld will play a pivotal role as Ruffalo's daughter, Violet. Ruffalo's character is desperate to strengthen and support Violet and her mother (played by Catherine Keener) with a legitimate career in the music business.
Release Date: 2013
5. She Stars As An Assassin Alongside Samuel L. Jackson in Barely Lethal
Any actor starring alongside Samuel L. Jackson in pretty much any movie is usually something to get excited about, so Barely Lethalalready has that going for it. Steinfeld will play a 16-year-old assassin who suddenly gets the urge to live a slightly more thrilling lifestyle… so she enrolls in high school. Jackson plays her former employer, and we're expecting good fun—and a few hilarious interactions between Steinfeld and Jackson— from director Kyle Newman's sophomore effort.
Release Date: 2014
Others Tagged With