10 New York Fashion Week Pieces You Already Have in Your Closet
Amongst the asymmetrical bleached bobs and neon power suits of this September's New York Fashion Week were some more accessible trends for every person. Here are some of the styles for Spring 2014 you probably already have in your closet.
1. Chunky Cable Knit Sweaters
Seen at: Robert Rodriguez, Rebecca Taylor, Nicholas K, Lacoste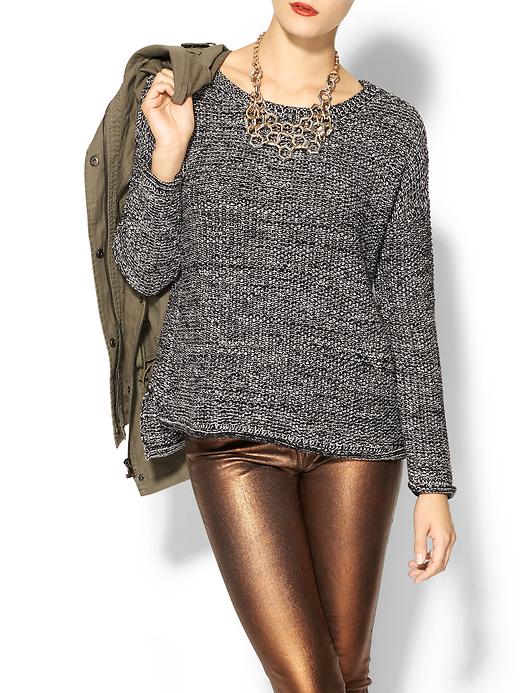 Sanctuary Marled Easy Sweater from Piperlime $98
That thick knit sweater your grandmother made you is the perfect trend to cash in on right now. Layer one in the fall and winter to keep cozy then pair it with light whites when the weather warms up as seen at Robert Rodriguez and Rebecca Taylor. Or go ahead and invest in a more spring-like style like the short-sleeved pink version from Lacoste. Either way it's a classic style you can recycle this year and next.
2. Sporty but Stylish Sneakers
Seen at: Ricardo Seco, DKNY, Marc by Marc Jacobs


Converse Chuck Taylor All Star Cheetah Print Women's High-Top Sneaker from Urban Outfitters $60.00
After seasons of competition seeing who could out-crazy the heels game on the runway, it was refreshing to see designers embrace the comfort of the common sneaker. While Marc Jacobs made them shine in gold snakeskin, Donna Karen went with the classic high top in her sporty DKNY collection. Mexican designer Ricardo Seco—who previously partnered up with Converse—made the look even more accessible by dressing his models in runners' favorite New Balances.
3. Pencil Skirts
Seen at: Peter Som, Chadwick Bell, Prabal Gurung, Michael Kors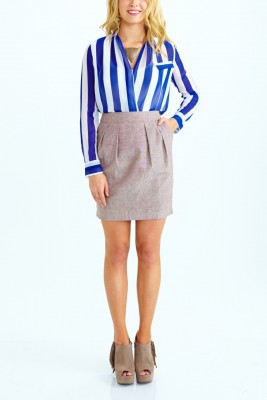 Timeless Skirt from Langford Market $39.90
Slim and sleek and down to the knees, the classic pencil skirt is being revived. Peter Som spiced up the silhouette in dreamcicle orange and bold black and white floral print while Chadwick Bell kept the color palette neutral but created depth with luxe materials and thigh-high slits. Michael Kors used button detail to add interest to a khaki shade. Prabal Gurung showcased several versions of the slim shape, but most accessible would be the crisp, clean white version paired with an equally crisp, clean white button down. Speaking of which…
4. Schoolboy Style Button-Downs
Seen at: Lyn Devon, Peter Som, Steven Alan, Ralph Lauren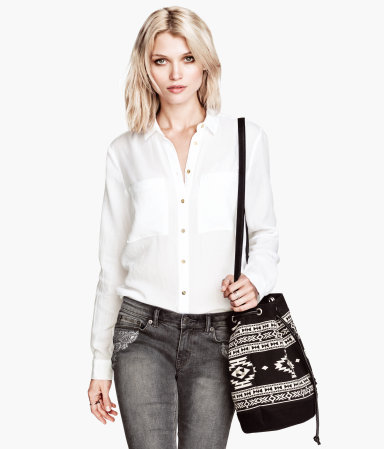 Cotton Shirt from H&M $24.95
Perhaps the most prevalent AND accessible piece on this list, the button-down shirt was all over the runways this Fashion Week. Ralph Lauren used this staple throughout his black-and-white collection. Lyn Devon and Steven Alan kept the silhouette boxy with short sleeves, easily duplicated with a quick stop in the boys' section of any department store. And Peter Som took an oversized white Oxford and layered it underneath a psychedelic print sweater for a swinging London vibe.
5. Workwear
Seen at: DKNY, JCrew, Alice + Olivia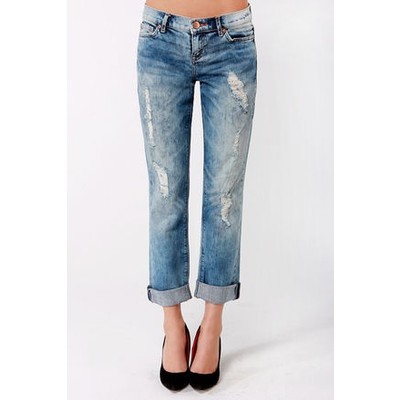 Dittos Sari light Wash Boyfriend Jeans
DKNY went heavy-duty showcasing baggy denim overalls with distress detail and equally easygoing jeans decorated with patches. Alice + Olivia juxtaposed highly embellished sweaters with distressed denim and JCrew continued the worker's look with olive-green cargo pants splattered with paint. So before you go throwing out those old painting clothes from the last time you were inspired by a Home Depot commercial, try mixing and matching with a sharp pair of heels for a night out or throw them on with a sharp hat for weekend errands. And if you're looking for the right topper, you might be inspired by these…
6. Baseball Caps
Seen at: DKNY, Vfiles, Lacoste, The Row

Why Giraffiti Print Cap from Topshop
If beanies were the choice headwear of the past few years, they will have to move over for the new (or not) hat of choice for the fashion forward. Break out your old baseball cap and pair it with sporty separates like they did at DKNY and V Files. Lacoste took the tennis favorite and gave a simple shift dress with a dramatic coat a sporty edge. And the Olsen twins showcased their sun wary attitude with a wide brimmed cap on almost every look at The Row show.
7. Floral Maxi Skirts
Seen at: Delpozo, Badgely Mischka, Michael Kors

Nollie 2 Front Slit Sunflower Skirt from PacSun
While the runways were dominated by preppy and sporty styles, that doesn't mean you have to ditch all your old bohemian staples. Hold on to your flowing, floral skirts with hems down to the floor. Michael Kors rocked just about every trend of the season on his runway, but perhaps most stunning was his brown and white scarf-print maxi accented with a gorgeous braided leather belt. Delpozo channeled '90s vibes with a sunflower print version and Badgely Mischka had a softer touch with a dusty blue and cream version that can be rocked day or night.
8. Leather Moto Jackets
Seen at: Gary Graham, Richard Chai Love, Herve Leger
Can something be a trend if it never truly goes out of style? Season after season the leather moto jacket returns; sometimes the shape is altered, other times it's a new color, but it always keeps that aura of cool. So when you invested in your first jacket years ago it was definitely worth it. Gary Graham updated the look with intricate sleeve detail that helps the jacket seamlessly blend in with the rest of the romantic line. Richard Chai kept the shape classic but lent the biker chic staple a clean twist in shining, quilted white. And Herve Leger showcased the design with insane zipper detail and elegant construction.
9. Pleated Mini Skirts
Seen at: Kaelen, Tommy Hilfiger, Alice + Olivia

<a href="http://www.nastygal.com/clothes/aria-pleated-skirt"Aria Pleated Skirt from Nasty Gal
What was once reserved for private-school uniforms and tennis courts was reintroduced for the modern, street-smart woman. At Kaelen, an all-black version was paired with a mesh, patchwork sweatshirt that looked like it belonged on the set of Lorde's video for Tennis Courts. Tommy Hilfiger broke out the old staple in saturated solids that worked with the line's dazzling color palette while Alice + Olivia utilized bold, graphic prints as well as solid white. Go ahead and rock this warm-weather look this fall and winter by layering with bold tights and knee socks.
10.Sweatshirts
Seen at: Rebecca Taylor, J Crew, Steven Alan, Michael Kors, Norma Kamali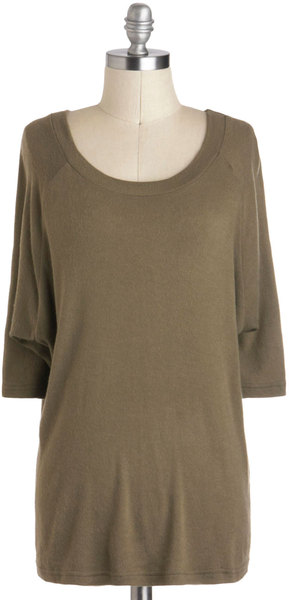 Great Plains Portrait Sweater
Like the button-down shirt, this closet staple was all over the runways. Also like the button-down shirt, the sweatshirt was reinvented and retooled numerous ways, but all kept a refined cool in higher quality fabrics and relaxed cuts. Rebecca Taylor showcased a baby blue mesh number that calls for crisp, casual spring mornings. JCrew kept it clean and simple with a minimalist white version. Steven Alan stretched your grandpa's basic grey down to the knees for the most current version of the sweater dress. Michael Kors kept true to his Americana roots by pairing clean, grey sweatshirts with wide legged khaki trousers on both men and women. And Norma Kamali based her entire line on her favorite sweater for the chicest of sportswear.