Ted Mosby's 10 Best & Worst Girlfriends
At the end of season seven of How I Met Your Mother, fans were finally rewarded for their patience and got to see who Ted Mosby's mysterious soulmate looked like. Now that we've met "the mother," we can assume that Ted's crazy single days are over. To commemorate Ted Mosby settling down, we've made a list of all the women who just weren't quite right for Josh Radnor's character.
Warning: There are some major spoilers in this article.
The Best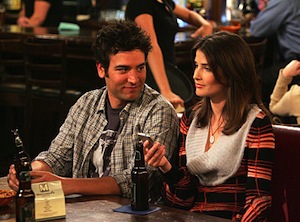 1. Robin
Robin (played by Cobie Smulders, The Avengers) has to be number one. She's the first major love interest for Ted that viewers are introduced to. After a year of chasing after her, Ted and Robin finally date. Their relationship inevitably ends, but the two agree to remain friends. Robin stays in the show for every season as one of Ted's best friends. While Ted acts like he is fine being friends with Robin, he's constantly chasing after her and falling back to her. She's presumably the reason why none of his other relationships ever worked out. The two have years of an on again/off again, relationship until finally, Ted declares his love for her one last time, and Robin shuts the door on him forever. Robin eventually dates Barney, and in an unlikely twist, marries him. But, as fate would have it, Ted will meet "the mother" at Robin and Barney's wedding.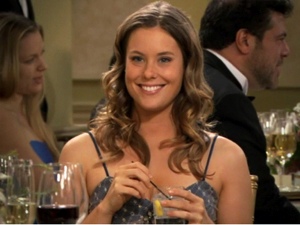 2. Victoria
Victoria (played by Ashley Williams, Margin Call, Saving Grace) was Ted's other big relationship that almost worked out. Ted and Victoria met at a wedding in Season 2. The two were happily involved until Victoria took a cooking fellowship in Germany. After trying to make long distance work, Ted cheats on Victoria with Robin and loses them both. Victoria reappears in Season 8 when she runs out on her own wedding to be with Ted. Ted and Victoria try to make it work one last time, but eventually decide that they don't want the same things in life and their story ends.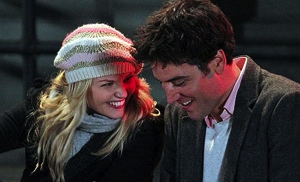 3. Zoey
Zoey Pierson (played by Jennifer Morrison, Once Upon a Time, House M.D.) was Ted's love interest during Season 6. They meet outside of the building (The Arcadian) Ted and GNB are planning on knocking down to build GNB's new headquarters. Unfortunately, Zoey protest is standing in the way of Ted's plans. Ted falls for Zoey and makes the decision to help her save the building. Ted and Zoey date and have a tumultuous relationship. They don't see eye to eye on anything, especially when Ted changes his mind about knocking down the Arcadian. That's pretty much the nail in the coffin for Ted and Zoey's relationship. "Sometimes things have to fall apart in order to make way for better things," according to Ted.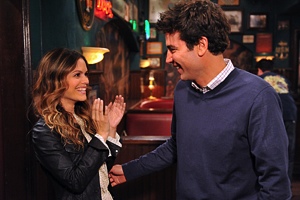 4. Cindy
Cindy (played by Rachel Bilson, Hart of Dixie, The O.C.) first appears in Season 5. She is a graduate student at the university where Ted teaches. The two date briefly before Ted ruins it. Cindy tells Ted about her jealousy of her "hot roommate," and that guys are always favoring her over Cindy. We learn that this person is actually the mother. Ted promises that he won't fall in love with Cindy's roommate, but this falls apart after a visit to their apartment reveals Ted loves everything about this girl. She reappears in a later episode where Ted finds out she is happily married with an adopted daughter.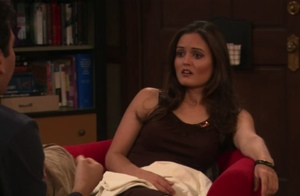 5. Trudy
Trudy (played by Danica McKeller, The Wonder Years) first made her appearance in Season 1 Episode 10 "The Pineapple Incident." Ted is depressed (as usual) about Robin going on a date and proceeds to engage in a night of full-on, drunken debauchery. He meets Trudy after drunkenly going into the women's restroom and they end up spending the night together. The next morning, Ted wakes up with Trudy in his bed and a pineapple next to his head. The mystery of the pineapple is never resolved and Trudy slips out using the fire escape. She shows up one more time in Season 3 Episode 3, "Third Wheel." After running into Ted again again at McClaren's, she and an old sorority sister fight over Ted's affection and eventually, all three go home together…whether something happened between all three parties remains a mystery to this day. Although, according to Barney, "He didn't do it."
Worst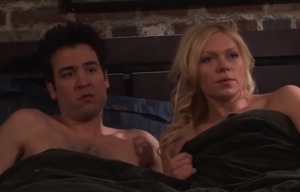 1. Karen
Karen (played by Laura Prepon from That 70's Show) is the evil-ex that continues to torment Ted throughout his entire love life. Karen represents that first love who, no matter how bad she treats Ted, he just can't let go of. In Season 4 Episode 16 "Sorry Bro," we get a more in-depth look into what their relationship was like in college. Both Karen and Ted were pretentious egomaniacs that spent their time looking down on the bourgeoisie society. In the end, Karen is just the worst. Marshall said it the best, "Karen's a douche."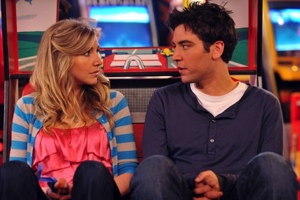 2. Stella
Stella is a close second to Karen. She appears throughout most of Seasons 3 and 4. Ted meets Stella after he drunkenly gets a butterfly tattoo on his lower back and has to go see a dermatologist to get the tattoo removed. As fate would have it, he goes to see Dr. Stella Zinman. With Stella, Ted really does think he has finally found "the one." Ted and Stella get engaged and everything is going smoothly until the day of the wedding. Stella's old love and father of her child Tony, shows up, declares his love for her, and Stella leaves Ted at the alter. She also hates Star Wars. Yeah…she's definitely from the Dark Side.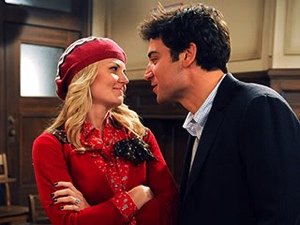 3. Becky
Becky (played by Laura Bell Bundy, Hart of Dixie) had a very short run on How I Met Your Mother during Season 6. But man, was she annoying. Becky was Robin's co-host on her morning news show. All the men loved Becky because she acted like a child and she inevitably got whatever she wanted. Robin of course, did not like being outshone by Becky's "bubbly" personality. Ted eventually goes out with her until he realizes how dating her is like taking care of a child. It was creepy.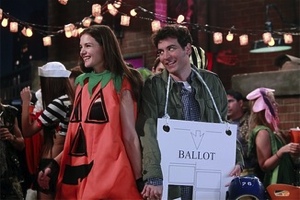 4. The Slutty Pumpkin (aka Naomi)
Fans were first introduced to The Slutty Pumpkin (played by Katie Holmes, Dawson's Creek and Batman Begins) in Season 1 Episode 6 "The Slutty Pumpkin." Ted meets the Slutty Pumpkin at a rooftop Halloween party at his apartment. They hit it off, but Ted loses her number and the Slutty Pumpkin becomes Ted's "white whale." Every Halloween after that, he goes to the same party, dressed up in the same costume as the night he met her, a "hanging chad" (by then it's a completely unfunny and outdated joke). Ted finally meets the Slutty Pumpkin seven years later in Season 7 Episode 8 "The Slutty Pumpkin Returns." Unfortunately, they have no chemistry and nothing in common, and their relationship turns into another huge let-down for Ted Mosby and his search for true love.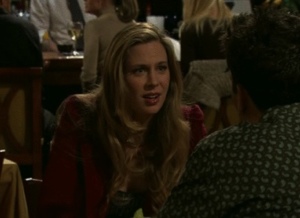 5. Natalie
Natalie (played by Anna Dudek, Mad Men) made her appearance in Season 1 Episode 4 "Return of the Shirt." Ted finds an old shirt that he used to hate, but now loves. He then decides to revisit other things from his past that he disliked, now that his tastes have changed. Ted gives his ex-girlfriend, Natalie, a call to try and rekindle their relationship. After getting back together with Natalie, he finds out that when he broke with her the first time (he left a message on her answering machine), Natalie's friends were waiting inside her apartment for her surprise birthday party. They date briefly and Ted eventually decides that Natalie isn't "the one for him." He breaks up with her on her birthday…again. Needless to say, Natalie doesn't take the second breakup well and unleashes her Krav Maga skills on Ted and, well, beats him to a pulp.
Hopefully Ted truly has found "the one" in Cristin Milioti (the mother).
And here's a video with a description of ALL of Ted's girlfriends:
Others Tagged With