The 25 Best Kids' Movies on Netflix Instant
Page 1 of 2
Face it. Your kids are probably better (and more experienced) at navigating Netflix than you are. But speaking from personal experience, discernment is something that's usually developed a little later in life. They still might need help finding good movies—not just the poster with the cutest dogs. Thankfully, Netflix Instant has recently expanded its offering recently with some classic kids flicks from Disney, Dreamworks and Universal. The following 25 films are up-to-date as of 9/27/2013. They include both animated and live action and are geared toward a range of ages.

25. The Lorax
Year: 2012
Rating: PG
For Ages: 5+
The creators of Despicable Me adapted the favorite Dr. Seuss tale for the big screen, rendering his whimsical illustrations in shiny, computer-generated fashion. The moral of the story, published more than 40 years ago, couldn't be more topical: "Unless someone like you cares a whole awful lot, nothing is going to get better. It's not." Unfortunately, in their bid to expand the good doctor's rhymes to feature length, the filmmakers bookend the fable about the Lorax with a new storyline that distracts and detracts from the core message of the original book. It's a stunning visual achievement, though. Even the Lorax's feathery mustache, the critters' fuzzy fur, and the trees' wispy tufts have been so finely crafted that one can practically feel how soft they are to the touch.—Annlee Ellingson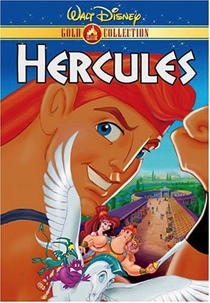 24. Hercules
Year: 1997
Rating: G
For Ages: 3+
Hercules was another staple in Disney's reign during the '90s. Released in 1997, it was stuck in between 1996's The Hunchback of Notre Dame and 1998's Mulan. Featuring voice contributions from Tate Donovan, Danny Devito and James Woods, the film follows the harrowing adventure of Greek demigod Hercules. After he's banished to earth by his evil uncle Hades, Hercules must learn to become a "true hero" and go back home to Olympus to defeat Hades once and for all. It's not the most substantial of Disney films, but it's fun all the same.—Eric Gossett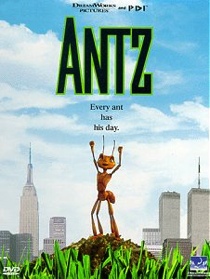 23. Antz
Year: 1998
Rating: PG
For Ages: 3+
Before Dreamworks became a powerhouse with Shrek and Madagascar, the newly founded company recruited an all-star cast for Antz: Woody Allen, Dan Aykroyd, Anne Bancroft, Danny Glover, Gene Hackman, Christopher Walken and many more. Released in the same year as Pixar's A Bug's Life, Antz follows the inspiring story of a lowly worker ant Z (Woody Allen) who tries to work his way up the social ladder in the ant colony while falling in love with Queen Ant's daughter, Princess Bala (Sharon Stone).—Eric Gossett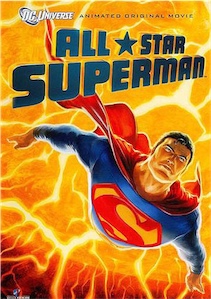 22. All-Star Superman (2011)
Year: 2011
Rating: PG
For Ages: 7+
The producers of the DC animated features frequently cherry-pick adaptation of some of the most interesting storylines in contemporary (and vintage) comics, with intriguing results. Based on Grant Morrison's acclaimed take on the Man of Steel, All-Star Superman depicts Kal-El's discovery that he's contracted a terminal case of solar poisoning, inspiring him to change his superheroic behavior and express his feelings in ways he otherwise never would. The film episode structure features eccentric changes of tone from comedy to tragedy, but it still offers the best, most off-beat treatment of Superman in the animated films. For older kids, also check out the excellent Batman: Under the Red Hood and Batman: Year One—Curt Holman


21. Captain America
Year: 2011
Rating: PG-13
For Ages: 10+
Captain America took the idea of a superhero and made it a period piece by having Cap fight Nazis in this origin story that sets the stage for the upcoming Avengers movie. While it's not up to par with Iron Man among a more sophisticated audience, there's plenty here for the kids to enjoy.—Ross Bonaime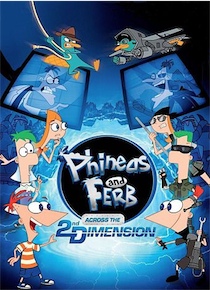 20. Phineas and Ferb The Movie
Year: 2011
Rating: G
For Ages: 3+
Tucked among The Disney Channel's awful TV lineup is an 11-minute show packed with intersecting plot lines, adventure in suburbia, intrigue and a pet platypus doubling as a super agent. "Hey Ferb, I know what we're going to do today," Phineas says each show before launching into his latest ambitious plan to pass the summer days, whether it's building a giant tree house that transforms into a giant robot or filming a movie or creating a time machine. Unlike most Disney shows, the kids have a deep-seated affection for both siblings and parents—even as Candice tries to bust her brothers. Creators Dan Povenmire and Jeff "Swampy" Marsh met while working on The Simpsons. Povenmire later worked on Family Guy, and the cleverness of those shows has wore off on both. And the movie captures all that's great about the show.


19. Origin: Spirits of the Past
Year: 2006
Rating: PG
For Ages: 7+
Set in a post-apocalyptic world governed by an all-powerful forest spirit, Origin uses themes and stock characters common all too common in the form but manages to put them together exceedingly well. Admittedly it's not the deepest film, but that doesn't take away from its craft Look past its slightly didactic sermonizing and Origin is a fantastic adventure flick, a ride that takes as much from Spielberg as it does from Miyazaki.—Sean Gandert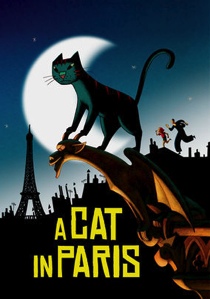 18. A Cat in Paris
Year: 2010
Rating: PG
For Ages: 10+
France is keeping the hand-drawn film alive with this gorgeous Oscar-nominated film about a black cat at the heart of a jewel robbery. Mobsters, a cat burgler, the police and a little girl play their own game of cat-and-mouse in a gripping mystery that brings Paris to life for kids and adults.


17. Time Bandits
Year: 1981
Rating: PG
For Ages: 10+
Time Bandits was really the first glimpse into what Terry Gilliam's style would become. Relying on Gilliam's Monty Python friends for much of its comedy, its episodic plot works mostly because it's a children's movie. It was an ambitious movie for Gilliam, and not all of it has aged well. Still, it featured some of the first truly Gilliam-feeling scenes, in particular when a horse bursts through its protagonist Kevin's door—the invasion of fantasy into reality has become a staple for what Gilliam would become.—Sean Gandert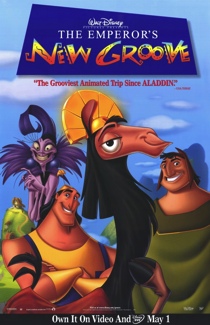 16. The Emperor's New Groove
Year: 2000
Rating: G
For Ages: 3+
Disney's first major film of the new millennium was The Emperor's New Groove. Young emperor Kuzco (David Spade) is turned into a llama and forced to try and reclaim his throne with the help of a poor llama herder Pacha (John Goodman). Along the way, Kuzco learns valuable lessons of selflessness and friendship. It's a funkier. looser, sillier film than most of the Disney canon, but it works.—Eric Gossett


15. Paranorman
Year: 2012
Rating: PG
For Ages: 8+
The beautifully crafted stop-motion film ParaNorman is part Something Wicked This Way Comes, part The Goonies. The town of Blithe Hollow, once a colonial village, now a struggling tourist trap, has lived under the threat of a witch's curse for 300 years—long enough for fear to transmogrify into camp. Norman (voiced by Kodi Smit-McPhee) can see and talk with ghosts, an ability that might make him quite popular with the dead set, but one that does little to improve his social standing with his living schoolmates… or his immediate family. ParaNorman took two years to animate, and it shows in the exquisite craftsmanship of its design and execution. The artistic direction illustrates such a love for detail and texture that every bit of scenic design, from the town hall to a plastic bag caught in a fence, creates a perfect world for this story. The result is a clear-headed and touching film about finding your own purpose, accepting others as they are and, most importantly, forgiveness.—Clay Steakley


14. The Tale of Despereaux
Year: 2008
Rating: G
For Ages: 4+
Curiosity may have killed the cat, but it—along with fearlessness—make young Despereaux a most unusual mouse. The film from Gary Ross (Big, The Hunger Games) and Sam Fell (Flushed Away, ParaNorman) was adapted from Kate DiCamillo's 2004 Newbery Medal-winning novel. The gorgeous animation outshines the story, though it's engaging enough for the younger set.—Josh Jackson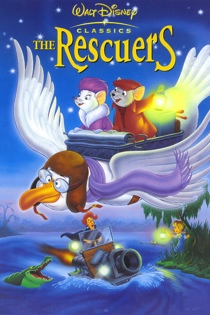 13. The Rescuers
Year: 1977
Rating: G
For Ages: 3+
A bright spot between The Jungle Book, released in 1967 just after Walt Disney's death and his company's renaissance with 1989's The Little Mermaid, The Rescuers took four years and $8 million, time and money reflected in the quality of the production. Based on a pair of Margery Sharp fantasy novels, the story tracks a pair of mice, Bernard (Bob Newhart) and Miss Bianco (Eva Gabor) as they travel the Devil's Bayou in search of a missing child. It's a charming tale celebrating the little guys with big hearts.—Josh Jackson

Others Tagged With