The 40 Best Documentaries on Netflix Instant
Page 3 of 4
If you're in the mood for something real, scroll through our list of the 40 Best Documentaries on Netflix Instant, and let us know what you enjoyed—or what we missed—in the comments section below. (And check out our list of the 100 Best Movies on Netflix Instant.)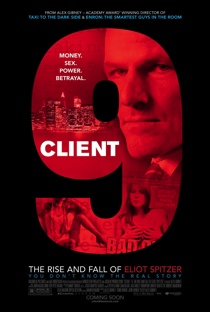 20. Client 9: The Rise and Fall of Eliot Spitzer
Year: 2010
Director: Alex Gibney
Alex Gibney was a presence in 2010 with four major documentary features. Client 9 was his tightest, his most personal and his best. Gibney has great sympathy for Spitzer and great anger at the powers that brought him down, but his impatience at the weakness Spitzer exhibited in making that fall possible is evident. As with most of Gibney's films, expect a sharp intellect, crisp photography, brilliant use of music and a strong viewpoint.—Michael Dunaway


19. Iraq in Fragments
Year: 2006
Director: James Longley
Applying the full spectrum of cinematic technique to a nonfiction film, Longley made one of the most striking movies this year, an immersive view of life in Iraq; a record of opinions and faces from across the country, all captured at close range.—Robert Davis


18. Marwencol
Year: 2010
Director: Jeff Malmberg
Some of the best documentaries are the ones that confuse and confound you before completely winning you over. Marwencol does that, sneaking up on you with a simple story of a damaged man whose unique form of self-treatment is making him whole again. That part of Mark Hogencamp's life would suffice as a pleasing story, even if we never looked closer. But director Jeff Malmberg does bring us closer, and the result is a story rich in awakenings, Barbie dolls and shoes.—Tim Basham


17. Marley
Year: 2012
Director: Kevin Macdonald
It's not entirely clear why director Kevin Macdonald decided to make a documentary about the musician Bob Marley, a cultural icon whose life has been recounted countless times through a variety of mediums. Macdonald claims it's because he wants to understand why Marley continues to speak to legions of fans around the world. Whatever his reasons, he's clearly up to the task. Marley offers an expansive and at times fascinating perspective on the man through interviews with his fellow former Wailers, family, and childhood friends. The film is fairly detailed concerning Marley's songwriting and musicianship from his early ska days up through the release of Catch a Fire. After this, however, it skips through his catalogue, choosing to focus more on his personal life, conversion to Rastafarianism, the tumultuous state of Jamaican politics, and his prolific womanizing—all of which are important elements of the artist's character.—Jonah Flicker


16. How To Grow a Band
Year: 2011
Director: Mark Meatto
A good film—and a good band, for that matter—can be much like the Wizard of Oz. If everything goes just right, if the curtain doesn't get pulled back, then the audience can find itself part of a great and powerful experience. That said, in How To Grow A Band, director Mark Meatto proves that, sometimes, a look behind the curtain can yield just as amazing of an experience. Meatto followed the folk-formal-fusion-but-don't-you dare-call-it-bluegrass band Punch Brothers for two years: on tour, in studio, on the street, in the living room, in comfort and in flux. The portrait of the band that emerges is clear and precise. We come to know the band so well that the music is comfortingly familiar by film's end; we come to the know the band members so well that we can hear each individual personality filter through each song. And that's what How To Grow A Band is really about. Meatto shows us how five virtuosos come together to take traditional music in a new direction. There's no need to pull back the curtain—just sit back and enjoy the show. While Punch Brothers are playing, you're definitely not in Kansas anymore.—Joan Radell


15. Connected: An Autobiography About Love, Death & Technology
Year: 2011
Director: Tiffany Shlain
Tiffany Shlain's father was a renowned surgeon and best-selling author whose theories about mass societal shifts between left-brained and right-brained thinking, masculine and feminine energy, analytical and holistic worldviews challenged conventional orthodoxy. She continued her father's iconoclastic ways, creating the Webby awards, creating great documentary films that made extensive and effective use of pastiche and collage, and becoming one of Newsweek's "Women Shaping the 21st Century." When she began designing a film that would be a collaboration, she had no idea that her father would become ill shortly after they began filming. The film changed, and quickly. What began as an academic exploration became the most personal of journeys for Shlain, and what would have been simply an intellectually stimulating film became a wonderfully moving one as well. Connected was one of the truly thrilling experiences of this year's Sundance, and easily the best documentary in competition.


14. The Imposter
Year: 2012
Director: Bart Layton
It's obvious The Imposter is going to be a thriller, and a thriller it is, and then some. Three years after the disappearance of their 13-year-old son, a Texas family receive word he's been found in Spain. When they go to pick him up, they're so desperate to believe he's alive that they don't even notice that the "boy" is actually a French man in his mid-twenties. Is it a monumental case of grief and hope blinding sense, or is there a darker explanation? Director Bart Layton mixes elements of documentary and narrative filmmaking seamlessly in ways I've never seen done before. And every character he uncovers in the drama is more of a treasure trove than the last. It's one of the most compelling films you'll see all year, in any genre.—Michael Dunaway


13. The National Parks: America's Best Idea
Year: 2009
Director: Ken Burns
Early in Ken Burns' mega-documentary, a mythic figure appears. A twangy score settles into gentle piano chords, and after a lyrical interlude, the man is finally identified as John Muir, a vagrant Scotsman who entered the Yosemite Valley in the late 1860s and died five decades later as one of the central reasons it remains preserved today. Burns—the legendary documentarian known for The Civil War, Jazz and Baseball—frames Muir as a naturalist miracle who arrived precisely when the country needed one most. The six-part, 12-hour doc debuted on PBS and traces over 150 years of our park history. More than any other Burns series, National Parks includes large sections that focus on nothing but massive natural vistas—a gesture for viewers to think of the national parks not as dad-mandated family-vacation spots but as some of the most quintessential places on our soil.—Jeffrey Bloomer


12. General Orders No. 9
Year: 2009
Director: Robert Persons
A deeply rich baritone with an accent dripping of old bourbon muses—intermittently—over footage of city and country, group and individual, as hypnotic music plays. It's as if Terence Malick filmed a newly discovered William Faulkner memoir. A decade in the making, it's the most wholly original vision in years.—Michael Dunaway


11. 7 Up Series
Year: 1964-
Director: Michael Apted
In 1964, some British filmmakers rounded up a group of fourteen seven-year-old kids from across the country—boys and girls, rich and poor, black and white—and interviewed them for a BBC program called Seven Up. At the end of the show, a voice-over commanded that viewers tune back in sometime in the year 2000, when the team would circle back to the kids as adults. But in 1971, at the hands of director Michael Apted, who'd been a researcher on the first installment, came Seven Plus Seven, which caught up with the kids at age fourteen and kicked off what's now known as the Up Series, which has revisited the same bunch every seven years since.—Rachael Maddux