Which Talented Actor Has the Worst-Looking New Fall TV Show?
Fall TV begins in earnest this month with a raft of new shows, many of which reek of the desperation to create the next Two and a Half Men. In the place of new ideas and solid writing, it looks like network execs are banking on star power. It's an element that worked well for TV recently with Steve Buscemi, William H. Macy, Glenn Close and Kevin Spacey anchoring dramas and Alec Baldwin, Zooey Daschanel and Jason Schwartzman bringing the funny. (note: none of those relied on laugh tracks.) But it's also failed miserably (see: Christian Slater, Parker Posey, Christian Slater and Christian Slater).
Take a look below to see the movie and TV heavyweights with new vehicles to drive. Which ones are going to go careening off the track the quickest? We'll let you decide.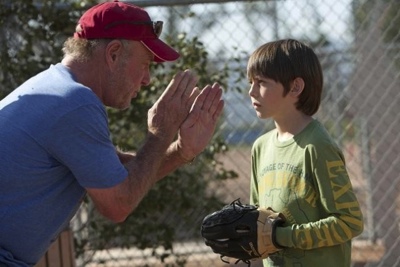 1. James Caan – Back in the Game
The Resumé: The Godfather, Misery, Brian's Song
The Premise: Caan plays a "beer-swilling" former baseball player who coaches his grandson's Badnews Bears-ish baseball team alongside his daughter (Michelle Betts).
Sample Line: "Don't forget 'fat.' That kid laying there? That kid is fat."
Where to find it: Wednesdays on ABC
2. Anna Faris – Mom
The Resumé: Smiley Face, Scary Movie 4, I Give It a Year
The Premise: Anna Faris deserves her own show, and she's got a great supporting cast here (Alison Janney, Nathan Corddry), but this CBS comedy from Chuck Lorre (Two and a Half Men, The Big Bang Theory) is aiming broad. Mom is about a waitress dealing with her teenaged daughter and irresponsible mother. It could be huge, but it could also be really, really tiresome.
Sample Line: "My daughter's an easy lay, and it's not my fault."
Where to find it: Wednesdays on CBS
3. Will Arnett – The Millers
The Resumé: Arrested Development, 30 Rock, Up All Night
The Premise: When his parents find out Nathan Miller is recently divorced, they follow suit and his mom moves in with him.
Sample Line: "God bless 'em. Old white women love their ice cream."
Where to find it: Thursdays on CBS
4. Robin Williams – The Crazy Ones
The Resumé: Dead Poets Society, The Fisher King, Good Will Hunting
The Premise: Robin Williams plays an ad exec chief who works with his daughter (Sarah Michelle Gellar) and Hamish Linklater (The Newsroom's Jerry Dantana). Lots of Robin Williams manic riffing. Lots of product placement.
Sample Line: "I have something difficult to say." "Is it 'robot baby buggy bumpers?' because I have trouble with that one."
Where to find it: on CBS
5. Josh Holloway – Intelligence
The Resumé: Lost
The Premise: Gabriel Black is a high-tech intelligence operative who can connect to all information networks via a chip in his brain. He's a crime-stopping machine! The James Bond aspects of this show could be really fun or the title could end up being ironic.
Sample Line: "We gave a human the power that had previously only been found in a machine."
Where to find it: Mondays on CBS
6. Andy Samberg – Brooklyn Nine-Nine
The Resumé: Saturday Night Live
The Premise: This cop is a jokester. His boss isn't. It's like a buddy-cop movie, but on TV. We do like Andy Samberg, though, so we're holding out hope that this is funny enough to overcome its unoriginal premise.
Sample Line: "Jacob Peralta is my best detective. The only puzzle he hasn't solved is how to grow up."
Where to find it: Tuesdays on Fox
7. Giovanni Ribisi – Dads
The Premise: Seth MacFarlane's new live action show stars Ribisi alongside Seth Green as two awful single guys whose awful dads move in with them.
Sample Line: "You're going to dress up like a sexy Asian schoolgirl." "I can't do that." "Sure you can, practice with me. [holds hands to face] Teeheeheeheehee."
Where to find it: Tuesdays on Fox
8. Greg Kinnear – Rake
The Resumé: Little Miss Sunshine, As Good As It Gets
The Premise: Keegan Joy (Kinnear) is a brilliant lawyer. And he's a gambling addict who's in love with a prostitute. He's a lovable scallywag. A charming rake. An anti-hero who makes a living defending (in the pilot) a cannibal. And a tough sell on network TV.
Sample Line: "I'm six months behind on my alimony payment, my bookie sends a nice guy to beat the tar out of me every couple weeks, the woman who tried to stab me to death is apparently back in town househunting, and the IRS is so far up my ass, it's only a matter of time before I go to jail."
Where to find it: On Fox
9. Christian Slater – Mind Games
The Resumé: Heathers, True Romance, Pump Up the Volume
The Premise: Along with Treme's Steve Zahn, Christian Slater tries to manipulate people's minds, convincing them to greenlight another of his TV pilots after My Own Worst Enemy, The Forgotten and Breaking In. In a switch, though, Slater plays straight man to the zany Zahn.
Sample Line: "Ross here just finished a two-year stint in a minimum security prison" "Strictly white collar."
Where to find it: on ABC
Check back to see the new fall shows we're looking forward to—including ones with James Spader, Jonathan Rhys Meyers and Michael J. Fox.
Others Tagged With