10 Looks Inspired by Fall TV Characters
Fall premiere season is in full swing and with it comes viewers' fashion envy. Of course, they have professional costume designers making sure their actors are looking sharp and put together. So how do you emulate your favorite character's style here in the real world? We put together a few outfits illustrating some of our favorite characters' style from fall's best shows.
1. New Girl: Jess and Schmidt
Jess's style reflects her fun-loving, fancy-free attitude meets the hip LA atmosphere of the show. While she knows how to keeps things demure for her daytime teaching job, there is always a certain sex appeal that the guys (ahem… Nick) can't resist. Her signature look includes full skater skirts and vintage-inspired blouses, but she keeps it interesting with accessories like quirky bunny flats and her signature thick-framed glasses.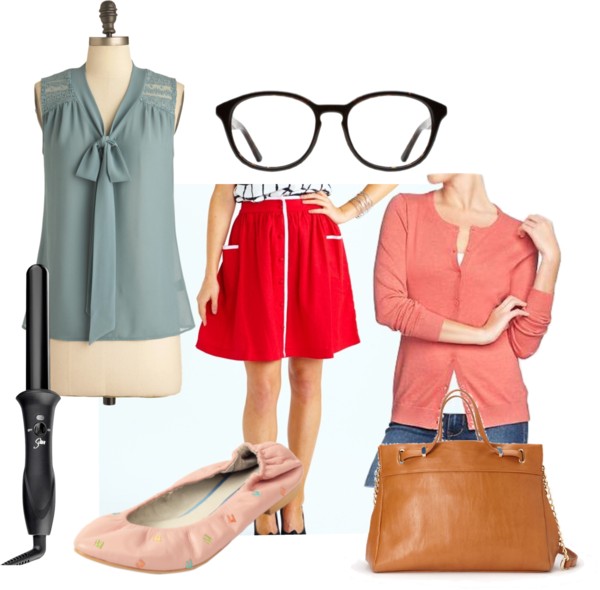 Blue neck tie blouse – mod cloth.com
Cardigan – oldnavy.gap.com
Flat – lebunnyblue.com
Handbag – forever21.com
Glasses – bonlook.com
Sultra the bombshell 1" curling iron – sephora.com
Of the three main guys of the New Girl cast, Schmidt would be characterized as the stylish one. Of course, his style includes slippery loafers, Calvin Klein trousers and hair "chutney"… all presented to emphasize Schmidt's douchey-ness. Nevertheless, Schmidt has a sharp look episode to episode—maybe with the exception of his summer suit with the lightening bolt on the back. We picked items that highlight the best of Schmidt's taste: crisp, tailored shirts; a fine-knit, navy "cardi"; and, of course, a nice pair of slacks designed by a man named Calvin.
Cardigan – hm.com
Pants – macys.com
Skinny silk tie – express.com
J.Crew slim secret wash shirt in tattersail – jcrew.com
Lacoste henri shoe – piperlime.gap.com
Bumble and Bumble sumotech styling paste – sephora.com
2. It's Always Sunny in Philadelphia: Dee and Mac
Even through the emotional battery Dee has to put up with in the gang, she always keeps her style in check. The urban landscape of Philadelphia doesn't allot formalwear, so Sweet Dee keeps it simple in colorful blouses, cardigans and skinny jeans to match her slim frame. We kept it playful with a bird necklace (all in good fun!) and a supply of cups for off-season Flipadelphia training.
Cardigan – target.com
Top – gap.com
Petite Lace Overlay Tank – loft.com
Jeans – hm.com
Necklace – supermarkethq.com
Chuck Taylor All Stars – converse.com
Mac may be white trash, but that doesn't mean he can't rock it. He wouldn't be comfortable unless he could flex his biceps outside the confines of sleeves, but we remembered to include his signature black leather duster for those times he wants to look extra badass. We accessorized with his faithful cross, signature dragon tattoo (temporary, for you), and some sneakers ready for some high round kicks and parkour action.
Shoes – hm.com
Necklace – macys.com
Tribal Dragon Temporary Tattoo – tattoosales.com
Men's Leather Trench – compare.ebay.com
dENiZen from Levi's – target.com
3. Agents of S.H.I.E.L.D.: Skye and Grant Ward
Skye's newcomer status to S.H.I.E.L.D. makes her stand out from "the ones in suits." The witty computer hacker turned secret agent keeps a more, sporty and casual style. A distressed leather vest gives edge to slim, cropped cargo pants and a basic jersey tee. Function meets style in her ready-to-run Asics sneakers and waterproof messenger bag that has plenty of room for all her gadgets. We also added a S.H.I.E.L.D bracelet because any girl with that much interest in superheroes must be proud of her own insignia.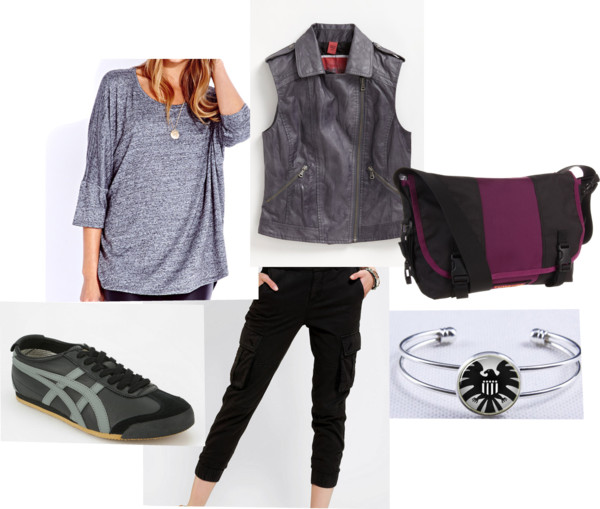 Top – forever21.com
Cargo Pocket Pants – urbanoutfitters.com
Asics Leather Sneaker – urbanoutfitterts.com
Timbuk2 Laptop Bag – zappos.com
Bracelet – etsy.com
Faux Leather Motto Vest – nordstrom.com
Grant Ward may not show much diversity in his wardrobe, but there's something about a man in a suit… and his fits well. A slim cut Michael Kors suit and French cuff Kenneth Cole shirt leave room for interest with a textured tie and strategically chosen cufflinks. Sturdy derby shoes allow for style as well as function, as do the aviator sunglasses. Polarized lenses allow for maximum visual clarity when at the firing-end of a sniper rifle.
Slim Fit French Cuff Shirt – kennethcole.com
Shoes – hm.com
Michael Kors Wool Suit – nordstrom.com
Skinny Tie – forever21.com
Fossil Polarized Aviator – fossil.com
Titanium Shield Cufflinks – cufflinks.com
4. Sons of Anarchy: Jax and Gemma
Jax has certainly changed over the past six seasons, but his signature California-biker style has held true. While you shouldn't wear colors unless you've paid the dues, you can get a similar effect with a contrast sleeve motorcycle jacket over a basic Hanes white tee shirt. Keep it classic with Levi's 501s in a dark but nicely faded wash and a chain wallet to keep hold of your funds—no mater what dubious ways you've gained them. The biker style is complete with a Skid Lid bikers' helmet and a thick, skull ring.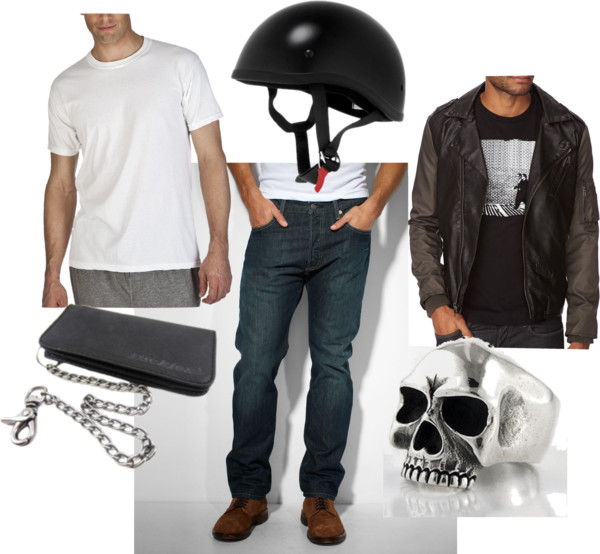 Skull Ring – bikerringshop.com
Levi's 501 Jeans – levi.com
Men's Contrast Sleeve Moto Jacket – forever21.com
Hanes Crew Neck T-shirt – target.com
Skid Lid Original Black Half Helmet – jpcycles.com
Gemma Teller Morrow is the matriarch of the Sons of Anarchy and whatever hard times they go through she seems to persevere—even thrive. She is the personification of female biker-chic with spiky stiletto boots, hardware embezzled accessories, and a dark palette that matches the tone of the dramatic show. Match the gold in your accessories with high-contrast highlights like Gemma's signature locks.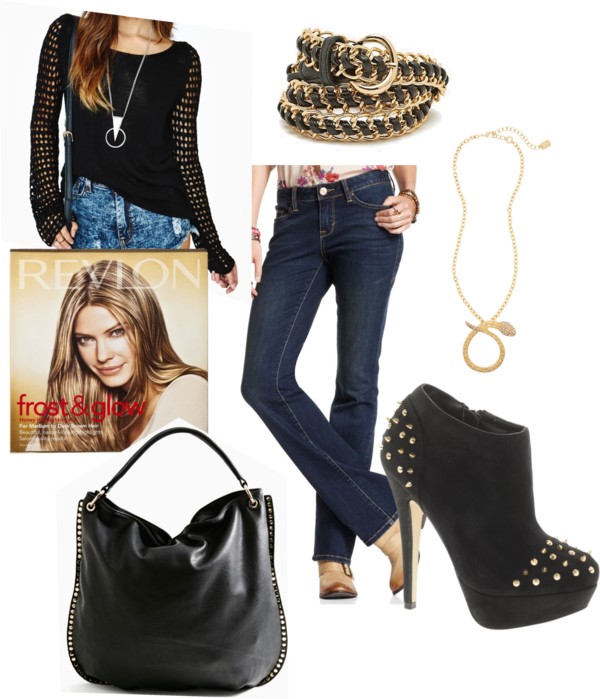 Blouse – nastygal.com
Chunky-Heel Boots – asos.com
Tote – nastygal.com
Snake Necklace – armaniexchange.com
Belt – agacistore.com
American Rag Jeans – macys.com
Revlon Frost Glow Hair Color – target.com
5. Masters of Sex: Virginia Johnson and William Masters
The style of the 1950s with the intrigue of sex: this new Showtime original series has a lot of promise. Lizzie Caplan's portrayal of Virginia Johnson is multi-dimensional. She's strong willed and independent in a field where she isn't just the outcast, but the enigma. The conservative style of the era holds a certain sex appeal in the details. A knee-length skirt is skin tight with hip-enhancing peplum detail. Leg covering stockings have a saucy Cuban heel. We tie it all together with a sweetheart bust blouse, classic T-strap heels and turquoise accented earrings. Oh, and a practical cardigan for when the laboratory catches a chill within the heat of the study.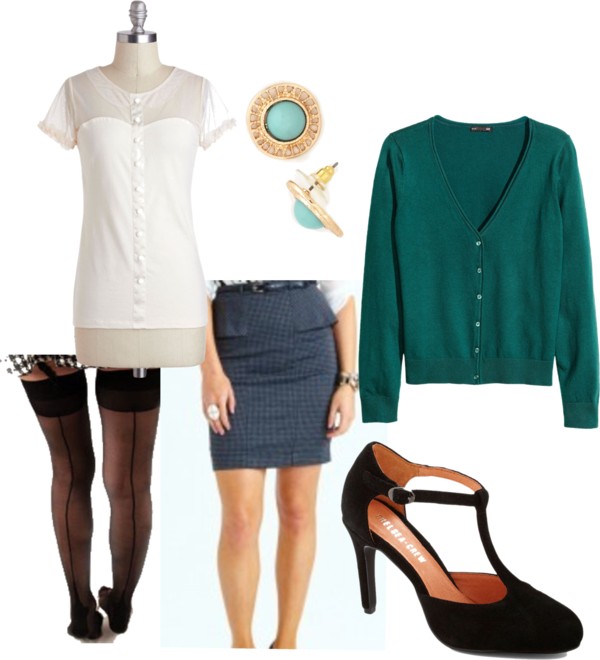 Cardigan – hm.com
Effie's Heart Top – modcloth.com
Lycra Tight – sockdreams.com
Pumps – modcloth.com
Earrings – modcloth.com
William Masters is a scientist. His sex studies reflect not a perversion, but the innate curiosity in a man of intellect. There is no time for extraneous frills in this line of work… there's not even room for a free blowjob. But Master's style is his own. A crisp oxford and fitted trousers. Accented with classic Argyle socks and a signature bow tie, these accessories bring interest to a simple base of an outfit. Plus, a functioning pocket watch to keep accuracy and get home in time for dinner from the sex laboratory.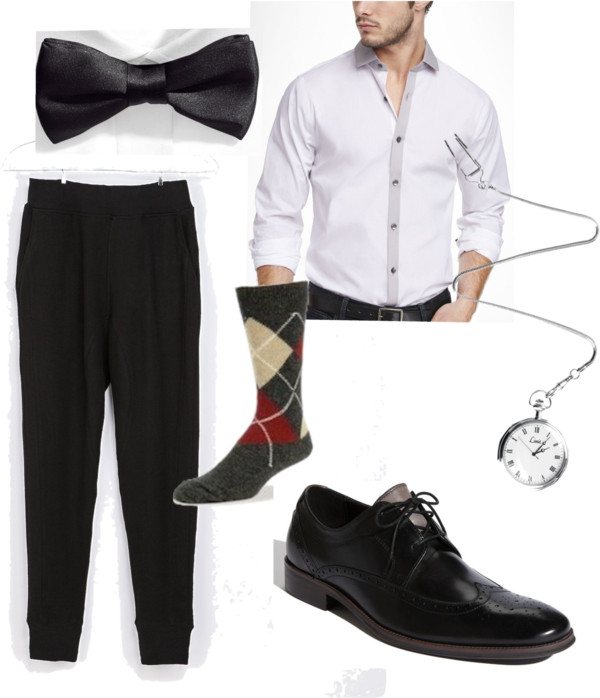 Trousers – zara.com
ALDO Wingtip Oxford – nordstrom.com
Argyle Socks – joyofsocks.com
Pocket Watch – asos.com
Shirt – express.com
Bow Tie – hm.com
Images Via: Polyvore
Others Tagged With