The 100 Best Free Movies on Amazon Prime Instant Video
Page 2 of 5
Since we last looked at the best movies that Amazon Instant Video offers free to its Amazon Prime members, the online retailer has eliminated many of our picks. Fortunately, it's also added even more great films.
If you're trying to decide between shelling out $79/year to Amazon, $7.99/month to Netflix or Hulu Plus, compare this list with our Best Movies on Netflix Instant and Best Movies on Hulu Plus lists.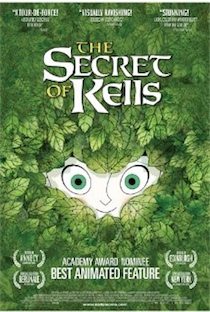 80. The Secret of Kells
Year: 2009
Directors: Tomm Moore, Nora Twomey
Set in 8th-Century Ireland, our hero is the 12-year-old apprentice Brendan, who befriends a forest spirit namd Aisling in his quest to protect The Book of Kells from Viking invaders. The Secret of Kells' hand-drawn style gives it a gorgeous and breathtaking visual flair, a charm most of its contemporaries lack.—Josh Jackson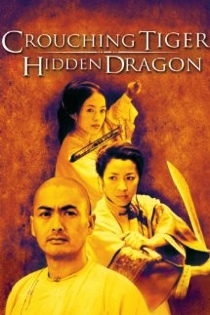 79. Crouching Tiger, Hidden Dragon
Year: 2000
Director: Ang Lee
Ang Lee's Oscar-winning epic is not only the highest-grossing foreign film ever, but also happens to be yet another foreign film that changed the cinematic landscape: a kung fu flick with heart and soul. Chow Yun-Fat, Michelle Yeoh and Zhang Ziyi play 19th-century warriors whose loyalty and vitality are tested by a series events that lead each to contemplate their life's decisions. Beyond the entracing and lyrical storytelling, Crouching Tiger stands as a rare, beautiful beacon of hope: a foreign film that was actually universally embraced by Western audiences. Here's to hoping that happens more often. —Jeremy Medina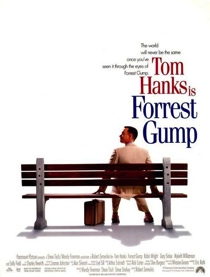 78. Forrest Gump
Year: 1994
Director: Robert Zemeckis
Few films infiltrate the collective American psyche quite the way Forrest Gump managed. You've undoubtedly heard someone make reference to this 1994 classic—whether it was a classmate sarcastically yelling "Run, Forrest, run!" as you hustled to catch the bus, or someone busting out their best drawl to deliver, "Momma always said life is like a box of chocolates." The entire film is full of dialogue that's both moving and funny (my personal favorites include "But Lt. Dan, you ain't got no legs" and "I'm sorry I had a fight at your Black Panther party"). Forrest may be a simple man, but his story is our nation's story, and we all are run through the emotional gauntlet as we watch him hang with Elvis and John Lennon, fight in Vietnam and encounter many a civic protest—all while in pursuit of his true love, Jenny. Tom Hanks delivers an Oscar-winning performance, and Gary Sinise is heartbreaking as Lt. Dan.—Bonnie Stiernberg


77. Braveheart
Year: 1995
Director: Mel Gibson
Like any number of other artists, we should be able to separate the creator from the creation. Sure, what we might now know or think about Mel Gibson as a person might not be very nice but, wow, do few films say "epic" quite like this one? Sprawling, bloody, beautifully realized and rich with meaning, this film is everything we hope for from this type of film.—David J. Greenberg


76. In the Loop
Year: 2009
Director: Armando Iannucci
If clever verbal humor were easy, we'd have more comedies like In the Loop from Armando Iannucci (the creator of HBO's Veep). But it's not, and this one stands in a class of its own. It's the most quotable film of its decade—by miles—and the cynical potty mouths on screen are so articulate and creative that, after the avalanche of witticisms, you're left with the lingering sense that you've seen not just a funny movie but also a wicked political satire of the highest order, the kind where the absurdity speaks for itself.—Robert Davis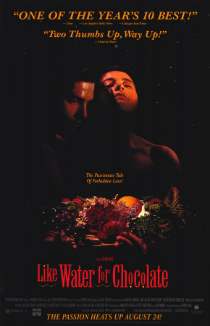 75. Like Water For Chocolate
Year: 1992
Director: Alfonso Arau
An adaptation of Laura Esquievel's novel about Mexican cooking and magical realism, Like Water for Chocolate depicts the passionate but forbidden love between two young people, Tita and Pedro. As Tita cooks, her moods and emotions directly enter her food, evoking violently powerful reactions—sometimes positive, sometimes disastrous—in all who eat her cooking.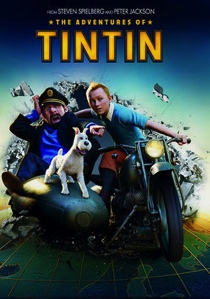 73. The Adventures of Tintin
Year: 2009
Director: Steven Spielberg
Created by Belgian artist Georges Remi (under the pen name Hergé), the intrepid carrot-topped reporter/sleuth stands as a titan of European comics. But director Steven Spielberg held the film rights for nearly 30 years, waiting for the right moment to give Tintin his cinematic due. The Adventures of Tintin does just that, impressively capturing the spirit of the source material. It's clever in the best sense of the word—from the Tintin mini-adventure embedded in the opening titles to the meticulous attention to details throughout (a quality for which Hergé himself was so admired). As one would expect from a Spielberg-directed adventure, the pacing is "Raiders brisk"—so much so that there was even a little hesitant expectation at film's end as half the audience seemed unsure whether the latest climax was the last.—Michael Burgin


72. Sleepless in Seattle
Year: 1993
Director: Nora Ephron
Sleepless in Seattle is essentially one giant love letter to 1957's An Affair to Remember from writer/director Nora Ephron. Rita Wilson gives a memorable teary summary of the movie, and Annie (Meg Ryan) watches it before writing to Sam (Tom Hanks) inviting him to meet her at the top of the Empire State Building—the way Cary Grant and Deborah Kerr attempt to in their movie—on Valentine's Day. When they finally meet on the observation deck, the theme from An Affair to Remember swells, setting the mood for anyone with an appreciation for good rom-coms.—Bonnie Stiernberg


71. The Truman Show
Year: 1998
Director: Peter Weir
Before reality shows took over the world and VH1, there was a prescient little movie called The Truman Show. Strange, that there was a time in our culture when the thought of putting someone on television and watching their life unfold in a somewhat (or completely) falsified manner was morally wrong. But The Truman Show was more than just a critique on the reality shows of the future; Jim Carrey was the everyman hero, weary of living a life where he took no risks and saw no change. As he attempted to make new moves, he was met with such resistance that it made the very act of living a revolutionary process in itself. Laura Linney, Noah Emmerich and Ed Harris (as Christof, the all-powerful man behind the curtain) made up Truman's world and the cast of one of the most captivating and triumphant stories ever told.—Shannon M. Houston.


70. Waking Ned Devine
Year: 1998
Director: Kirk Jones
Waking Ned Devine may be the most feel-good heist flick ever made. Ned is an old-timer in a small Irish village who wins the lottery and dies from the shock of it. Two of his old-timer buddies, Jackie (Ian Bannen) and Michael (Fawlty Towers' David Kelly), decide to scam the big-city lotto agent into thinking that one of them is Ned, alive and well. What ensues is not so much a con-artist caper but more an Irish celebration of community, camaraderie and the spirit of human generosity. Other Irish themes championed: whiskey, lush landscapes, poetry, naked old dudes riding motorcycles, whiskey and the fiddle. Did we mention whiskey?—Ryan Carey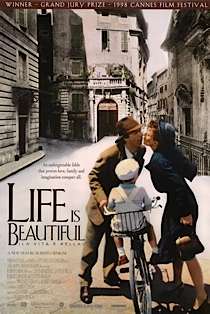 69. Life Is Beautiful
Year: 1997
Director: Roberto Benigni
Italian writer, director, actor and concentrated ball of exuberance Roberto Benigni brought comedy to a story of a Nazi concentration camp without downplaying the tragedy. We all want to give our children their childhood, and his character's efforts to do just that make the horror all the more relatable. The film tugs at heartstrings, but Benigni plays them so well, you'll forgive any hint of emotional manipulation.—Josh Jackson


68. Once Upon a Time in America
Year: 1984
Director: Sergio Leone
In the wake of the first two Godfather films, Sergio Leone showed boldness to attempt a gangster film of this scale and magnitude, but the boldness paid off. Centered on a gang of Jewish mobsters—played by greats such as Robert De Niro and James Woods—Once Upon a Time in America makes for a violent and haunting social history of crime in America.


67. Gandhi
Year: 1982
Director: Richard Attenborough
Ben Kingsley gives an amazing performance as the Indian lawyer who became an icon of using non-violent protest to bring about change. Attenborough's film is appropriately epic in scope to capture the incredible life of Mohandas Gandhi and his struggle for Indian independence. The film earned 11 Oscars including Best Picture, Best Director for Attenborough and Best Actor for Kingsley.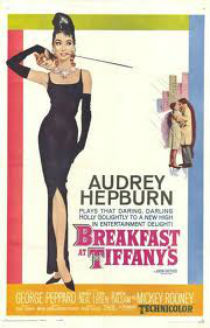 66. Breakfast at Tiffany's
Year: 1961
Director: Blake Edwards
Every woman wanted to be Audrey Hepburn's Holly Golightly, and every man wanted to be with her. This early romantic comedy gave us "Moon River." Even the poster is iconic: the long cigarette, the jewels, the cat and her long black dress.—Adam Vitcavage


65. The Goonies
Year: 2008
Director: Richard Donner
For most kids, there's something completely terrifying about packing up your things, making new friends and moving to a strange location. But unlike most kids, The Goonies have to deal with these problems while finding a pirate's treasure, escape the Fratelli family of fugitives and still try to stay together as a group of friends. In The Goonies, members of the group are kidnapped, forced into captivity with a mutant, made to walk the plank and even fight an octopus (off-screen). While at it's core, The Goonies is an adventure and a comedy, there are enough real obstacles and dangers that the stakes therein can be wonderfully frightening.—Ross Bonaime


64. Talk To Her
Year: 2002
Director: Pedro Almodovar
Talk to Her is Pedro Almodovar's masterpiece (trumping even 1999's near-perfect All About My Mother). Loneliness is the major character in this film, an amalgamation of interwoven stories about the absence and/or abundance of intimacy in a series of relationships, how people cling to human contact in the most desperate and dire of situations. The film deservedly netted Almodovar an Oscar for Best Original Screenplay, a fitting tribute to a voice that has become one of the leading and, yes, most original in movies today.—Jeremy Medina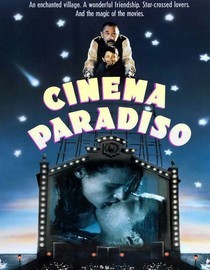 63. Cinema Paradiso
Year: 1988
Director: Giuseppe Tornatore
Giuseppe Tornatore's ode to film and love provided a shot in the arm to Italy's film industry, as well as that rarest of films—the "great subtitled date film"—for the American film-goer. It also took home the Oscar for Best Foreign Film. (The extended cut of the film reveals a more complicated take on nostalgia and the film's father figure.)—Michael Burgin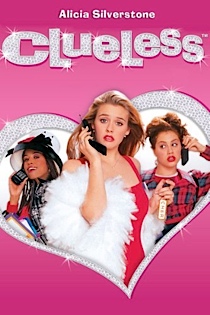 62. Clueless
Year: 1995
Director: Amy Heckerling
A combination of comedy, romance and high-school spunk, Clueless is a story with true '90s flair. Alicia Silverstone stars as the pretty and popular Cher, a privileged valley girl with a penchant for matchmaking. While she cruises potential boyfriends for her girlfriends, she struggles to figure out her relationships. The film is a charming, modern take on Jane Austen's 1815 novel Emma, and with performances by a youthful Paul Rudd and Brittany Murphy, it's anything but an airhead. Could we love this film anymore? As if!—Megan Farokhmanesh


61. The Interrupters
Year: 2011
Director: Steve James
Steve James is justly deified for Hoop Dreams, which no less an authority than Roger Ebert declared the greatest documentary of all time. The Academy famously snubbed it, denying it even a nomination for Best Documentary of the year. The Interrupters is the first film since then in which James approached those heights, and inconceivably, the Academy has done it again, as the year's best documentary didn't even make the short list for a nomination. Pay them no attention. Don't miss James' majestic account of a group of former gang members who toil tirelessly on the streets of Chicago to prevent disputes from escalating into violence.—Michael Dunaway

Others Tagged With