Is this the Sound of Settling? A Playlist for Ben Gibbard and Zooey Deschanel's Wedding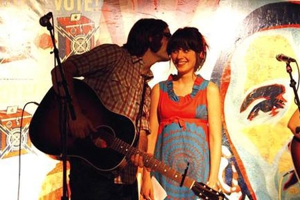 Ben Gibbard and Zooey Deschanel tied the knot this past weekend after a fairly subdued nine-month engagement. It was the nuptial ceremony heard 'round the blogosphere; music-lovers of both genders tore their cardigans and hoodies from their bodies in mourning, their soulmate now wed to another.
Yeah, there something a little bit
cutesy and saccharine-sweet about this pairing. As the reigning royalty of indie-dom, it's impossible to put aside the mental image of them cozied up in knit sweaters, dozing off at 8:30 p.m. with their socks on. But is this the life they've chosen, or is it, as Mr. Gibbard so heart-achingly phrased it, "
the sound of settling
?" Or did he finally think of something charming to say? Moreover, B-dawg, we happen to have our hands on a
fairly incriminating confession
, penned by you, about where your relationships rank compared to your music. Just sayin'.
But you know what? All the best to them, because they deserve to be happy, just like everyone else. When you find someone you really love, you have every reason to want to spend the rest of your days with them. So here's a toast to Mr. and Mrs. Gibbard-Deschanel. And in their honor, a playlist about falling in love, loving, being afraid of love, and loving love:
Others Tagged With