An Indie Rock Alphabet Book release party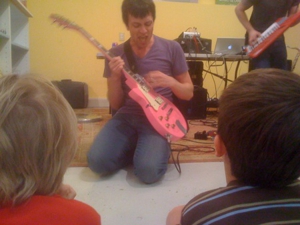 Ain't no party like a kids' book release party. On Sunday, Jan. 25, Little Shop of Stories in Decatur, Ga., was packed for the release party of Paste's An Indie Rock Alphabet Book. Oskar Blues provided the Dale's Pale Ale and local band Judi Chicago brought the rock. After a reading of Jarrett J. Krosoczka's Punk Farm, my daughters Jordan and Emma Jackson read their Indie Rock ABCs. It's even funnier when a kid reads, "Stone Temple Pilot turned into tools / But after all this time, Pearl Jam still rules." Co-authors Kate Kiefer and Rachael Maddux and illustrator owen the owen were on hand to sign copies of the book, while co-author Caren Kelleher was off expanding her brain at Harvard.


Judi Chicago warms up the crowd with a DJ set.



A page from the book



Readers Emma and Jordan Jackson



The Reading Room



Authors Rachael Maddux and Kate Kiefer; illustrator owen the owen



Fans line up for some celebrity autographs



Atlanta band Judi Chicago