1,000+ Zombies Walk the Streets of Manchester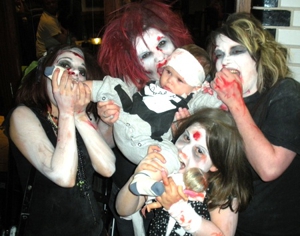 The most important rule for last Sunday's Zombie Walk in Manchester, England, according to the voice coming through the loudspeaker, was that "the undead never run." So 1,110 participants dressed as zombies shuffled through the streets of Manchester, coming just 160 short of the world record set in Nottingham last year.

The crowd included a surprising number of zombie children, but the most disturbing sight might have been the zombie woman breast-feeding ahp healthy newborn while she waited to register. The event kicked off with a dance performance of Michael Jackson's "Thriller" at The Printworks and concluded with a Zombie Ball at Pure. Here are some of my favorite images from the Walk:


This might explain the missing 160 people that would've broken the record.
Even zombies recognize a good cask ale. The undead were hanging out at The Old Wellington Pub before the Walk.
Fun for the whole family... except Uncle Jake.
Manchester has seen a rise in zombie-on-zombie violence.
I learned a new term in Manchester. These would be
chav
zombies.
Strangely, mom and dad weren't even dressed up.
Apparently, zombies come in white, black, blue, red and green. And Uncle Fester has joined the Satanic priesthood.

There will be another attempt to break the record in October. This guy wants you to help.

Others Tagged With