10 Awesome Scenes From Arrested Development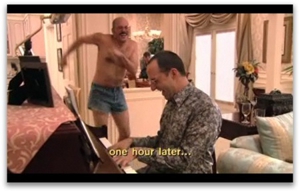 Page 1 of 2
The Office still has its moments. Modern Family shows some promise. And 30 Rock is coming back in October. But since it went off the air in 2006, no sitcom has made me laugh as much as Arrested Development. The movie may or may not happen sometime before Michael Cera starts getting adult roles, but we'll always have these three perfect seasons. And right now we've got two of them on Hulu. Here are 10 clips to help explain our obsession with this show.
1. Punking Dad (Season 3, Episode 8)

George Bluth delivered his safety lessons the old fashioned way—by enlisting his one-armed friend J. Walter Weatherman in elaborate, gruesome schemes to freak them out. The kids try to give dad a taste of his own medicine.
2. Intervention (Season 2, Episode 17)

Lucille may be an alcoholic, but who has the nerve to stand up to her?
3. I'm Oscar (Season 3, Episode 1)

Framing your twin brother might be considered jumping the shark in most sit-coms, but when the family lawyer is Henry Winkler, it's
all
about jumping the shark.
4. Mentally Challenged (Season 3, Episode 6)

Watching Michael's romance with Rita (Charlize Theron) blossom without knowing she's mentally challenged is like watching
The Sixth Sense
—the clues are all there; you just don't know to look for them. But the real brilliance is the photo of Rita before her plastic surgery—a press shot from
Monster
.
5. Hot Sailors (Season 3, Episode 13)

Though he's married to Lindsey, Tobias' dirty, gay mind leads to huge... Freudian slips.
Others Tagged With