Paste Magazine and Dale's Pale Ale Announce "Downlow'd Club"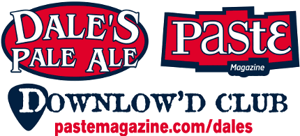 FOR IMMEDIATE RELEASE

April 16, 2009


(Decatur, GA) - Paste magazine and craft beer Dale's Pale Ale have teamed up to bring discerning readers and drinkers a host of free digital music each month via the all-new Downlow'd Club - a promotion which will run through the remainder of 2009.
"Paste readers are a discriminating lot - we know they seek really good beer. So it's natural for a beer-loving music brand like Paste to team up with a music-loving beer brand like Dale Pale's Ale brewer Oskar Blues. It's really simple: we want their drinkers reading Paste and they want our readers drinking Dale's Pale Ale. So, we bond over lots of really cool free music," said Paste Publisher Nick Purdy.

The Club will be promoted in two key ways. Advertising units in Paste magazine point readers to the site, and rolling out in May will be over 5 million Dale's Pale Ale cans with co-branding pointing drinkers to the Downlow'd Club (graphics available on request).

The Downlow'd Club can be accessed from Paste's website (www.pastemagazine.com/dales). Registration is free, and users are only required to enter their name, email address and ZIP code to gain access to the 15 or more free downloads offered each month. The inaugural month's music selection includes songs from up-and-comers like Harlem Shakes and The Deep Vibration, as well as music vets Todd Snider and Marissa Nadler.

Paste and Dale's also want to reward their readers and drinkers for being faithful to good beer and good music. Registered club members will also be entered to win trips, gear and other exclusive prizes offered by the two partners.

"Like the musical artists Paste digs, we make art that's way too rich and flavorful for mainstreamers," said Marty Jones, Lead Singer/Idea Man for Oskar Blues. "We also know that some of the greatest moments in life occur while drinking delicious beer and enjoying great music. The Downlow'd Club helps us bring more of these moments to more people. We're partnering with Paste to help rid the world of watered-down, mass-appeal beer and music."

ABOUT PASTE
Paste magazine is the fastest growing independently published entertainment magazine in the country. Called "the best among American music titles" by The Wall Street Journal, and recently named "Magazine of the Year" at the 2008 PLUG Independent Music Awards for the third year in a row, Paste provides thoughtful analysis on the best in film, books and other aspects of popular (and alternative) culture. Paste is the premier magazine for people who still enjoy discovering new music, prize substance and songcraft over fads and manufactured attitude, and appreciate quality music in whatever genre it might inhabit. Now in its sixth year, Paste has grown quickly with international distribution in over 12 countries. Paste is available on newsstands all over the U.S. and Canada.

ABOUT OSKAR BLUES
The company's assertive-but-elegant canned beers have helped Oskar Blues achieve some of the craft beer industry's biggest growth. Prior to canning, Oskar Blues produced 700 barrels of beer. In 2008 it produced 19,500 barrels, up from 12,409 in 2007. The company's flagship, Dale's Pale Ale, is a robust American pale ale with 6.5% ABV and 65 International Bittering Units. Its honors include Top American Pale Ale from the New York Times, Top Colorado-Brewed Beer from the Rocky Mountain News, and World's Best Canned Beer from Details. Old Chub Scottish Style Ale is a semi-sweet Scotch strong ale (8% ABV) brewed with ridiculous amounts of malts. Old Chub has won rave reviews from the Wall Street Journal, Celebrator Beer News, Alestreet News and consumer reviewers at Beeradvocate.com and Ratebeer.com. Gordon (8.7% ABV, 65 IBUs) is a double/imperial red ale made with six malts, three hops, and a massive dry-hop addition. It is brewed in honor of Gordon Knight, a Colorado craft beer pioneer who died fighting a wild fire outside of Lyons in 2002. It has earned glowing reviews and a bronze medal in the 2008 World Beer Cup. Oskar Blues brews and packages its beers in a new 35,000-square-feet brewery in Longmont, Colorado, just east of Lyons. The beers are available in 24 states.

CONTACT

For more info, or to speak with someone at Paste, please contact Palmer Houchins, palmer@pastemagazine.com or 601.951.5884

For additional info, interviews, photos or samples from Oskar Blues Brewing contact Marty Jones at 303-860-7448, marty@oskarblues.com. For more information visit www.oskarblues.com.


# # #

Others Tagged With