The 5 New, Under-the-Radar TV Shows You Can't Miss in February
Photo Courtesy of Apple TV+
TV
Lists
list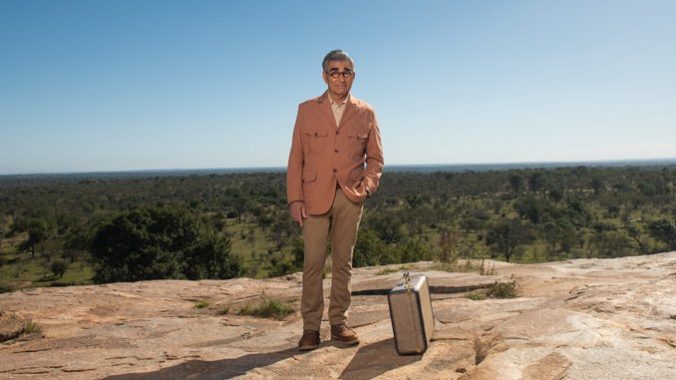 For the month of love, I once again give you a TV Valentine poem:
Roses are red
Violets are blue
I love Grogu
And I know you do, too.
My advice: Spend the month catching up on The Book of Boba Fett
Or there will be parts of The Mandalorian that you will not get.
The month may be short, and keeping up with TV will be hard.
We'll say welcome back to A Million Little Things, You and Picard,
Dear Edward, Not Dead Yet, and The Ark
There are so many new shows trying to catch your spark.
I know The Mandalorian always tells us "This Is the Way,"
But after 19 seasons are we ready to say goodbye to Dr. Meredith Grey?
Stay strong! There's no need to frown,
The good news is it's time once again to Party Down.
Every month we find shows to add to your TV watching bliss,
Here are the five under-the-radar ones you cannot miss.
1. Freeridge
Stars: Keyla Monterroso Mejia, Bryana Salaz, Tenzing Norgay Trainor , Ciara Riley Wilson and Peggy Blow
Premiere Date: All eight episodes premiere February 2 on Netflix
This On My Block spinoff finds a new group of Freeridge teens navigating high school, mystery and, this time, mysticism. Gloria (Keyla Monterroso Mejia), Ines (Bryana Salaz), Cam (Tenzing Norgay Trainor), and Demi (Ciara Riley Wilson) unwittingly unleash a curse and must deal with the misfortune coming their way. On My Block executive producer Lauren Iungerich returns as showrunner as do many familiar On My Block faces, including Peggy Blow who plays a brand new character here (her Abuelita died in On My Block's fourth season).
---
2. Murf the Surf
Premiere Date: February 5 on MGM+
This four-part documentary series follows famed surfer Jack Roland Murphy who, on October 29, 1964, pulled off a jewelry heist of New York's American Museum of Natural History. Among the jewels stolen from the Hall of Gems was the famed The Star of India. A criminal celebrity in his day, Murphy's story was turned into the 1975 film Murph the Surf starring Don Stroud. This series takes a closer look at the man behind the myth including his murder conviction, time in prison, and sudden newfound faith. The series, from director and executive producer R.J. Cutler, features footage of Murphy himself before his death in 2020. Episodes will premiere each Sunday skipping Super Bowl Sunday (an encore of the premiere will air that day).
---
3. Marvel's Moon Girl and Devil Dinosaur
Stars: Laurence Fishburne, Diamond White, Fred Tatasciore, Libe Barer, Alfre Woodard, Sasheer Zamata, Jermaine Fowler, and Gary Anthony Williams
Premiere Date: February 10 at 8 p.m. on Disney Channel
Based on comic books of the same name, this animated series follows 13-year-old Lunella Lafayette (Diamond White) and her 10-ton T-Rex, Devil Dinosaur (Fred Tatasciore). Lunella is TV's first Black teenage girl superhero. Not only is she super smart but, along with her trusty dinosaur, she is tasked with protecting New York's Lower East Side. Guest cast include Pamela Adlon, Alison Brie, Wilson Cruz, Daveed Diggs, Jennifer Hudson, Cliff "Method Man" Smith, Cobie Smulders, and Wesley Snipes. Executive producer Laurence Fishburne also lends his voice as the mischievous The Beyonder. The series, which has already been picked up for a second season, will also stream on Disney+ beginning February 15.
---
4. The Low Tone Club
Stars: Carlos Vives, Julián Arango, Kevin Bury,?Elena Vives, Brainer Gamboa), María Fernanda Marín, Catalina Polo, Gregorio Umaña, Manuela Duque, Salomé Camargo, Juan Camilo González, Juan Diego Panadero, Pitizion , Juan Manuel Lenis, Luis Fernando Salas, Giseth, Deisy and Zoila Mariano, Melanie Dell´Olmo, and Sharik Abusaid
Premiere Date: All 10 episodes premiere February 22 on Disney+
Colombian singer Carlos Vives stars as Amaranto Molina, a high school music teacher who is put in charge of the Low Tones. They are the students who are deemed not talented enough for their school's prestigious teen band known as "The High Tones." But Mr. Molina believes in his students and in bringing out the best in them. This inspirational Latin American series is entirely in Spanish with subtitles.
---
5. The Reluctant Traveler
Stars: Eugene Levy
Premiere Date: All eight episodes premiere February 24 on AppleTV+
By his own admission, Eugene Levy doesn't love to leave the comfort of his own surroundings. But he's decided it's time to see what the world has to offer and take viewers along with him. First up is a trip to Finland where he stays in the gorgeous Arctic Treehouse Hotel, ice fishes, and hopes to get a glimpse of the Northern Lights. Over the course of eight episodes, Levy, who is also the show's executive producer, travels to Costa Rica, Venice, Utah, Maldives, South Africa, Lisbon, and Tokyo.
---
Amy Amatangelo, the TV Gal®, is a Boston-based freelance writer and a member of the Television Critics Association. She wasn't allowed to watch much TV as a child and now her parents have to live with this as her career. You can follow her on Twitter (@AmyTVGal).
For all the latest TV news, reviews, lists and features, follow @Paste_TV.