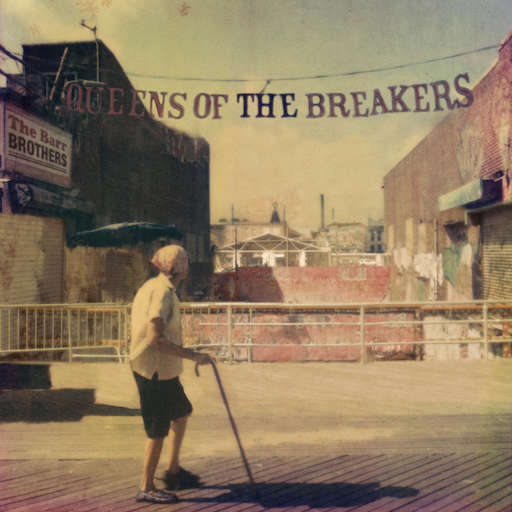 The Barr Brothers harbor a boundless sense of curiosity. Brothers Brad and Andrew Barr and Sarah Pagé seem to look at the world around them, and especially the vast array of noise-making devices around them, as instruments through which to channel that wonder. On their third LP, Queens of the Breakers, The Barr Brothers use everything from their typical set-up—guitar, percussion and harp—to strings performed by The Warhol Dervish, requinto guitars from Mexico and stringed ngoni from West Africa continue that joyful sonic experimentation.
Out now via Secret City Records, Queens of the Breakers represents a new method of writing for the brothers and Pagé. For their first two records, Brad presented song sketches that the band would complete. However, the band took a winter retreat to the remote town of Satin Zenon, Québec to write this effort in a more collective, improvisational way. The range of genres—from American blues and acoustic folk to digi-percussion 808s and psychedelic improvisations—can all be found on the record's 11 tracks. But something about the air and light and space of that northern cabin seems to give these songs breath.
Still, for the joy that radiates among The Barr Brothers while playing, Queens of the Breakers is not necessarily a joyful record. Opening track "Defibrillation" (which features spine-tingling guest vocals from Lucius' Holly Laessig and Jess Wolfe during the bridge) began in a hospital after the brothers' mother needed stitches; Andrew tried to memorize and replicate the rhythm of two hearts beating in and out of time. The fuzz in "Kompromat" veers on raunchy, fitting for a song whose title literally translates to "compromising material" in Russian that denounces American greed in the Trump era.
Elsewhere, nostalgia reigns. The title track was named in honor of Brad's gang of teenage friends and "Song That I Heard" about moving to Montreal (the reference to local hero The Great Antonio) and meeting and falling in love with his wife. Foreboding creeps on the final three tracks "Hideous Glorious (Parts 1 and 2)" and "Ready for War." But as a whole, Queens of the Breakers holds fast to hope and shows both a continuation and an evolution for one of the most creative bands out there today.