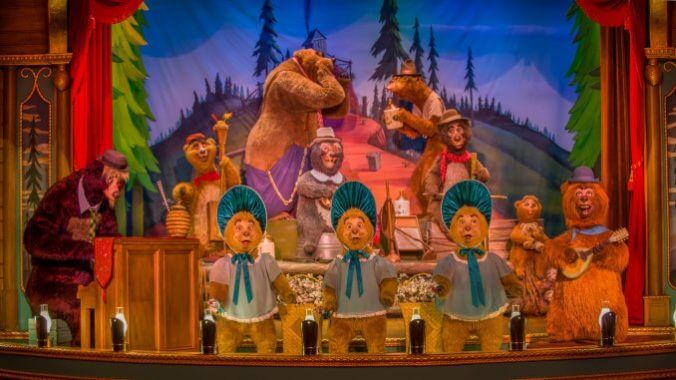 There's a true tragedy brewing in the redneck robot bear community: Last weekend Disney revealed that it'll be updating the Country Bear Jamboree at the Magic Kingdom in 2024. The audio-animatronic Hee Haw riff about country-singing bears has been largely untouched since its 1971 debut. It's been shortened, with two songs cut out, and it used to run a couple of seasonal shows that now only exist at Tokyo Disneyland's version of the attraction, but what you'll see at Disney World today is pretty much what you would've seen 50 years ago: a bunch of robot bears "performing" '60s country songs by artists like Buck Owens, Wanda Jackson and Tex Ritter. That might sound outdated, but I'd call it timeless, and the direction Disney is headed in is a disappointment.
The first major soundtrack overhaul in the show's history will apparently replace those old country songs with classic Disney tunes performed in various country and western styles. The announcement played a snippet of one such song, a twangy version of "The Bare Necessities" from The Jungle Book. The new recording sounded perfectly fine, but adding it to the Country Bear Jamboree is a too-obvious choice that's emblematic of one of the biggest problems facing the Disney parks over the last couple of decades. It also destroys the attraction's sense of time and place and weakens its original concept, all just to further market Disney to customers who, based on the cost of the ticket they had to buy to get into the park, have probably already bought pretty deeply into Disney marketing. 
Too often Disney strips away what makes its theme parks unique in favor of stories, characters, and music from its movies. Just look at the addition of Johnny Depp animatronics to Pirates of the Caribbean, or almost any of the changes to EPCOT and Disney's Hollywood Studios over the last decade. Removing the songs that have always defined the Jamboree and become synonymous with its characters, just to turn it into one more opportunity to hear "classic Disney songs" in a theme park full of them, will undermine the whole point of the attraction. It's a loving, lightly satirical mock celebration of country music and the Southern culture it arose from, heavily indebted to the time in which it was created: the late '60s and early '70s. The Hee Haw comparison would've been obvious even if the Country Bear song list didn't include two Buck Owens numbers; it's full of the cornpone humor that was popular on TV at the time, intentionally targeting the Southern audience that Disney expected its Florida theme park to heavily draw from. 
Obviously that specific kind of hayseed humor is thoroughly old-fashioned at this point. The Country Bear Jamboree always transcended the Hee Haw comparisons, though; although unavoidable to anybody who knew the attraction's inspirations, Hee Haw's cultural ubiquity dried up decades ago, and Disney's show was weird and distinct enough to forge its own unique legacy, anyway. The Country Bears long ago became a part of what some call Disneyana, the culture and nostalgia that has grown around Disney's works, including the theme parks. Three generations of Disney theme park guests have come to love the current Country Bear Jamboree, and at this point few of them probably have any idea what Hee Haw is (or, sadly, who Buck Owens and Tex Ritter were). The Country Bear Jamboree has existed as its own ridiculous, entertaining, and inexplicable experience for decades, regardless of its influences, and has been a vital part of the culture of the Magic Kingdom since opening day. It's hard to see that remaining true if Teddi Barra starts singing "Let It Go" with pedal steel instead of Jean Shepard's "Heart, We Did All We Could."
It's also a window into a bygone era of country music and entertainment. Like The Carousel of Progress and Main Street U.S.A., which recreate idealized versions of America's past, the Country Bear Jamboree is almost a kind of living history today. If you want to know what entertained Americans in the past, especially Southerners, this show gives you a pretty solid idea. And it's more truthful than most Disney history because it was actually created in the era that it preserves, instead of trying to romanticize the recent past. No, these redneck bears don't really act like Southerners did in 1971, or reflect their experiences, but the Jamboree does show us what music that audience listened to and what kind of jokes they laughed at, and that tells us a lot about them and how they viewed themselves.
(It's also important to note that the Country Bear Jamboree has included an iconic preexisting Disney song since it opened, "The Ballad of Davy Crockett," proving that there's room for the show to both market Disney while also celebrating actual country music.)
I don't want to be one of those old weirdos who rushes to condemn a Disney parks project before he knows what it'll actually look or feel like, but I think we know enough about what Disney's planning here to be able to criticize it without the melodramatic, performative hate that makes the internet go 'round. I'm also not one of those nostalgia-bound traditionalists who think nothing should ever change at Disneyland or Disney World. I have been on board with Splash Mountain's overhaul since it was announced, and believe it took way too long for them to change a theme that never should've been used in the first place. The redevelopment of Animal Kingdom's lackluster Dinoland area and potential retheme of that park's Dinosaur ride have long been needed. As much as I love the core concepts and design work in Pirates of the Caribbean and It's a Small World, I'd be fine with the Disney World versions of both being heavily updated or changed to something entirely different, as they're so clearly inferior to the Disneyland originals. Change isn't inherently bad, even at a Disney theme park.
There's nothing good about this change, though. The Country Bear Jamboree and Disney World as a whole will lose so much more than it'll gain when these songs are replaced by Disney music. The news could be worse—at least Disney isn't closing the attraction altogether, and I'd probably take countryfied versions of Disney Renaissance songs over an updated pop country soundtrack featuring the likes of Jason Aldean or Luke Bryan—but it's still bad, and shows once again that Disney cares more about "corporate synergy" and "leveraging its intellectual property" than making smart, sensible choices for its theme parks.
---
Senior editor Garrett Martin writes about videogames, comedy, travel, theme parks, wrestling, and anything else that gets in his way. He's also on Twitter @grmartin.