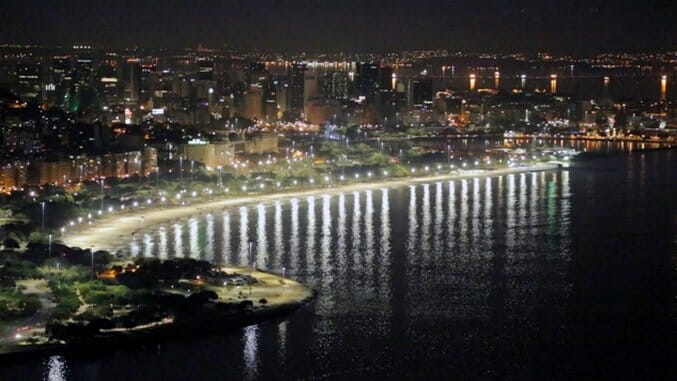 Hills are meant to be climbed. That was my thinking as I left my companions behind at the gondola station and began racing up Urca Hill. We'd meet at the top and ride the rest of the way together to Sugarloaf Mountain, the granite obelisk that rises straight out of Guanabara Bay 1,300 feet into the sky.
But the sky was getting dark, and I realized that jeans weren't really great climbing attire in Rio, even in the winter. Twenty minutes in, and the people who passed me coming back down the mountain were using their cellphones as flashlights to see. And my colleagues weren't allowed on the car with a tripod, so they were scrambling up behind me. Fortunately, the top of Urca Hill is a great place to recharge with a smoothie or cerveja. And the view is more than worth the effort of the half-hour climb. Urca looks down upon much of Rio's eastern side.
The view gets even more majestic after the three-minute gondola ride from Urca to Sugarloaf Mountain, where you can see everything from the beach volleyball on Copacabana to the Olympic sailboats moored in Guanabara to the Olympic action in City Center. We could even see a spotlight shining up into the sky from the Olympic village area an hour's drive away on the city's west side.
Tickets are 40 reis roundtrip from Urca to Sugarloaf and another 40 if you skip the climb. And remember: Don't feed the marmoset.