Adam Silvera Weighs Sexual Identity in Memory-Bending Novel More Happy Than Not
What would it take to drive someone away from their heart's natural desires?
Author Photo by Margot Wood
Books
Features
If you're in the book world, chances are you've heard of Adam Silvera. He's a regular over at Shelf Awareness, where he writes about Young Adult books, and for quite a while, he could be spotted in New York City's legendary indie bookstore, Books of Wonder.
As Silvera is a supportive part of the literary community, numerous individuals in publishing, from authors to editors to reviewers, let out a spontaneous cheer when they heard his debut novel would be published by Soho Press' Teen imprint. One of YA's biggest supporters joined the ranks of the authors he's bolstered for years when his novel hit shelves today.
Titled More Happy Than Not, the book tells the story of Aaron Soto, a teen growing up in the Bronx who wants to forget. And thanks to the new technology developed by the Leteo Institute, he can undergo a memory-relief procedure that'll wipe away all that hurt and confusion. But Aaron doesn't just want to forget bits from his past, the way other people do. He wants to forget that he's gay.
The story of a poor, inner-city kid struggling with his sexual identity, complicated friendships and a broken family is easily one of the most heart-wrenching you'll read this year. The book has pulled in starred reviews from Kirkus, Publishers Weekly, Booklist and School Library Journal, making it one of the 2015's most highly anticipated releases.
Paste sat down with Silvera to chat a bit about the origin of More Happy Than Not, the books that have influenced him and his next novel.

Paste: What drove you to tell Aaron's story?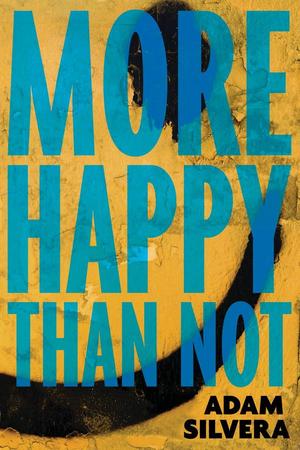 Adam Silvera: The book was conceived when I was thinking about how sexuality falls all over the place in the nurture versus nature discussions, which never made sense to me because I wouldn't have chosen to be a gay teenager in the Bronx if given the choice. So I wanted to explore that through Aaron and intensify my own conditions to see what it would take to drive someone away from their heart's natural desires and become straight instead of gay.
Paste: How much of Adam Silvera is there in the character of Aaron? Is any of More Happy That Not influenced from your life?
Silvera: In the original draft, Aaron Soto was a mock-up version of me. I quickly realized his story wasn't reaching the complexities his own journey called for, so I rerouted his narrative to forge his own path. But because he still carries a lot of emotional resonance and some echoes of what I went through, I was able to stay close to him during all the rough stuff.
Paste: Did that make it more difficult or easier to write?
Silvera: It was both challenging and easy. Certain things arrived to me easily because I pulled from my own past, but on the other hand, digging up those old emotions was at times devastating and shook me.
Paste: Is there a scene that was your favorite to write?
Silvera: I love the chapter "No Homo" where Aaron and Thomas, [Aaron's] new best friend that he's quickly developing feelings for, hang out for the first time without Aaron's girlfriend or friends. They talk about movies and memories and the future. I would reread that chapter whenever I was struggling through hard scenes.
Paste: As anyone who follows you on Twitter knows, you've got a tight knit group of author pals. How important is that kind of network to have, as a writer?
Silvera: I was very lucky to befriend many authors before even signing with an agent, and they were all so supportive of me when I told them I was in the middle of my first book. They all loved my pitch and wished me luck and have been insanely supportive for cover reveals and deal news and sharing positive reviews the book has received. The book industry is all about community, and it never really feels like anyone is competing against anyone, thankfully.
Paste: As a bookseller and a reviewer, a lot of YA novels have made their way across your TBR (to-be-read) pile. What are some of the books that influenced you to become a writer?
Silvera: I'm definitely of the Harry Potter-transfigured-me-into-a-reader-and-writer generation. And that's really all I read throughout my teen years, because I really devoted all my time to writing and reading friend's fan-fiction.
It wasn't until I hit 20 that I became an obsessive reader, I think, which feels a little funny considering I was a bookseller for five years and have been reviewing YA novels for four years.
Paste: Reading anything good now?
Silvera: I'm reading The Martian by Andy Weir and YO! I had some criticisms in the beginning, but it's moving along now. I'm trying to read more widely these days, so I read Noelle Stevenson's Nimona in one sitting, which was my first graphic novel in years, and recently finished The Pursuit of Happyness which digs way deeper into Chris Gardner's struggles than the Will Smith movie.
Paste: You have a second novel in the works with Soho Teen. What can you tell us about it?
Silvera: It's in the works and it's kicking my ass, but I'm happy that I'm feeling pushed as a writer. History Is All You Left Me is about 17-year-old Griffin with OCD whose best friend and childhood love has recently drowned, and it confronts his attempts to rebuild his future without the boy he loves. Griffin turns to the deceased's recent boyfriend for comfort and a destructive friendship ensues.
It's about lying and gay culture and grief and obsessive compulsions spiraling far, far, far, far out of control. It should be out in fall of 2016 or winter 2017!