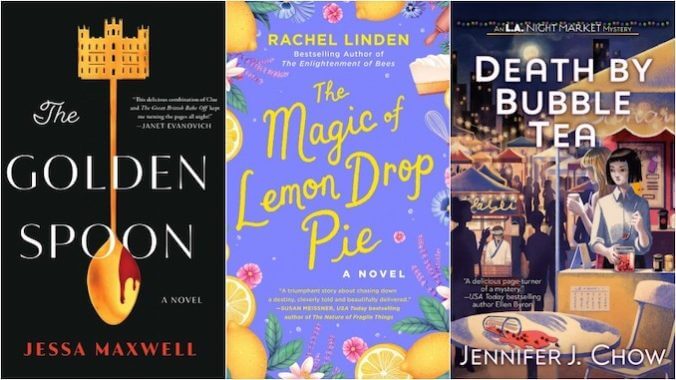 The best way to many a reader's heart is through their stomach; we consume books, after all, the way we do an exquisite meal (or even sometimes just a necessary one). Food is a pretty universal need across fiction, but it's fascinating to see the myriad ways in which it manifests depending on the genre. 
Our relationship to food might be cozy, like in murder mysteries set on baking shows and at night markets, or romances set in test kitchens and restaurants. Or it can be incredibly creepy, from self-abnegating religious cults to single-minded hunts.
What unites all of these disparate stories is how they dig into hunger. Hunger for companionship, hunger for connection, hunger for justice, hunger for meaning—and, yeah, hunger for humans.
Here are some our favorite books about food—along with a couple upcoming titles we think will more than fit on this list.


Woman, Eating by Claire Kohda
Of course Claire Kohda's contemporary vampire novel Woman, Eating is not the first of its kind to feature an immortal creature regarding tender humans as sustenance. But for biracial artist Lydia, trying to exist among humans is a constant reminder that she will always be more than one thing: Japanese and British, but also demonic and human. 
When she's not managing her bloodlust with pig's blood (despite how good her human flatmates smell), she's struggling to reconcile these various identities. One of the book's most affecting moments has Lydia binge-watching "what I eat in a day" and ASMR YouTube videos, pondering how humans need to control food yet also constantly moralize it… just, as it turns out, like her.


The Thick and the Lean by Chana Porter
Chana Porter's eerie, speculative novel is a near-future meditation on that which we do and don't consider holy. In the extreme, self-depriving cult of Seagate, any food prepared as anything more decadent than fuel is a sin. Porter sharply has The Powers That Be use food to replace sex as the sensual experience to be overindulged while its members starve themselves in sacred disordered eating.
While the book collects multiple narratives including a Seagate escapee-turned-chef and a poor artist-turned-con-artist, most delightful are the interludes from The Kitchen Girl: a forbidden text detailing a humble castle chef's inventive recipes that not only catch the king's eye but also reshape the world for generations to come. You'll be dying to try her sour pickle soup by the time you're done.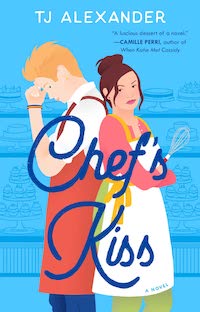 Chef's Kiss by TJ Alexander
TJ Alexander's delectable rom-com is for all of us who became emotionally invested in the Food Network Test Kitchen Cinematic Universe during the early days of COVID-19 lockdown, only to watch internal racism and sexism ruin this comfort-food video series.
Learning to cook under the early-aughts tutelage of Food Network greats like Ina Garten and Alton Brown, Alexander keenly explores both sides of food fandom with this sweet love story: Bisexual pastry chef Simone, used to writing for The Discerning Chef, is thrown for a loop when her cookbook publisher decides to pivot to video. But when that brings her into the test kitchen with bubbly video personality and nonbinary homebrewer Ray, Simone finds herself falling back in love with cooking and with the perfect kitchen partner—and realizing what rotten workplace politics lurk beneath the pithy cooking content.


The Golden Spoon by Jessa Maxwell
Like many books on this list, Jessa Maxwell's murder mystery The Golden Spoon hones in on a very specific subset of kitchen expertise: baking, a skill long undervalued until the era of The Great British Baking Show and other binge-watch spinoffs proved how complex and challenging an art it is.
Like those reality competitions, the plot hinges on a series of crucial bakes, each of which means something different to the contestants, who themselves range from twentysomething prodigies making viral pies to older bakers whose family recipes are treasured heirlooms passed down from one generation to the next. From bread to pie to cake, each on-set sabotage (and the eventual gory killing) amps up one of the most delicious parts of being in the kitchen: when something goes wrong.


The Magic of Lemon Drop Pie by Rachel Linden
It's funny how lemon symbolizes such an evocative food, with its commanding pucker that can be cajoled into contradictory sweetness. Unfulfilled waitress Lolly receives an unusual gift on her thirty-third birthday: three lemon drops that transport her back to three key moments in her life to explore what if her mother hadn't died, what if she hadn't broken up with her boyfriend, what if she had opened a restaurant in London?
Tasting scenarios that turn her life's lemons into something else also brings to mind Aimee Bender's 2010 novel The Particular Sadness of Lemon Cake, in which a young woman discovers she can taste the emotions of people who make food, from her mother's despair to strangers' existential crises. In both cases, lemon is the Proustian key to discovering the best way forward. (Psst: If you're curious, you can read an excerpt from The Magic of Lemon Drop Pie here!)


Walking Practice by Dolki Min, translated by Victoria Caudle
In the surreal South Korean novel, Walking Practice, you, the reader, must listen to a shapeshifting alien who morphs their unimaginable, extraterrestrial body into human form—all the better for the Hunter to lure their Prey: sweet soft humans. Without eating daily, the alien cannot maintain its human form; the passages describing the alien's flesh and organs bursting out of its meat shell are remarkably similar to the destabilizing force of being hangry. In order to eat, the alien constantly adjusts their gender presentation and their body to match the fantasies that people lay out on dating apps.
After all, the Hunter reflects during a booty call-turned-disembowling, "My prey's pleasure is my pleasure." But the alien is also playing into their own fantasies, of having a real mate to eat real food with on real dates, instead of this eat-or-be-eaten survival of the hungriest.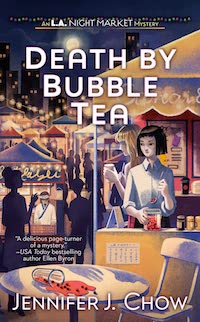 Death by Bubble Tea by Jennifer J. Chow
You gotta love a culinary cozy mystery, and Jennifer J. Chow seems to have hit upon the ideal setting with her L.A. Night Market Mysteries series. The first installment sees the foodie Yee cousins—tech-averse Chinese-American Yale and Hong Kong influencer Celine—unexpectedly thrown together to run their family's dim sum stall at the aforementioned market. But when their gold-flaked boba tea becomes the suspected murder weapon in the death of a customer, the two women must find the strength in their opposite personalities, like an unexpected flavor combination, to figure out who the real killer is.
From Yale's tendency to describe people by food characteristics to a puzzle plot that takes place at various real-life Los Angeles dining destinations, Chow seems to be setting up a great series. Can't wait to explore the other food stalls and murder mysteries in the Night Market.


A Dash of Salt and Pepper by Kosoko Jackson
Kosoko Jackson initially intended this queer rom-com set in charming Harper's Cove, Maine, to be an Airbnb romance. But as he built out the story, he found himself drawn instead to the kitchen dynamics at The Wharf, a hip new restaurant in this sleepy hometown to which hot chef Xavier has returned after losing his fellowship and his boyfriend.
Working as a sous chef fans the flames of attraction between him and bisexual restaurant owner Logan, as Xavier's ambition clashes with Logan's experience. But despite what Adult Swim will tell you, too many cooks do not spoil the pot; with the right seasoning, they make the kitchen even hotter.


Land of Milk and Honey by C. Pam Zhang
C Pam Zhang's luscious-sounding novel Land of Milk and Honey won't be out until later this Fall, but reading about it is akin to eagerly scanning a menu ahead of an eventual visit to a restaurant you can't wait to try, already anticipating the culinary feats that await you.
An ambitious Chinese-American chef escapes the smog and dying crops of the city to cook for the ultra-elite at a decadent mountaintop colony. But of course, the fresh vegetables come with a cost, and while she is challenged to come up with daring dishes for sophisticated palates, she can't help but wonder how the have-nots are faring while she is creating—and experiencing—sensual wonders far above reality. Yep, this encapsulates that feeling of already knowing you'll fondly remember this meal for years to come.
---
Natalie Zutter is a Brooklyn-based playwright and pop culture critic whose work has appeared on Tor.com, NPR Books, Den of Geek, and elsewhere. Find her on Twitter @nataliezutter