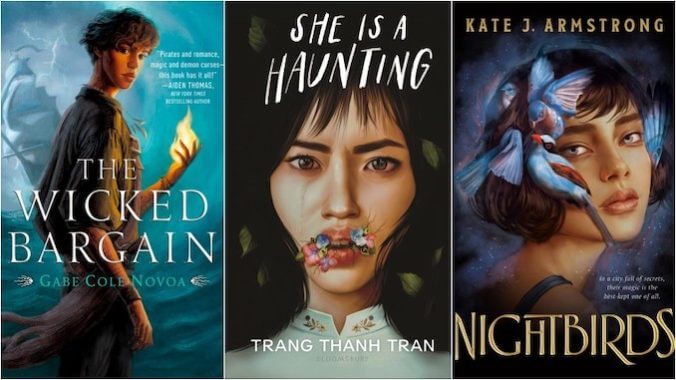 Thanks to Valentine's Day, February is a month universally acknowledged as a time for love, and all the roses, chocolates, and romance books that traditionally tend to go hand in hand with this most seductive of holidays. But avid readers shouldn't sleep on February releases—especially this year when fantastic titles across all sorts of genres will be arriving on shelves. (Truly the stacked list of books publishing on February 28 alone is…rather jaw-dropping.)
The young adult genre, in particular, remains as eclectic and ungovernable as ever, with stories arriving this month that run the gamut from haunted house horror and historical fiction to a swashbuckling pirate adventure and a deft meditation on grief and mental health.
Here are our picks for the best YA books hitting shelves this February.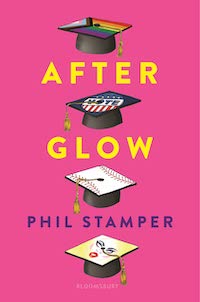 After Glow by Phil Stamper
Release Date: February 7 from Bloomsbury YA
Why You'll Love It: This sequel to Golden Boys is a delightful romp that reunites us with beloved characters and realistically deals with the problems and anxieties faced by a group of teenage boys on the cusp of officially growing up and afraid of growing apart.
Publisher's Description: After a life-changing summer, these four friends are finally ready for senior year.
Gabriel is thrilled to create his school's first LGBTQ+ advocacy group, but his long-distance relationship is fading from summer love to something else. . .
Heath feels secure for the first time in years, but with his future riding on a baseball scholarship each pitch triggers his anxiety. . .
Reese is set on pursuing a career in fashion design, but his creativity takes him in an unexpected direction, he isn't yet ready to share. . .
Sal wants to be in politics, specifically local politics. After a chat with his aunt, he is ready for an unlikely path . . .
As graduation nears and the boys prepare to enter the real world, it feels like everything is changing so fast—including their friendships. Can they find a way to make the most of their senior year even as they eagerly look ahead to the future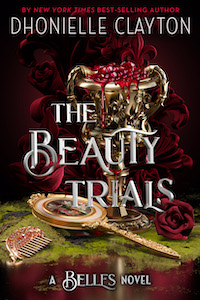 The Beauty Trials by Dhonielle Clayton
Release Date: February 14 from Disney-Hyperion
Why You'll Love It: The latest installment in Dhonielle Clayton's wonderfully dystopian Belles series, The Beauty Trials shifts its focus to fan-favorite character Edel Beauregard, Camille's sister, who enters a potentially deadly competition to find the next Queen of Orleans and hopefully free her fellow Belles from servitude. The Hunger Games-esque vibes are obvious, but the premise is incredibly entertaining, and Clayton's world-building within this series is particularly strong.
Publisher's Description: Sophia, the dangerous and erratic former queen, has been imprisoned, restoring peace to Orléans. Now her sister, Charlotte, sits on the throne and has decided to invoke the ancient tradition of the Beauty Trials?a series of harrowing tests meant to find the true ruler of Orléans. Edel, who has always aspired to be more than a Belle, decides to enter and, after promising to bind her arcana to keep from having an unnatural advantage, joins a few dozen other hopefuls intent on becoming the next Queen of Orléans.
But the Trials are far worse than any of them bargained for. As the women are put through tasks that test their strength, confidence, composure, and bravery, many perish, and Edel is mysteriously attacked by one of the other competitors?forcing her to use her powers just to survive. Will her subterfuge cost her the crown, or is there a larger conspiracy at play?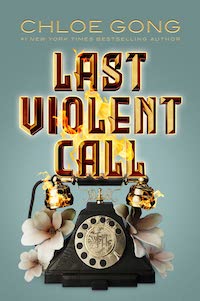 Last Violent Call by Chloe Gong
Release Date: February 28 from Margaret K. McElderry Books
Why You'll Love It: The two novellas that comprise Last Violent Call are both set after the events of Chloe Gong's most recent novel Foul Lady Fourtune and follow the story of a quartet of popular characters from Gong's previous These Violent Delights duology. (Foul Lady Fortune is a companion piece/sequel that tells the story of one of that series' supporting characters.) While these stories are unlikely to be immediate must-reads for anyone but the most die-hard fans of Gong's Shakespeare-inspired, magical 1920s world, existing fans will be utterly delighted to check in with Roma and Juliette (and Benedikt and Marshall) in the aftermath of the original series' cliffhanger ending.
Publisher's Description: In A Foul Thing, Roma and Juliette have established themselves as the heads of an underground weapons ring in Zhouzhuang, making a living the way they do best while remaining anonymous in their peaceful, quiet life. But when they hear about several Russian girls showing up dead in nearby towns, they decide to investigate—and ultimately discover that this mystery is much closer to home than they ever imagined.
In This Foul Murder, Benedikt and Marshall have been summoned by Roma to find the elusive scientist, Lourens, and bring him to Zhouzhuang. Time is of the essence aboard the week-long Trans-Siberian Express, but when someone is murdered on board, Benedikt and Marshall convince the officer in charge not to stop the train so that they aren't thrown off-schedule. Instead, they pretend that they are investigators and promise they can solve the murder, but as they dig deeper, they realize that the murder might have surprising ties to their own mission…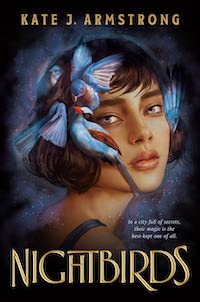 Nightbirds by Kate J. Armston
Release Date: February 28 from Nancy Paulsen Books
Why You'll Love It: A delightfully feminist fantasy with serious Great Gatsby vibes, Kate J. Armston's Nightbirds follows the story of the titular group of young women who not only possess magic in a city where it is strictly forbidden but who can gift it to others with a kiss. Armston's worldbuilding is excellent, but the story shines when it's focused on the relationships between the girls—and their slow realization that the system that claims to afford them privilege is actually working to oppress them.
Publisher's Description: The Nightbirds are Simta's best kept secret. Teenage girls from the Great Houses with magic coursing through their veins, the Nightbirds have the unique ability to gift their magic to others with a kiss. Magic—especially the magic of women—is outlawed and the city's religious sects would see them burned if discovered. But protected by the Great Houses, the Nightbirds are safe well-guarded treasures.
As this Season's Nightbirds, Matilde, Aesa, and Sayer spend their nights bestowing their unique brands of magic to well-paying clients. Once their Season is through, they're each meant to marry a Great House lord and become mothers to the next generation of Nightbirds before their powers fade away. But Matilde, Aesa, and Sayer have other plans. They know their lives as Nightbirds aren't just temporary, but a complete lie and yearn for something more.
When they discover that there are other girls like them and that their magic is more than they were ever told, they see the carefully crafted Nightbird system for what it is: a way to keep them in their place, first as daughters and then as wives. Now they must make a choice—to stay in their gilded cage or to remake the city that put them there in the first place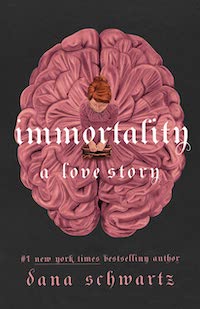 Immortality: A Love Story by Dana Schwartz
Release Date: February 28 from Wednesday Books
Why You'll Love It: The sequel to last year's Anatomy: A Love Story, this historical YA series is bursting with feminist themes and deftly mixes mystery, romance, and horror elements into a brew that feels entirely unique. Does it entirely make sense that Hazel Sinnett—who may or may not be immortal depending on whether you believe the events at the end of the previous novel are true—could possibly end up treating King George IV's sickly daughter Princess Charlotte? Not really, but Schwartz attacks Hazel's exploration of the dark intricacies of court life with as much verve as she did her experiments in grave robbing.
Publisher's Description: Hazel Sinnett is alone and half-convinced the events of the year before—the immortality, Beecham's vial—were a figment of her imagination. She doesn't even know whether Jack is alive or dead. All she can really do now is treat patients and maintain Hawthornden Castle as it starts to decay around her.
When saving a life leads to her arrest, Hazel seems doomed to rot in prison until a message intervenes: She has been specifically requested to be the personal physician of Princess Charlotte, the sickly daughter of King George IV. Soon Hazel is dragged into the glamor and romance of a court where everyone has something to hide, especially the enigmatic, brilliant members of a social club known as the Companions to the Death.
As Hazel's work entangles her more and more with the British court, she realizes that her own future as a surgeon isn't the only thing at stake. Malicious forces are at work in the monarchy, and Hazel may be the only one capable of setting things right.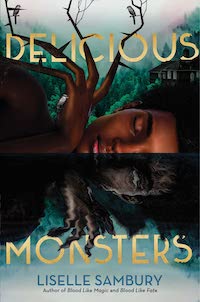 Delicious Monsters by Liselle Sambury
Release Date: February 28 from Margaret K. McElderry Books
Why You'll Love It: Lisette Sambury's Blood Like Magic duology was a breath of fresh air in the YA fantasy space, with its generational magic system, complex family dynamics, and intriguing questions of identity. Basically, that means I'd read whatever she wrote next. But Delicious Monsters, with its Gothic, dual timeline narrative and deft exploration of the often literally haunting nature of trauma is a winner in its own right.
Publisher's Description: Daisy sees dead people—something impossible to forget in bustling, ghost-packed Toronto. She usually manages to deal with her unwanted ability, but she's completely unprepared to be dumped by her boyfriend. So when her mother inherits a secluded mansion in northern Ontario where she spent her childhood summers, Daisy jumps at the chance to escape. But the house is nothing like Daisy expects, and she begins to realize that her experience with the supernatural might be no match for her mother's secrets, nor what lurks within these walls…
A decade later, Brittney is desperate to get out from under the thumb of her abusive mother, a bestselling author who claims her stay at "Miracle Mansion" allowed her to see the error of her ways. But Brittney knows that's nothing but a sham. She decides the new season of her popular Haunted web series will uncover what happened to a young Black girl in the mansion ten years prior and finally expose her mother's lies. But as she gets more wrapped up in the investigation, she'll have to decide: if she can only bring one story to light, which one matters most—Daisy's or her own?
As Brittney investigates the mansion in the present, Daisy's story runs parallel in the past, both timelines propelling the girls to face the most dangerous monsters of all: those that hide in plain sight.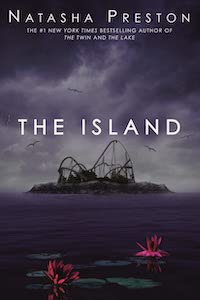 The Island by Natasha Preston
Release Date: February 28 from Delacorte
Why You'll Love It: Few authors who aren't named Karen McManus can do YA thrillers as well as Natasha Preston and her latest effort, about a private amusement park for the rich and influential, the pack of social media influencers who arrive for an exclusive pre-opening weekend, and the mysterious deaths that start piling up is another blast from start to finish. (With slasher film-level violence on top.) Bonus points for the paranoid protagonist which means readers would do well not to immediately trust anything they're being told.
Publisher's Description: They said goodbye to their friends and family for the weekend. They weren't counting on forever.
Jagged Island: a private amusement park for the very rich—or the very influential. Liam, James, Will, Ava, Harper, and Paisley—social media influencers with millions of followers—have been invited for an exclusive weekend before the park opens. They'll make posts and videos for their channels and report every second of their VIP treatment.
When the teens arrive, they're stunned: the resort is even better than they'd imagined. Their hotel rooms are unreal, the park's themed rides are incredible, and the island is hauntingly beautiful. They're given a jam-packed itinerary for the weekend.
But soon they'll discover that something's missing from their schedule: getting off the island alive.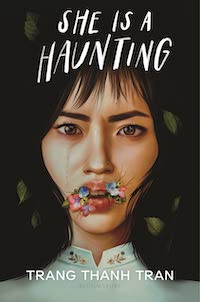 She Is a Haunting by Trang Thanh Tran
Release Date: February 28 from Bloomsbury
Why You'll Love It: A ghost story about a French colonial house in Vietnam that tries to literally devour its occupants, She Is a Hanting is atmospheric, genuinely disturbing in spots, and full of sharp social and historical commentary. A haunted house story deals with the all too real immortal specters of imperialism and cultural exploitation, She Is a Haunting is like nothing else you'll read this spring.
Publisher's Description: When Jade Nguyen arrives in Vietnam for a visit with her estranged father, she has one goal: survive five weeks pretending to be a happy family in the French colonial house Ba is restoring. She's always lied to fit in, so if she's straight enough, Vietnamese enough, American enough, she can get out with the college money he promised.
But the house has other plans. Night after night, Jade wakes up paralyzed. The walls exude a thrumming sound, while bugs leave their legs and feelers in places they don't belong. She finds curious traces of her ancestors in the gardens they once tended. And at night Jade can't ignore the ghost of the beautiful bride who leaves her cryptic warnings: Don't eat.
Neither Ba nor her sweet sister Lily believe that there is anything strange happening. With help from a delinquent girl, Jade will prove this house—the home her family has always wanted—will not rest until it destroys them. Maybe, this time, she can keep her family together. As she roots out the house's rot, she must also face the truth of who she is and who she must become to save them all.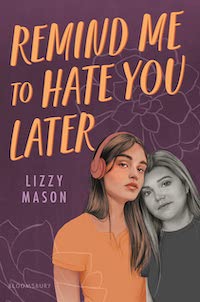 Remind Me to Hate You Later by Lizzy Mason
Release Date: February 28 from Bloomsbury
Why You'll Love It: An authentic and emotional exploration of grief, mental health, and the ways social media can damage our perception of ourselves, Remind Me to Hate You Later follows the story of both Jules, the seventeen-year-old daughter of a popular parenting influencer who takes her own life, and her best friend Natalie, who must find a way to grieve her loss, and the split between the two distinct voices and perspectives of both girls is deftly handled. A poignant, moving study of regret, shame, blame, and how these difficult feelings can complicate even the closest of relationships.
Publisher's Description: Seventeen-year-old Jules grew up in her mother's spotlight. A "parenting influencer," Britt shares details of her daughter's life-pictures, intimate stories, insecurities, all-to a point that becomes unbearable to Jules.
And suddenly she's gone.
Natalie has only barely begun to grieve her best friend Jules's death when Britt announces her plans to publish a memoir that will dissect Jules's life and death. But Nat knows the truth behind Britt's "perfect" Instagram feed-Jules hated the pressure, the inauthenticity, the persona. There's so much more to Jules than Britt and her followers could ever know. As Nat connects with Jules's boyfriend, Carter, and their shared grief and guilt bonds them, she becomes determined to expose Britt, to understand what really happened, and who is to blame.

The Wicked Bargain by Gabe Cole Novoa
Release Date: February 28 from Random House
Why You'll Love It: An entertaining, swashbuckling action story with a truly unique premise that explores the underrepresented history of marginalized groups in the early 19th century Caribbean and features a transmasculine nonbinary teen as its main character. Features pirates, magic, and the literal Devil stealing souls, but will still probably teach you something you didn't know about this time period and those that lived in it.
Publisher's Description: On Mar León-de la Rosa's 16th birthday, el Diablo comes calling. Mar is a transmasculine nonbinary teen pirate hiding a magical ability to manipulate fire and ice. But their magic isn't enough to reverse a wicked bargain made by their father and now el Diablo has come to collect his payment: the soul of Mar's father and the entire crew of their ship.
When Mar is miraculously rescued by the sole remaining pirate crew in the Caribbean, el Diablo returns to give them a choice: give up your soul to save your father by the Harvest Moon or never see him again. The task is impossible—Mar refuses to make a bargain and there's no way their magic is any match for el Diablo. Then, Mar finds the most unlikely allies: Bas, an infuriatingly arrogant and handsome pirate — and the captain's son; and Dami, a genderfluid demonio whose motives are never quite clear. For the first time in their life, Mar may have the courage to use their magic. It could be their only redemption — or it could mean certain death.
---
Lacy Baugher Milas is the Books Editor at Paste Magazine, but loves nerding out about all sorts of pop culture. You can find her on Twitter @LacyMB.