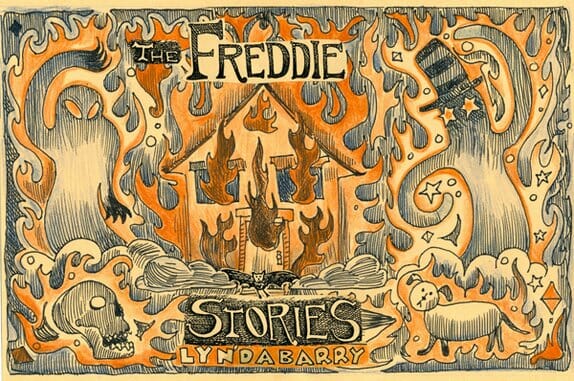 Writer/Artist: Lynda Barry
Publisher: Drawn & Quarterly
Release Date: January 22, 2013
Originally published in 1999 by Sasquatch Books, this collection of Lynda Barry's four-panel strips has been redesigned, reprinted, and enhanced by Drawn & Quarterly. Even if you haven't been following Barry's recent comic ventures, chances are pretty good her vision shaped your childhood if you grew up in a town with an alternative newspaper. Her strips are, by any reasonable measure of comics composition, a mess. Crowded with giant hunks of text, crude drawings with interchangeable characters, continuity problems, and melodrama, these panels not only overcome their problems, but somehow transform these drawbacks into strengths.
The Freddie Stories originally appeared in syndication, and reading them week by week must have been painful enough, but when collected into one neat volume, the amount of pain its title figure endures over a year is overwhelming. Which is not to say that it's unendurable or unrealistic. Freddie's travails are writ large, but their depiction of childhood miseries (lack of control, lack of understanding, living under the illusion of a morally-driven universe) feels true to anyone who has experienced them on a smaller scale.
The new graphic design sets panels over beautiful crayon backgrounds of horizontal lines alternating between blue and pink for the story proper, green for the bonus materials in the back. This style emphasizes the contiguous nature of the story and echoes P.T. Anderson and artist Jeremy Blake's similar aesthetic choice in Punch-Drunk Love. It's an abstract but harmonious element that contrasts with the fragmented and ugly nature of the events that unfold. A real foreword, either from Barry or an outsider meditating on her craft, would have been a valuable addition, but the book has a weighty heft already, and the inclusion of strips cut from the previous edition is a nice if unnecessary extra. The Freddie Stories is a fine reissue and a required item for your Comix bookshelf.