Jean-Claude Arnault, Central Figure in Nobel Prize in Literature Scandal, Sentenced to Prison for Rape
Photo by Ragnar Singsaas/Getty
Books
News
nobel prize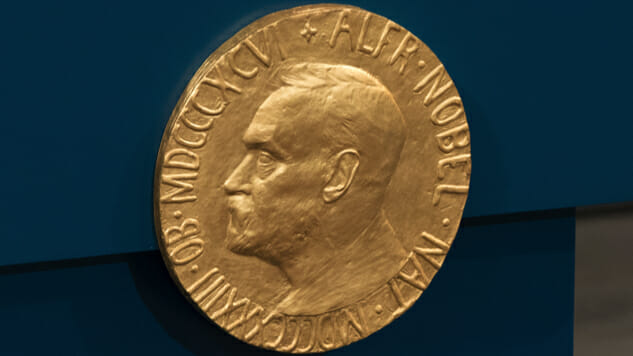 The man at the center of a monumental scandal that has torn apart the Swedish Academy, the group responsible for awarding the annual Nobel Prize in Literature, has been convicted of rape and sentenced to two years in prison, per the AP.
Last November, Jean-Claude Arnault, 72, was accused of sexually assaulting 18 women. A famed photographer in the Swedish art scene, Arnault became known internationally in the context of the #MeToo movement. Arnault is also married to a Swedish Academy member and poet, Katarina Frostenson.
In response to multiple accounts of sexual assault, the Swedish Academy severed all financial ties with the photographer. Instead of ousting Frostenson, members who hoped to mollify the public dismissed Sara Danius, the first woman to lead the academy. Outraged, several members chose to resign. Altogether, seven of the group's 18 members were either forced to leave or quit last April.
Arnault was brought to trial by one woman for two counts of rape. Over the course of a three-day trial in Stockholm that ended on Sept. 24, prosecutors alleged that Arnault had forced the woman to perform oral sex and to have intercourse in October of 2011, and raped her as she was asleep in December of 2011. The photographer denied both charges.
On Monday, Arnault was found guilty of one count of rape but was acquitted of the other because the sleeping victim was deemed unreliable. He was sentenced to two years in prison and fined 115,000 SEK (Swedish krona), or approximately $13K USD. Arnault's attorney plans to appeal.
"[The verdict was] a big relief for my client, who today believes in justice," said prosecutor Elisabeth Massi Fritz. "No rape victims should be silent, no rape victims should feel guilt or shame."
The Nobel Prize in Literature is a prestigious Swedish literature prize that has been awarded annually since 1901 to an author from any country. Due to the events detailed above, the Nobel Prize in Literature has been postponed until 2019.
Arnault is also suspected of leaking the winners of the prestigious award seven times, starting in 1996.