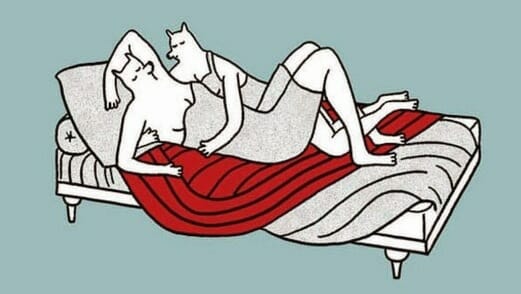 Writer/Artist: Diane Obomsawin
Translator: Helge Dascher
Publisher: Drawn & Quarterly
Release Date: February 18, 2014
It's more than slightly appropriate that Drawn & Quarterly is releasing Diane Obomsawin's collection of short stories about lesbianism the week after Valentine's Day, and the bar code design on the back cover (in the shape of a heart) only reinforces the romanticism. What marks these amorous vignettes is their individualism; it's not just the same thing over and over again and yet, as with any series of love stories, it is.
Obamsawin, known for her work in animation as well as her previews comic Kaspar, has developed a signature style that's fun to unpack. Done in very simple black and white without much shading, the drawings mostly fill six-panel pages. Viewed from a distance, they tend to repeat structures and simple compositions in succession, in somewhat similar fashion to fellow Canadian Chester Brown's work. Obomsawin's characters have elongated, bendy bodies and animal heads that often don't correlate to anything within the narratives. Everyone in these stories often resembles a cow or a dog.
This stripped-down approach to the visuals allows for a focus on the events, and their almost-generic look contrasts against the vivid specificity in the words ("I like girls who look like horses"; "I hate synthetic fabrics"; "I grew up in a family too poor to afford a phone"). If we come to accept those who are different from us by knowing their stories and seeing what they have in common with us, these stories are a step in the right direction.
Obomsawin doesn't seem interested in focusing on oppression and prejudice in the foreground, but you can see the progress that has been made in current events, like when Canadian Olympians deliberately associate themselves with gay rights. Mostly, these are fairly simple, straightforward accounts of exactly what the title conveys, and although they don't go very deep, they accumulate a kind of sweetness with each wide-eyed realization depicted.