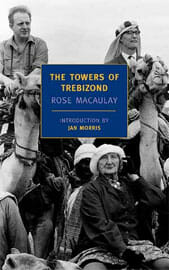 Sometimes, a camel is just a camel. Other times, in Rose Macaulay's droll and wise The Towers of Trebizond, a one-humped white racing camel of disputed sanity on the bridle trails of Abingdon represents everything from modern high-church Anglicanism to the narrator's own straining soul. First published in 1956, this newly reissued novel masquerades as one of the travelogues so many of its characters are writing, in that post-war moment of reopened borders, when waves of eager British literati wandered abroad on the excuse (and expense accounts) of their promised books. That pretense both anchors the tale's dry humor and bridges its progressively roiled depths.
The journey begins as Aunt Dot—venerable adventurer and owner of the questionable camel—determines to write a book on conditions around the Black Sea, convert Muslim women to Anglicanism so they may wear hats rather than headscarves and, not least, catch sturgeon in the Caspian. She musters her stuffy parish priest, a Turkish woman doctor, and her amanuensis niece, Laurie, leading them blithely to the Soviet border, past picky policemen, frugal vice-consuls, obsessed reporters and the Billy Graham tour bus. Thus far the jaunty surface romp. Only then do the tangential revelations of Laurie's life coalesce into a tale sadder, more common, and altogether more compelling than her aunt's.
The Towers of Trebizond speaks "Lake Wobegon" with an Oxbridge accent. Like Garrison Keillor's long-running radio program, Macaulay's meticulous, understated storytelling traces the hairline crack between laughter and tears, finds grand universals in ordinary foibles, and speaks, without blush or wink, of sin and repentance. Some of the novel's jibes have faded with the fashions of their day, and unfamiliarity with history and religion will obscure others, but the story draws amusement and anguish from the same unfailing well of human frailty. Macaulay's narrative never attempts to excuse iniquity or belittle its cost and allure. She makes her protagonist cling to euphoric sin even while longing for the reconciliation that requires rejecting it, and finally pushes Laurie off the fence and into a choice the character never quite means to make. Are all enduring humorists such moralists? Keillor finds his cast in "the little town that time forgot"; Macaulay trails hers through an empire history buried, staring always back at landmarks only legend remembers.