Trump Organization Looking to Expand Nationally, Open Up Second D.C. Hotel
Photos by Aaron P. Bernstein/Getty, Spencer Platt/Getty
Business
News
Donald Trump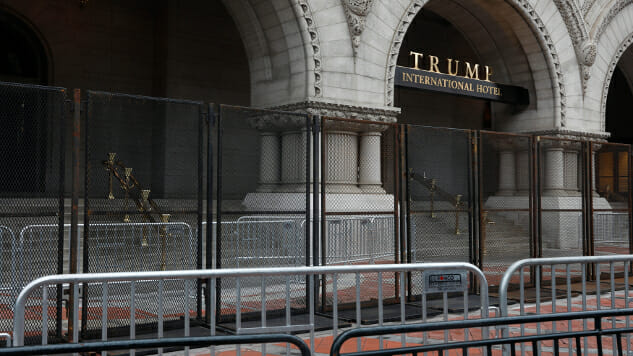 Despite Trump International Hotel in Washington, D.C., being hit with two lawsuits, one concerning the possible violation of a constitutional ban and the other with "unfair competition," the Trump Organization is looking to open up a second D.C. location while also planning to expand its burgeoning Scion hotel brand into a national entity.
According to reporting from The Washington Post, representatives from the Trump Organization (including Donald Trump, Jr.) have been looking into other markets and potential partners for the hotel expansion.
However, Trump Organization reps are facing pushback from ethicists (who fear conflict of interest violations), activists (who oppose all things Trump) and local elected officials who have spoken out against having Trump hotels clutter their city skylines. Officials in Vancouver, British Columbia, recently skipped a Trump tower opening and D.C. Mayor Muriel Bowser did the same when the aforementioned Trump International Hotel had its grand opening celebration.
Even with such resistance, and even factoring in reviews from the Government Accountability Office about hosting foreign governments, the Trump hotel expansion does seem to be gaining traction with investors.
In that same WaPo story, Eric Danziger (Chief Executive of the Trump Organization's hotel division) says that the company has at least 30 letters of intent from developers to open up affordably luxurious Scions in U.S. cities throughout the country.
Whether that number, from a brand that doesn't mind over-exaggerating, actually comes to pass remains to be seen. But it is perhaps more certain that such developments will face resistance from financial, governmental and political opponents.