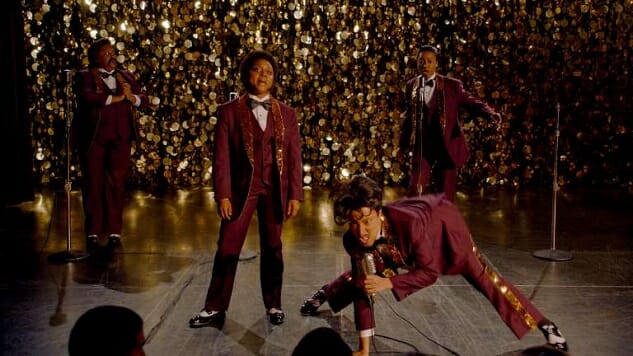 With both sketch series' debuting in the same week, the constant comparisons between HBO's A Black Lady Sketch Show and IFC's Sherman's Showcase were bound to exist. It's not even necessarily a matter of critics pitting the two sketch series against each other—with both premiering so close to each other, it's become easy to lump them into the same category. Both series are black-created sketch shows with black casts, and this is the first time more than one such show has even existed on television at the same time. But as I wrote about Sherman's Showcase, not every sketch show is the same, especially not when it comes to format, execution, and in this particular case, message.
One thing both shows definitely have at their core is a focus on black culture, but while Sherman's Showcase is more about black culture through the years and in the broader sense (even tying things all the way back to the days of Frederick Douglass), A Black Lady Sketch Show has its cultural focus right there in the title. Created by Robin Thede, A Black Lady Sketch Show boasts Thede, Quinta Brunson, Ashley Nicole Black, and Gabrielle Dennis as its stars. It's the first-ever sketch comedy television series to exclusively star, be written by (with Lauren Ashley Smith serving as head writer as she did on The Rundown with Robin Thede), and directed by (Dime Davis) black women. The series isn't just breaking ground because it's a black sketch show airing at the same time as another black sketch show: This type of thing just hasn't been done.
(By the way, both Sherman's Showcase and A Black Lady Sketch Show feature appearances by cast members from the original groundbreaker in terms of black sketch comedy on television, In Living Color. The former has Marlon Wayans, while the latter has David Alan Grier.)
In terms of format, A Black Lady Sketch Show is very familiar for a contemporary sketch comedy series. Think Key & Peele or Portlandia: Each episode (of which all six were viewed for review) has its sketches that sometimes feature recurring characters or bits but, for the most part, are all separate from each other. That is, save for a running segment throughout the series featuring the foursome as heightened versions of themselves, dishing about everything from the (mostly true) fact that all Glee versions of songs are better than the original to what their bizarre turn-ons are to their hair regiments (which is quite important for a black woman, whether you're a character in a sketch show or not). These segments are ground zero for the show, providing much-needed breaks from the sketches themselves, while also telling an interesting story. They also provide a mission statement for the type of humor and thinking that this series aspires to, although they're not as over-the-top as some of the sketches.
Even with the more surreal aspects of its sketches, every bit in A Black Lady Sketch Show comes from a place of realism, whether it's the idea of being a "bad bitch" (and just how much work goes into that) or the concept of an average black woman being invisible to the world or even just being ashy. Just recently at the summer TCA press tour, Robin Thede made a point to note that there's a reason the series isn't called THE Black Lady Sketch Show: While the series certainly captures a great deal about the black woman experience and what it means within a world that both doesn't understand it and loves to appropriate it (and then continues to not understand it), it's not saying this show is the definitive black woman experience. Because it's not, and the particular "black woman experience" changes from scene-to-scene with each sketch's new perspective. Sometimes it's from the perspective of a woman who just got dumped by her boyfriend and has Patti Labelle's "Own My Own" haunting her. Sometimes it's from a lesbian who's got to deal with someone on the dance floor stealing her signature moves. Sometimes it's just the very perspective of black girl joy or even the idea of being basic. But there's the kind of familiarity in all of these sketches that makes it work, the way Key & Peele did, the way the completely opposite Portlandia did. (It's rare for the sketch to not quite land in these six episodes, and for the most part, it's just a matter of sense of humor even when the actual premise of the sketch makes sense but doesn't work.)
In A Black Lady Sketch Show, all four stars get a chance to shine throughout the season, each having their own moments as the MVP of a sketch. The most interesting thing is that they're not afraid to look a fool, especially Thede, whether she's playing a male character or her brilliant Hertep character. Plus, one of the most impressive things about A Black Lady Sketch Show can be found in the trailer, with the list of all the big-name black celebrities that make appearances in the season. The most surprising and against type one is Angela Bassett, who steps into the role of the baddest bitch alive in a way that only Anglea Bassett—the baddest bitch alive—could do, while also making you question why Angela Bassett hasn't been offered more comedic roles. The same goes for the undeniable Gina Torres, who even gets to shine in the series' post-credits sketch outtakes.
While the series hits on culture and experiences of black women in America, it's—refreshingly—not a political show. Thede has proven her competence in doing that type of comedy in her past as part of (and as head writer of) The Nightly Show and even The Rundown, but A Black Lady Sketch Show allows her and her colleagues a chance to show what else they can do in the world of comedy, especially in a more irreverent form. With Dime Davis' direction, the series also goes the cinematic route of sketches, with not every sketch looking the same and going in the direction of a specific genre when it needs to, once more a la Key & Peele. One of the more poignant sketches of the season is a Romeo and Juliet riff that brings into context how language is always evolving and frames ebonics and black vernacular—as well as stan culture—in an extremely unexpected but artistic way. While the stan war itself should be familiar to the intended audience—Black Twitter will absolutely love this show, by the way—the approach brings an original twist to it that truly highlights A Black Lady Sketch Show's ability to think outside the box.
It's probably also worth noting that it accomplishes its goal of actually being funny. In the modern era of prestige television, sketch comedy has become something of an oasis from comedies that are actual half-hour dramas (and that was before "half-hour dramas" actually became a thing over the last year or so), which has allowed for an opening for a show like this to exist. And it joins HBO's current slate of terrific female-driven series like Insecure (created by and starring A Black Lady Sketch Show executive producer Issa Rae), Big Little Lies, Sharp Objects, Euphoria, Gentleman Jack, and Sally4ever. These are all such drastically different series, but none of them, including and especially Black Lady Sketch Show, feel out of place. Because it's long past time for this series to exist, and as mentioned before, it's all about the sense of familiarity its comedy brings. At the end of the day, that familiarity is the point that a sketch show like A Black Lady Sketch Show is trying to make, as that is how the connection is made. It completely accomplishes that goal, even when a sketch doesn't quite land.
---
Despite her mother's wishes, LaToya Ferguson is a writer living in Los Angeles. If you want to talk The WB's image campaigns circa 1999-2003, LaToya's your girl. Her writing has been featured in
The A.V. Club
,
Indiewire
,
Entertainment Weekly
,
Complex
,
Consequence of Sound
,
and Flavorwire
, among other publications. You can find her tweets about TV shows, movies, and music you completely forgot about @lafergs.