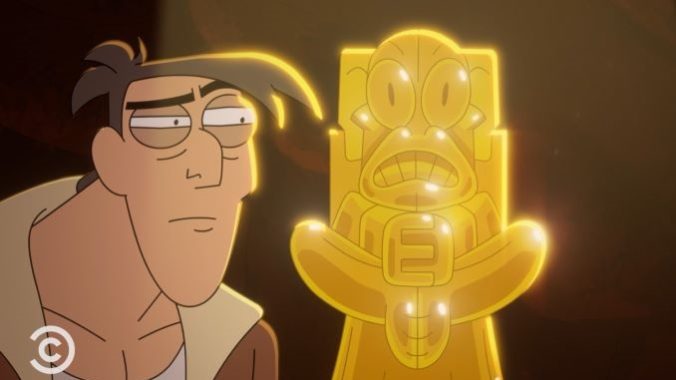 Good news for everybody who misses Andy Samberg's Nicolas Cage impression: the former SNL star essentially revives it for his new Comedy Central series, Digman!.
Samberg is as responsible as anybody for the memeification of Nicolas Cage. His "Get in the Cage with Nicolas Cage" bits on SNL's Weekend Update capitalized on Cage's more manic tendencies, conflating the actor's real life with his characters from movies like National Treasure, Con Air, and Face / Off. It's very possible that last year's The Unbearable Weight of Massive Talent, wherein Cage sends up his own persona by playing himself as a reluctant and validation-starved action hero, wouldn't have existed without Samberg's take on Cage. So it's not too surprising to see Samberg basically build a whole animated series around that impression, which is what Digman! seems to do.
Here's some proof. Check out this exclusive clip of Digman!, which premieres on Comedy Central on March 22 at 10:30 p.m. ET/PT, right after South Park. The show, which is created and written by Samberg and Brooklyn Nine-Nine writer Neil Campbell, stars Samberg as famous swashbuckling archeologist Rip Digman, who seems to be one part Indiana Jones to two parts Nicolas Cage as Benjamin Franklin Gates in National Treasure. This clip riffs on the classic "first-world archeologist stealing an indigenous religious artifact" jive, but updated with a modern sensibility informed by the world we live in today. If you like Samberg's comedy (which, hey, we're a big fan here), you'll probably dig it, especially if you like Samberg's version of Cage.
Digman!'s cast is like a who's who of comedians we love here at Paste. Regulars include Mitra Jouhari from Three Busy Debras, Tim Robinson, Tim Meadows, Melissa Bumero, Guz Khan, and Dale Soules, with guest appearances from Andrew Daly, Harvey Guillén, Maya Rudolph, Claudia O'Doherty, Lennon Parham, Joe Lo Truglio, Jane Lynch, Kyle Mooney, and a whole bunch of other top-notch comedians and voice actors. (Can a cartoon exist without Clancy Brown? No, a cartoon cannot exist without Clancy Brown.) The show launches three weeks from tonight, March 22, so make a note of that if animated Samberg-as-Cage strikes your fancy.