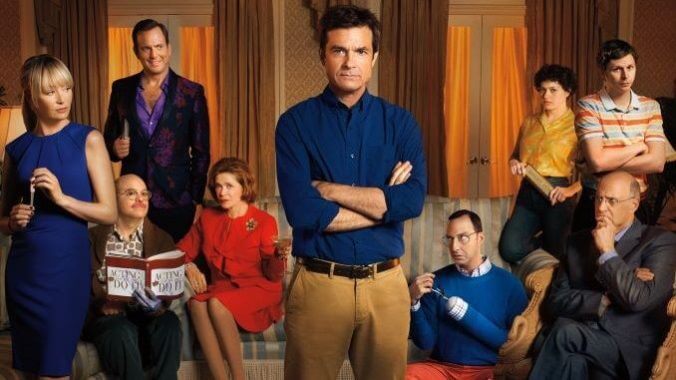 One of the mainstays of Netfix's sitcom section is set to depart in March, even though the streamer produced its last two seasons. Arrested Development, the Mitchell Hurwitz-created comedy that ran on Fox for three seasons between 2003 and 2006 before being revived by Netflix for two new seasons in 2013 and 2018, will be leaving Netflix entirely on March 15, unless a deal is struck before then. This would be the highest profile Netflix "original" to depart the streamer since its suite of Marvel shows jumped over to Disney+.
Netflix isn't the exclusive home of the first three seasons. You can watch all of them on Hulu, and if you haven't, you should go check 'em out—those are the seasons that the show's reputation is built on. Seasons 4 and 5 were commissioned by Netflix from original producers Imagine Television and 20th Century Fox Television, and have only ever been available through Netflix. Season 4 was one of the earliest Netflix originals in 2013, and despite a less-than-positive response the streamer debuted a fifth season in 2018. Between those two seasons they took the unusual step of reediting Season 4 into a different format; it originally launched with an unusual structure that took advantage of streaming's lack of time constraints, but after widespread criticism it was recut to more resemble the pacing and format of the first three seasons. Season 5 was a more traditional season from the start, but arrived in the wake of sexual harassment accusations against star Jeffrey Tambor from the set of the show Transparent, and just a few days after a New York Times interview where fellow Arrested Development star Jessica Walter revealed the verbal abuse she suffered from Tambor. The two Netflix original seasons aren't particularly beloved by most fans of the original show, but they do have their supporters, and it would be unfortunate to see them disappear as so many other streaming shows have done lately.
As always when it comes to show business, there could be some kind of corporate ownership issues leading to the show's departure from Netflix. Disney owns Hulu and now owns the production company that made Arrested Development; perhaps Disney wants Hulu to be the sole online home of one of the most acclaimed sitcoms of its era. Would they have the rights to put the two Netflix seasons up on Hulu along with the first three, or will those last two seasons just disappear off streaming altogether because Netflix wouldn't want to air them without the three seasons that preceded them? Is there even much of a market for Arrested Development today, given that it was never a true hit and doesn't have the widespread nostalgia factor of perennial favorites like Seinfeld, Friends, and The Office, all of which remain very popular in streaming years after they ended? And completely unrelated to all of this, but why hasn't Newsradio, the best live action sitcom of the '90s, been reclaimed by "the kids" the way Friends, The Office, and Frasier all have? The first streamer to get the rights to Newsradio and push it hard through the algorithm will win big, I promise you.
But hey: Arrested Development. It's probably leaving Netflix in a month and we don't really know why. If you've never seen those last two seasons, or what to revisit them, you've got a few weeks left. Get to it.