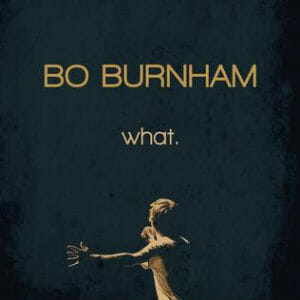 In his new YouTube stand-up special what., Bo Burnham at times hits a sweet spot that balances his intelligence and musical talent with his sharp sarcasm; and at times misses the mark with bits that try to be a little too clever for their own good. The good news is that the material that delivers is well worth waiting through the parts that fall flat.
Like in past specials, Burnham delivers much of his material through songs, skits and what are almost one-man vignettes. He skips from topic to topic without any connecting theme, something he pokes fun at early in the show. His self-deprecating material works particularly well throughout, which he goes to early and often. The show starts, in fact, with a robotic voice calling him an asshole for isolating himself in pursuit of comedy.
When he's not at the keyboard, Burnham uses a free-formed style of delivery and you're never quite sure what he's going to say next. Sometimes his unexpected juxtapositions are effective: "My life's about three things, getting money, getting pussy and the Dewey Decimal System." Sometimes his spontaneity doesn't quite hit the mark, such as his joke about being like a Tetris piece at a party or his "Magic is real" bit.
The best of what. include Burnham's masturbation pantomime titled "Beating Off in A Minor," his satirical take on love songs titled "Repeat Stuff," "From God's Perspective," the song that ends with a strangely touching moment and his big finisher "We Think We Know You," a bit where Burnham mixes four vocal tracks with hand gestures that you have to see to truly appreciate.
At only 23 years old, Burnham has already attracted droves of fans thanks in large part to YouTube and Comedy Central. After watching his first comedy videos versus his later ones, a progression is noticeable, and we're excited to see just how high Burnham's ceiling can get in another 5 to 10 years as he continues to mature.
Watch what. in its entirety below: