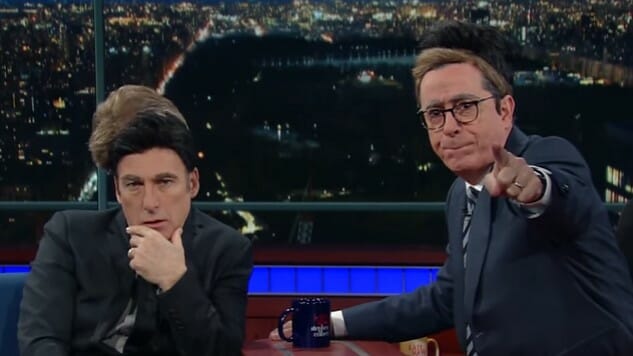 The Late Show with Stephen Colbert has been experiencing a huge surge in ratings recently, which probably allows Colbert to be a little goofier than he has been. Last night Bob Odenkirk stopped by the show to promote his new film, Girlfriend's Day, and announced his newest (fake) film project: The Late Show: The Movie, in which he plays Stephen Colbert.
In the clip for his new fictional film, Odenkirk stomps out onto the stage wearing a dark-haired wig and glasses, saying, "Shut up and sit down! I'm Stephen Colbert!" It starts as a fun little role reversal that goes full Inception-level weird by playing a clip within a clip and a segment within a segment.
Check out the video above, and also be sure to check out Girlfriend's Day, which is now streaming on Netflix. You'll find Paste's review here.