Chris Rock's New Comedy Special Streams Live on Netflix on Saturday
Photos courtesy of Netflix
Comedy
News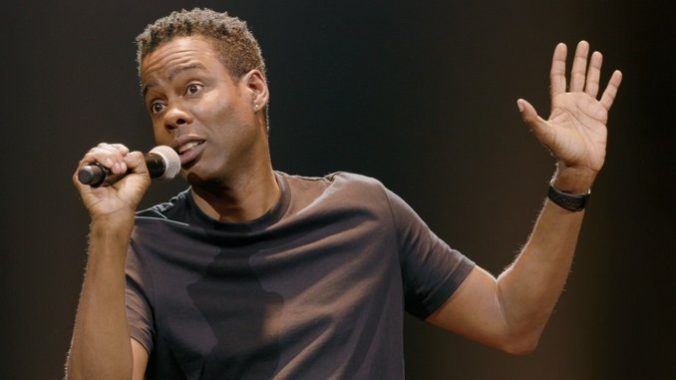 Good news for anybody who somehow isn't thoroughly exhausted by the Chris Rock / Will Smith discourse yet: people won't shut up about that damn slap. Still. Almost a year later. Breaking news that has an actual impact on our daily lives doesn't even make it through a full 24 hour news cycle, but a millionaire slapping another millionaire in a room full of millionaires gets written about regularly a year after the fact. We're doing it right now. Shit.
One of those people talking about the thing is Chris Rock himself. He's guaranteed to share some thoughts about the incident on Selective Outrage, his stand-up special that streams live on Netflix this Saturday. Right now, as our ChatGPT account is creating this piece of content that you're reading, Rock is trending on Twitter, a website that hasn't completely died yet. Earlier this week Rock was quoted in the New York Post as saying that he watched last year's slave drama Emancipation just to watch Smith get whipped, and in keeping with the perfectly broken nature of social media, the "Chris Rock" topic on Twitter doesn't pull up a link to that article until after you scroll through dozens of responses to a tweet by a no-name "pop culture" news aggregator that includes the Rock quote but doesn't credit where the quote came from or link back to the Post article. Rock told that Emancipation joke at a warm-up show in Baltimore a couple of weeks ago, and anybody who queues up Netflix tomorrow night should expect to hear some variation of it.
We here at Paste aren't especially interested in "the slap" (although we will always love The Slap [both versions]), but we'll probably tune in to Rock's special tomorrow night. His comedy might not feel as vital as it did at his peak in the '90s and early '00s, but Rock proved he remains one of the best pros in the biz on his last special, 2018's Tamborine. Netflix is heavily hyping the special's live nature, which is a first for their platform, but shouldn't be that unusual to anybody who actually goes to live comedy shows. And being live probably won't even register for Rock himself, since he's been performing stand-up in front of live audiences for damn near 40 years now. (We are all so very old.) It's basically a marketing hook for this one event, and a test run for Netflix's inevitable move into sports, concerts, and other live events. At least Netflix is testing it out with Chris Rock, who's still pretty good at the job, and not one of the other comedians who they give $20 million to per special. (You know the ones we're talking about.)
Chris Rock: Selective Outrage airs live on Netflix on Saturday, March 4, at 10 p.m. ET. There's a live pre-show, The Show Before the Show, airing from The Comedy Store starting at 9:30 p.m. ET and featuring Ronny Chieng, Leslie Jones, Arsenio Hall, Deon Cole and others. And then there's an aftershow, The Show After the Show, hosted by Dana Carvey and David Spade, and featuring Hall, JB Smoove, the legendary Kareem Abdul-Jabbar, and more, starting immediately after Selective Outrage. That's a lot of comedy-related programming, right there.