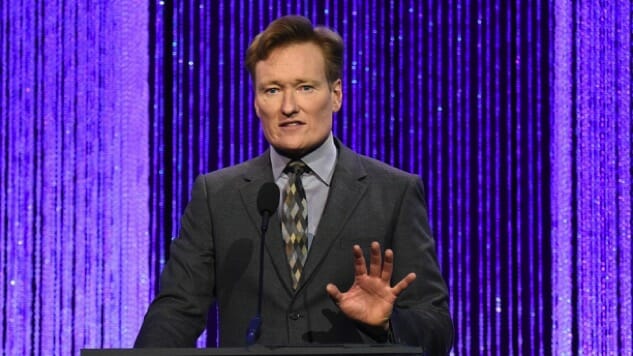 TBS will be sticking with Conan O'Brien's nightly talk-show format, at least for the time being.
Speaking to The Hollywood Reporter, TBS president Kevin Reilly maintains that O'Brien will "continue to have a daily relationship with an audience" and that they currently "have no plans to change the format or frequency" of his show. This follows reports from yesterday claiming Conan would be soon abandoning the nightly format for a weekly one.
Reilly elaborates (sort of), saying that while Conan's show will not be switching styles in the foreseeable future, it still "will shift." He cites the viral success of Conan's recent branded advertising and remote travel segments, making it clear that the host's own brand will still "evolve."
The TBS president eventually makes sure to plainly state that, for now, Conan's nightly routine will remain "business as usual."
Reilly is then asked about a potential nightly expansion of Samantha Bee's TBS talk-show, Full Frontal with Samantha Bee, in the wake of Conan's eventual possible downsizing. He made clear that "Sam has no interest" in such an expansion, and that he's supportive of her wishes despite apparently wanting to see more of her air on the network.