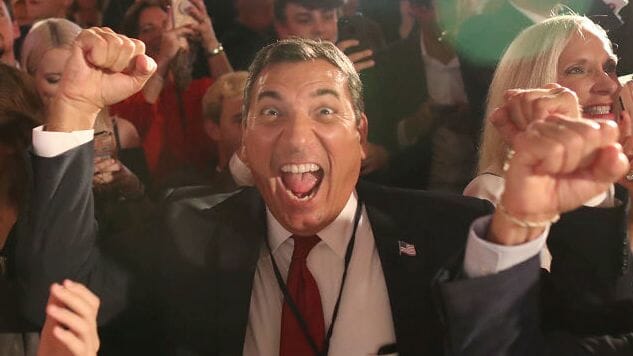 There was an election last night. Who knew?
Okay, lots of people did. This was one of the highest turnout rates in history for a midterm election, and hopefully you were one of the millions who voted. That's what we're supposed to say—that exercising your right to vote is what matters most, even if we'd absolutely hate who you voted for. And look, we're not going to tell you to not vote, even if, uh, we don't like the people you planned on voting for. We would never say that. We might think it, but c'mon, we'd never say it.
We will say that tonight was, at times, exciting and empowering and inspiring, and also always stressful, and, uh, incredibly intoxicating. We mean that last part literally. This might've been a mixed night for democracy, but it was a fantastic night for Red Rock and Old Grand Dad.
It was also an okay night for Twitter. There's never really a good night for Twitter—Twitter is always Twitter and thus always miserable—but if you know where to look and keep a rigorously maintained feed you probably had a solid night yukking it up with the Twitter clucks. Here are some of the good ones from the bad site tonight.
First off, though, a note: We're going to assume you have some familiarity with all the major elections throughout the country. That you know who Kansas gubernatorial candidate Kris Kobach is and about his long war against voting rights. That you're hip to Brian Kemp, the current Secretary of State of Georgia, refusing to give up official oversight over his own race for governor. That you know who Ted Cruz is, and why everybody hates him, and why his handsome and charismatic opponent Beto O'Rourke was beloved by all except a slim majority of Texas voters. Context is key and you gotta keep that in mind, okay?
Tomorrow is only about one thing to me: watching Ted Cruz get humiliated to the point where he cries on national television and all the haunted wasps inside him are so disgusted they finally leave to seek a new husk to call home.

— Sam Grittner (@SamGrittner) November 6, 2018
preemptively depressing myself because whatever good news we get tonight there will still be a double digit percent write in of Harambe

— Churlish (@Cryptoterra) November 6, 2018
The problem with having kids is that it's not a great idea to start weeping or raging in their presence on election night AND they will ask you to explain tariffs.

— Emily Nussbaum (@emilynussbaum) November 6, 2018
Kentucky and Indiana love being the first states to report because they're messy bitches who love drama

— Robert Wheel (@BobbyBigWheel) November 6, 2018
Yo' momma's so old she'll be tragically unable to cope when Republicans slash her Social Security to finance tax cuts for the wealthy.

— George Wallace (@MrGeorgeWallace) November 5, 2018
THREAD: I put my I Voted sticker on the back of my phone and now I can't take a picture of it. And yeah, I know about mirrors but what's the point of telling people "detoV I"? I will try to do better next time. Actually this doesn't need to be a thread. Never mind. Got it in 1.

— Andy "Bring Out The Votes" Daly (@TVsAndyDaly) November 6, 2018
This isn't a surprise album. You could have let us all know about this one earlier. pic.twitter.com/LZbDHKCf2k

— Chris Kelly (@imchriskelly) November 6, 2018
Ok done pic.twitter.com/sqBK8Sgw2I

— Dan Ozzi (@danozzi) November 6, 2018
Gotta say I don't love Brian Kemp's "I Voted" stickers pic.twitter.com/g4lLA3icev

— Jason O. Gilbert (@gilbertjasono) November 6, 2018
tfw you voted yes on Prop 420 ("that diver is a pedophile and my submarine would've worked") pic.twitter.com/uoMRGwNaUC

— pixelated VOTE (to euthanize the Michelin Man) (@pixelatedboat) November 6, 2018
Anyone want to grab a drink at the Twitter @verified Voting Lounge?

— Todd Barry (@toddbarry) November 6, 2018
Apparently no one at CNN has read that classic children's fable, "The Boy Who Cried Key Race Alert."

— Samantha Allen (@SLAwrites) November 6, 2018
Does anyone want to come over and hold my hand tonight. I… can't promise I won't inadvertently break it.

— Louis Pumpkin Peitzman (@LouisPeitzman) November 6, 2018
Everyone is wearing the same sticker as me. So embarrassing!

— Josh Comers (@joshcomers) November 6, 2018
If nothing else, I can tell this is an important election bc all the dogs I follow on instagram are telling me to vote

— Jess Dweck (@TheDweck) November 6, 2018
With 100% of precincts reporting, Steve Harvey projects a loss for the Miller family (D) pic.twitter.com/n4ZdPIicUk

— Jeff Wattenhofer (@jwattenhofer) November 7, 2018
quick someone do a true crime podcast on voter suppression so white people care

— Sophia Benoit (@1followernodad) November 6, 2018
Brian Kemp is doing very well in districts that were allowed to vote.

— Johnny McNulty Wants You To Vote So He Can Shut Up (@JohnnyMcNulty) November 7, 2018
The results tonight give everyone something to be miserable about!

— Robert Wheel (@BobbyBigWheel) November 7, 2018
Look the fuck out. Come January the Senate's gonna have another warm body in a chair! https://t.co/52TnAdIDw7

— Jason Roeder (@jasonroeder) November 7, 2018
Just as he always feared, Kris Kobach was defeated by "voting"

— Johnny McNulty Wants You To Vote So He Can Shut Up (@JohnnyMcNulty) November 7, 2018
Rick Scott just won a US Senate seat and I for one think there should be a law preventing Florida from shipping its toxic waste out of state.

— Marie Connor (@thistallawkgirl) November 7, 2018
Just a reminder to everyone in Texas that Ted Cruz logged on to twitter dot com, a family website, on 9/11's birthday and liked a porno tweet.

— mike mulloy (@fakemikemulloy) November 5, 2018
The fact that they blur female nipples but not Ted Cruz's face is absurd

— Willie Muse (@Williesillie2) November 7, 2018
Imagine Hank Hill saying "Beto O'Rourke"

— alicia camden (@aliciacamden) November 5, 2018
NOT NOW, VARIETY. https://t.co/3l1kWYTv9P

— Tim Carvell (@timcarvell) November 7, 2018
One of the nice things about all this election data is that I can quantitatively track my panic attack in realtime #ElectionNight

— Zack Bornstein (@ZackBornstein) November 7, 2018
Really tough to call out there, as I am getting too drunk to understand the results

— Chase Mitchell (@ChaseMit) November 7, 2018
Polling Place In Predominantly Black Neighborhood Clearly Brick Wall With Door Painted On https://t.co/gD7rtfmTBbpic.twitter.com/ptXbQeaufn

— The Onion (@TheOnion) November 6, 2018
Our dankest and gayest state Colorado is becoming almost dangerously cool https://t.co/wEF32jPdkS

— BUM CHILLUPS (@edsbs) November 7, 2018
No matter how the maps play out tonight, remember millions more Americans want progress over the past, hope over hate. That will shake out over time as young folks come of age and old motherfletchers start wanderin' into traffic and shit. We'll get there. I love y'all.

— George Wallace (@MrGeorgeWallace) November 7, 2018
Once again it was weird to vote in a church that probably thinks I'm demonic scum.

— Let's Vote (@dantelfer) November 7, 2018
i'm so mad we gotta watch t*d cr*z's face melt for another 6 years

— jaboukie young-white (@jaboukie) November 7, 2018
Look, no matter where you stand within the political spectrum on this #ElectionNight, at least you'll walk away from November 6th, 2018 knowing this: You can smoke pot in Michigan and start drinking at 11am on Sundays in Atlanta.

So, there's that.

— Jarrett Bellini (@JarrettBellini) November 7, 2018
what a huge waste of money, time and energy all of this shit is

— BAKOON (@BAKKOOONN) November 7, 2018