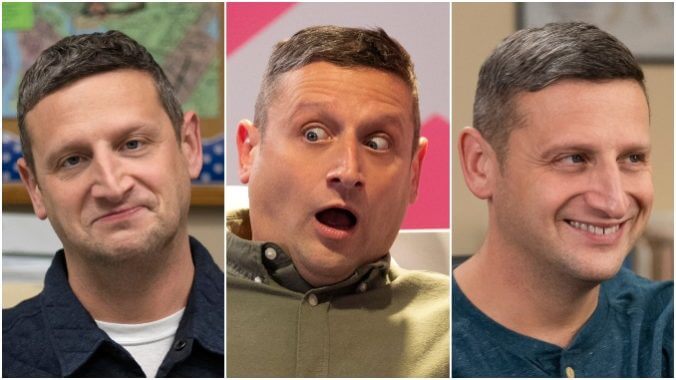 TV's back, baby. You'll finally have a reason to turn the big black rectangle in your living room on again in May, when the third season of I Think You Should Leave with Tim Robinson launches on Netflix. (I guess you can watch it on a phone, too, but it'd be a shame to watch something so majestic on such a tiny screen.) Season 3 will start streaming on Netflix on May 30—a perfect way to cap off the long Memorial Day weekend here in the States. Like the first two seasons, this one will consist of six episodes, with Robinson and cocreator Zach Kanin handling most of the writing.
If you haven't seen I Think You Should Leave before, or somehow haven't looked at any social media app since the show became a meme juggernaut in 2019, you should probably go to Netflix right now and mainline the entire first two seasons. It'll be the best three hours you've spent in some time. It's a brilliant sketch comedy show where sketches routinely start with a recognizable situation or mundane everyday occurrence and then spirals off in increasingly absurd directions. It doesn't have recurring characters or sketches (although sometimes an episode might have a follow-up on an earlier sketch), but a fascination with awkwardness, public embarrassment, and the refusal to ever acknowledge shame or defeat runs throughout the whole series. As Robinson told us in an interview in 2019, "The themes are always quite similar. People not wanting to be publicly embarrassed but also not wanting to admit that they've made a small mistake, and then taking it so far that it becomes a much bigger problem for them. As long as they can win on the small one, or at least in their mind win on the small one." Despite that focus, it never feels too much like cringe comedy; it's so weird, and Robinson's characters are so guileless, that it never hits the notes of cynicism or mean-spiritedness that you might expect from a comedy built around shame and embarrassment.
The first season launched in 2019, immediately finding a receptive audience who knew Robinson from his Comedy Central show Detroiters, his one season on Saturday Night Live, or his earlier work on YouTube. It quickly found a second life on social media, though, with many of its sketches becoming omnipresent memes. If you've ever wondered where the "we're all trying to find the guy who did this" meme came from, here's your answer. (That's Robinson in the hot dog suit.) Season two proved to be just as memeable, and at this point some people are probably excited about season three just as much for the meme potential as for the show itself. Robinson also won an Emmy for season two, and both seasons won the Writers Guild Award for best comedy or variety sketch show. So, you know, the show's not just funny and popular on social media, but prestigious, too.
We don't know much about season three other than that May 30 release date, but based on the first two you can probably expect appearances from Patti Harrison, Sam Richardson, Tim Heidecker, and Conner O'Malley, and an unpredictable list of guest stars that can include SNL cast members, alt-comedy stars, pro wrestlers, and even Golden Globe-winning character actor (and occasional pro wrestling guest star) Paul Walter Hauser. As with previous seasons, season three is produced by The Lonely Island (Akiva Schaffer, Andy Samberg, and Jorma Taccone) and Ali Bell for Party Over Here.
Netflix has released three stills from season three; check 'em out below. Expect wayyyy more on season three here at Paste as the release date grows closer, and until then, feel free to pore over our comprehensive ranking of every I Think You Should Leave sketch.