Comedy Central Cancels The Opposition to Make Way for New Jordan Klepper Show
Photo by Brad Barket
Comedy
News
Jordan Klepper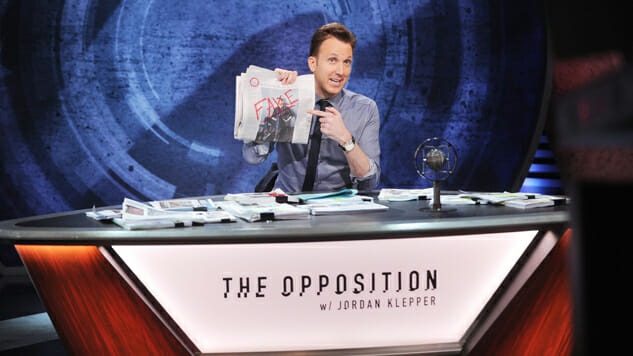 Comedy Central has canceled The Opposition after just one season, but don't plan on saying goodbye to host Jordan Klepper just yet. Though The Opposition, a Colbert Report-esque companion to The Daily Show, is winding down, Klepper will return to the network in the tentatively titled Klepper.
Klepper is slated to be a standalone half-hour show that, according to Deadline, follows "the comedian out in the field, traveling the country and speaking to people." The comedian may also be joined by a team, similar to the citizen journalists who joined him on The Opposition.
The network's decision to cancel The Opposition was in part influenced by this forthcoming new show. "That added into the accelerated pace of the decision but it was mostly driven by excitement about the new show," said Comedy Central president Kent Alterman. The decision also comes following creative hesitation over the direction of The Opposition, which drew criticism for its perceived lack of a specific viewpoint. "The show was anticipating the Steve Bannons and Alex Joneses of the world to be front and center," Alterman continued, "and the truth is, it's really Trump front and center." The executive stated that one of Klepper's greatest strengths was his work in the field, and that Klepper would give him a greater opportunity to exercise those skills.
The host is similarly excited to be moving on to a project that highlights his strengths and allows him to further explore his comedic and journalistic interests. "I definitely miss being out in the field," Klepper told Deadline. "This idea of not speaking though a character but speaking more from my own perspective and commenting on the effect of all that chaotic news cycle has on real America and placing me out in real America; we started to build a show out of that."