Jordan Klepper Promises "A Dash of Paranoia" on New Show The Opposition
Cast photos by Gavin Bond; set photos by Claire Greising
Comedy
Features
Jordan Klepper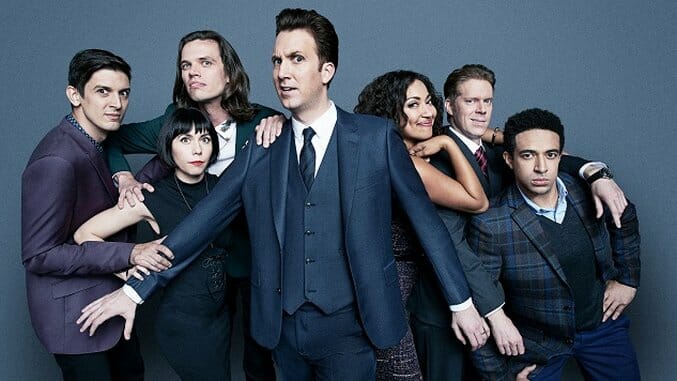 Tonight, Jordan Klepper will take to Comedy Central to embody The Opposition.
The show, a self-proclaimed satire of Alex Jones' Infowars, Megyn Kelly's The Kelly Files and anything you'd see on FOX, will revolve around Klepper's alter ego, as well as a group of "citizen journalists." Klepper explains that The Opposition will be rife with paranoia, conspiracy, and the idea that you can build your own truth and reality. Though Klepper made his name on The Daily Show with Trevor Noah (and Noah is a producer of The Opposition with Jordan Klepper), the care he's given to world-building and creating characters with distinct voices make it clear that this project will be a return to the improv roots he honed while living in Chicago.
The set, which looks like Steve Bannon's inner-sanctum, definitely fits the bill. With glowing brick and a dystopian sleekness, it's clearly Klepper's most nefarious Pinterest boards came to life. One of the more inventive aspects is the "murder board"—a bulletin board covered in bizarre conspiracies. The wall screams out controversially nonsensical phrases, such as, "JFK shot Ted Cruz's Dad", "Obamacare was an inside job", and "The government spends your taxes".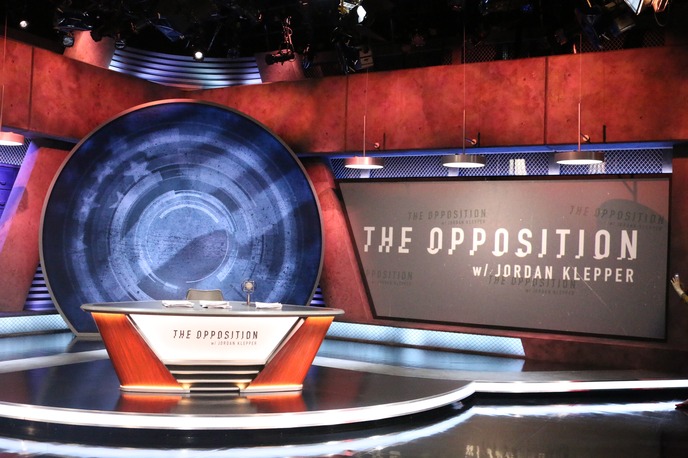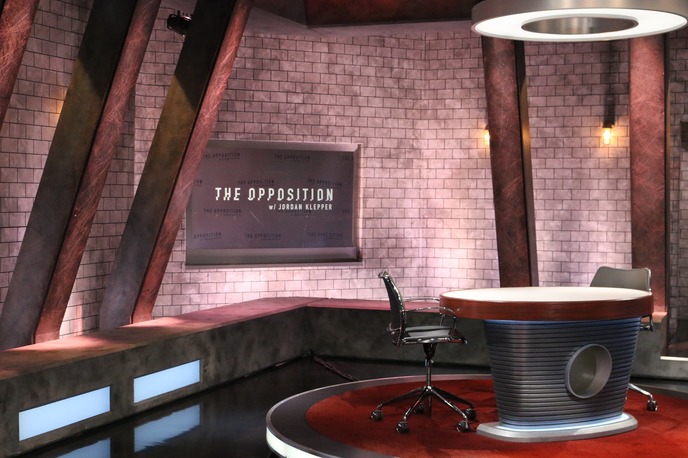 Klepper will join the ranks of Stephen Colbert, Samantha Bee and other Daily Show correspondents who have gone on to front their own projects. So what makes The Opposition stand apart? For one, Klepper's guests will not favor celebrities, but journalists and authors. Those who will be appearing on his show during the first week include Kurt Andersen, the New York Times best-selling author of Fantasyland: How America Went Haywrire: A 500 Year History; Washington Post columnist Ruth Marcus; former Acting Solicitor and Supreme Court lawyer General Neal Katyal; and DeRay Mckesson, Black Lives Matter activist and host of Pod Save the People.
More than anything, what makes Klepper's show different is its inherent risk of completely and totally flopping. While Klepper aims to poke fun at the alt-right craze that has surged throughout the nation, he appears to be unaware of how he's going to find humor without giving these ideas power. During the set reveal, he paraded around his "citizen journalists," including comedic duo Aaron Jackson and Jack Sharp as Milo Yiannopoulos-esque rabble rousers, Nicole Thurman as a self-centered, Second Amendment-loving black woman, and Tim Baltz as his alt-right sidekick. Though Klepper explains that these are their "characters" and the vibe he's creating is a world that he's building, he fails to acknowledge that these beliefs are held by actual people and the universe he's creating is a world that exists—in fact, it's our world. When asked how he would toe the line between comedy and giving fire to dangerous ideas, he seemed unable to give a concise response, ultimately deferring, "That's a day-to-day question we're asking ourselves."
It's clear that America is hurting. Can comedy heal this country? Maybe. Can The Opposition help? Perhaps. Tune in on Comedy Central tonight at 11:30 pm to find out for sure.