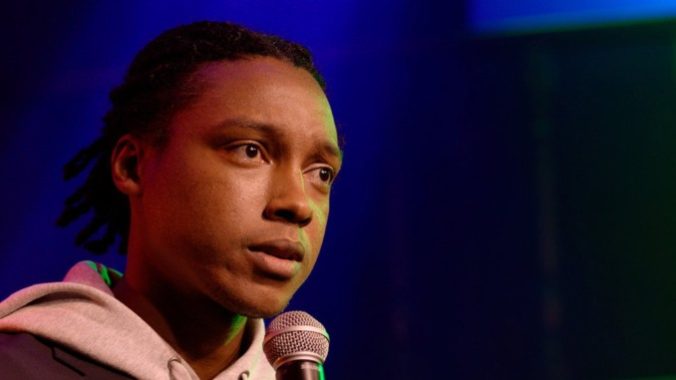 The idea of stand-up being therapeutic—both for the comic sharing their troubles and the audience relating to their experiences—is hardly a new idea. The notion has become more explicit of late, though, thanks to specials like Hannah Gadsby's Nanette that push the definition of comedy and Marc Maron's more recent From Bleak to Dark, where he explains how stand-up has helped him grieve his late partner.
New York-based comedian Josh Johnson goes one step further by not just pulling much of his new Peacock special Up Here Killing Myself from an actual therapy session he had, but intercutting between a black-and-white therapist's office and the vivid color of him performing in front of an audience for the hour. (It's also worth noting that Johnson's latest effort is much more laugh-out-loud funny than either of the previously mentioned examples.) While the concept is creative, for much of the special the abrupt scene changes are just jarring tonally, while not adding much other than a surface-level connection. The back-and-forth between settings finally comes together towards the conclusion of Up Here Killing Myself, with the ending justifying the unconventional structure.
Johnson describes growing up poor with candor and, of course, humor during the first part Up Here Killing Myself. Whether recounting the seamless bag his family's cereal came from or the questionable quality of their local pharmacy, he paints an effective picture. His stories involve people in rough circumstances trying their best—himself included—and he shows an inherent empathy to these individuals. To Johnson, the reason is simple: things that are traumatic can be very, very funny, and so laughter is just part of the healing process.
Up Here Killing Myself establishes Johnson as a naturally gifted storyteller. His turn of phrase is conversational yet inventive, elevating stories that were already funny to begin with. Johnson's physical comedy is the cherry on top, as he dances or leans slyly to sell a moment. And that's not to mention his voices—his affectation as his mother is subtle but distinct—and hilarious facial expressions. Even though occasionally you can tell where a joke of his is going, Johnson is so fun and genial that you're just happy to be along for the ride.
Johnson's also adept at structuring his stand-up, a trait he exploits to the max. He ends the special with a divisive joke after an hour of building up good will and making you laugh. Johnson knows he's won you over and that something controversial will stand out; there's no way you're forgetting his performance any time soon.
Up Here Killing Myself is outright funnier than other comedy specials delving into therapy territory, but Johnson still sprinkles in some emotionally stirring moments of sincerity throughout the hour. He shares truths about gratitude, growing up, and much more that will stick with you after the laughter's faded. Needless to say, Johnson deserves to be big enough that he can afford a security detail.
Up Here Killing Myself is streaming on Peacock.
---
Clare Martin is a cemetery enthusiast and Paste's assistant comedy editor. Go harass her on Twitter @theclaremartin.