Exclusive: Watch the Trailer for LGBTQ Comedy Special OUT on Stage, in Theaters Nationwide Next Month
Images via Fathom Events
Comedy
News
OUT on Stage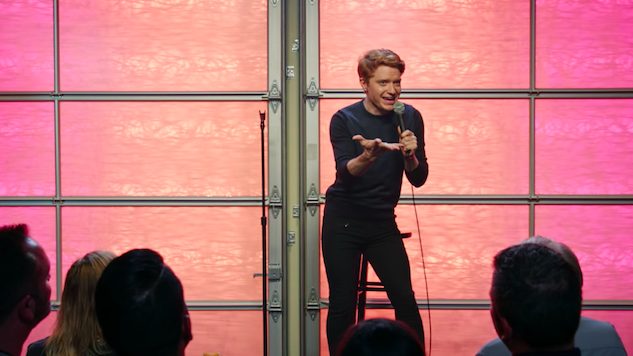 Comedy as a means of expression has always been a space for people to be unapologetically who they are. While this upcoming comedy event is no different, it is one of a kind.
Hosted by Zach Noe Towers, OUT on Stage is a 90-minute stand-up special featuring a lineup of more than 15 LGBTQ comedians, including Brendan Scannel, A.B. Cassidy and Janine Brito.
"OUT on Stage has been a real passion project for me," said comedian and host Towers "What an incredible experience it's been to bring together such a gorgeously funny group of queer comedians. Each and every person featured in the content has such a unique perspective and I'm thrilled that we're being given a platform for those hilarious voices to be heard."
Presented by Fathom Events and Comedy Dynamics with Dekko, the special will screen in more than 250 select theaters nationwide on July 24. Tickets are available through Fathom Events here.
"We at Fathom pride ourselves on consistently serving up diverse content for our viewers, and we're thrilled to be spotlighting such a talented group of LGBTQ+ comedians with OUT on Stage," said Fathom Events Chief Content and Programming Officer Gordon Synn. "It could not be more fitting to announce the upcoming celebration of these comedians during June, National Pride Month! We're certain that every moviegoer will find something to love in OUT on Stage, and that they'll share many laughs with us along the way."
Check out the Paste-exclusive trailer and poster below.