John Enbom and Adam Scott Explain How the Cult Comedy Party Down Came Back From the Cancellation Grave
Screenshot from YouTube/STARZ
Comedy
Features
Party Down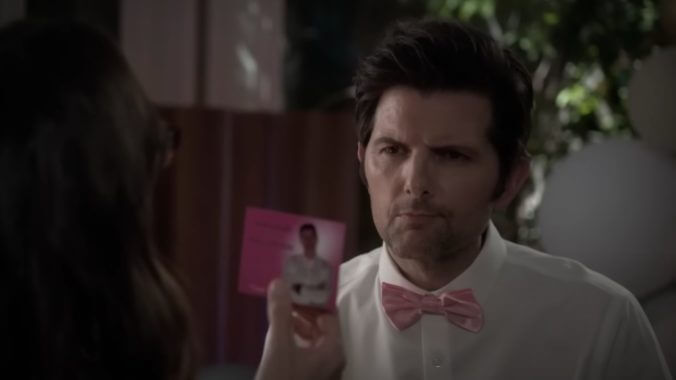 Every month or so, the perennial question of "What canceled TV series should come back?" makes the rounds on Twitter and TikTok, and a recurring response is the late aughts comedy, Party Down. Created by John Enbom (Free Agents), Rob Thomas (Veronica Mars), Dan Etheridge (iZombie), and Paul Rudd for Starz, the single camera series was one of the network's early originals. A critical darling with low ratings, it survived for two seasons and then lived on as one of those cool shows people recommended to their friends.
A sharp satire of the disappointing side of Hollywood, it was essentially a comedy procedural dropping audiences into the "soiree of the week" booked by Party Down Catering which was staffed by a gaggle of aspiring actors, social misfits, and eccentrics. Adam Scott played Henry Pollard, an actor-turned-server whose claim to fame was a beer ad that saddled him with the albatross catchphrase, "Are we having fun yet?" and then impenetrable typecasting. Scott was supported by a murderers' row of comedians including Lizzy Caplain, Ken Marino, Ryan Hansen, Martin Starr, Jane Lynch, Jennifer Coolidge, and Megan Mullally.
With its dry wit and memorable underdogs, Party Down appealed to both showbiz insiders and average viewers because of its infinitely relatable characters of self-sabotagers and the chronically unlucky. Ironically, unlike the show, once the series was canceled in 2010, everyone in the writing team and the cast went off to do incredible things with their careers. But no one really wanted to let it go.
Not long after the cancellation, Adam Scott tells Paste that John Enbom wrote a screenplay for a Party Down movie, but it never got greenlit. "Honestly, my first gut reaction was relief, not because it wasn't going to be good — because John wrote a terrific, really lovely, funny script — but there was something lost," Scott explains. "The guys came up with the perfect hook and device for a television show, which was a different party every week, with new surroundings and a new cast of characters. If it's a movie, yeah, you can do three parties but it's still different. Like, are you gonna go see Kyle's apartment?" he laughs. "Do we even want to ask these questions? Do we want to have to explore all that stuff?" After the movie idea fell apart, Scott says a continuation just died a natural death.
But soon after, Scott started to hear from fans how much they loved Party Down, which came as a bit of a shock.
"When the show was on the air, no one knew what it was and no one said a word about it," he laughs. "But then, like two or three years later, I started getting people that knew the show and it really felt like they were part of a secret society. They had found this thing and wanted to talk about it."
He said it snowballed to the point where it's now mentioned to him just about as often as Parks and Rec, Step Brothers, and his current hit series, Severance. "It's really great because when we made it, we were all assuming no one would ever see it," he says with candor. "People still feel like they discovered it, and there's some ownership there, which is really cool."
The nostalgia for the show peaked in 2019 when Vulture collected the cast and creators for a 10-year reunion panel. Scott remembers something "magic" happened with everyone in the same room together once more. "It was like, 'What are we doing? Why the hell aren't we making some more of these? I feel like if we put our heads together, someone would want to make this? Hopefully, it would be Starz?' And they certainly did, which was great.'"
As it turns out, not long after the reunion, co-creator John Enbom tells Paste that he and Rob Thomas read in the trades that the new head of programming at Starz referenced Party Down as sort of "the one that got away" series in their library. Empowered by that bit of news, Enbom says, "Rob Thomas just called him up and was like, 'Hey, guess what? We know where you can get some more if you want it.'"
Enbom continues, "Miraculously, that led to us talking about it, and them being like, 'Who can we get back?'" That question ended up being extremely complicated because literally everyone in the cast had other show, theater, or film commitments.
"The one thing we had going for us was the fact that our cast, who started out as a scrappy bunch of underdogs, all did pretty well for themselves," he explains. "We hoped that we would be able to figure out a way that we could get that going together again. And then we got to a point where we finally were like, 'Oh, my God, there's actually this little window where almost everyone is free to do it except Lizzy Caplan.'"
In March 2021, Starz formally announced a limited series revival. The original creative team — including Scott who returns this time as an executive producer — had spent the bulk of the pandemic shutdown time developing where the story would go next.
Enbom says, "We never wanted to do a specific revival/reunion type thing. We just wanted to do more. And we wanted to be like, 'Alright, where would everyone be in 12 years? And how do we throw them back together?'" Enbom, Thomas, Etheridge, Rudd, and Scott communed together on weekly Zooms to hash out what the return could be. Scott says, "We'd just throw everything out there. Then after a bunch of these talks, John went away and came up with a great idea and great ideas for each character. And it was about a year after that, we were shooting."
Party Down returns with the former catering team reuniting at the premiere party for Kyle's big dumb superhero movie. Henry is now a teacher, married with kids and content to see his former pals thriving(ish). "I think that with age, you realize some things that used to be really important to you, maybe aren't any more for good reason," Scott muses about his character's new lot in life. "The idea of being a movie star, or a TV star for Henry ended up not bringing anything good to his life. When we find him in Episode 1, he's more than okay with that. He's happy for Kyle and happy to see everybody, but not at all wanting to reenter the show business world at all. He does not regret any decision he's made, as far as pulling himself out of show business. I really like how in the first episode, he keeps saying he's gonna take off, but it's hard to not just stick around and see what happens to all these dumb dumbs."
But circumstances, like the pandemic, force Henry to return to his catering family. And then everything old is new once more as familiar faces, and some new ones like Jennifer Garner's successful producer Evie Adler, become part of the chaos. In fact, Enbom says the only storyline they crafted that had to change from their revival brainstorming was what they had written for Henry and Caplan's Casey Klein. Caplan's project conflict birthed Garner's inclusion in the series, playing a character who connects with Henry and isn't a total mess.
"With this character, and then with Jennifer, specifically, we very much wanted to avoid any kind of attempt to duplicate the Lizzy-ness," Enbom details. "Lizzy is herself, and the way she played the character, and the character, are very specific and unique to her. And their relationship was very unique to that part of the show, so we wanted to go to a different place and address different stuff. That's one of the reasons we were very excited about somebody like Jennifer, who's this very talented actor and was very game to throw herself into this world, but is a very different energy. She was able to play this character who comes from a very different perspective than all of these little, scrappy underdogs. She starts out as a success and goes from there which was something we've never really done before."
With just six episodes ordered, any Party Down future entirely depends on who shows up to watch it. When asked if the door is open for more seasons, Enbom jokes, "I'm going to say it's an ongoing conversation, because I have no idea. Who knows what their calculation was to even do this round? I have to figure if we get one new viewer, then we can do a Season 4, so pull someone off the street!"
---
Tara Bennett is a Los Angeles-based writer covering film, television and pop culture for publications such as SFX Magazine, Total Film, SYFY Wire and more. She's also written books on Sons of Anarchy, Outlander, Fringe, The Story of Marvel Studios and the newly released The Art of Avatar: The Way of Water. You can follow her on Twitter @TaraDBennett or Instagram @TaraDBen
For all the latest TV news, reviews, lists and features, follow @Paste_TV.