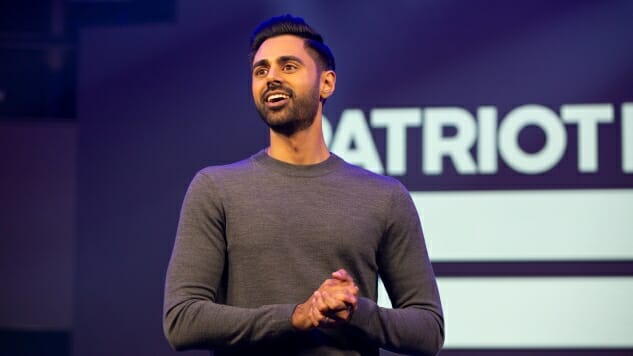 It's been pretty fascinating to watch alumni of The Daily Show spin off in multiple directions over the last few years. As much as people opined that the show would never be the same without Jon Stewart to anchor it, they still have to admit that there were a remarkable amount of genuine stars on his roster the entire time.
One of them, Hasan Minhaj, announced himself as a top stand-up star with his Netflix special Homecoming King, an emotionally resonant special that took full advantage of its own theatricality. Minhaj continues to show off that skill with the second season of Patriot Act, a show that remains Netflix's sole talk show success story.
By that, I mean that Netflix talk shows often are held back by their attempts to model themselves on something that might be found on network TV, with both Joel McHale and Norm MacDonald seeming a little unsure of themselves. Minhaj takes most of his cues from fellow Daily Show alum John Oliver's Last Week Tonight. While the result still has a charming kid-brother feel to it, Minhaj also flexes what separates him from the rest of his class: a distinctly youthful TED Talk energy which he puts to work getting the audience riled up—first during an update on the fallout from that time Netflix caved to Saudi Arabian censorship earlier in the year ("we got Saudi Arabia to issue its very own Muslim ban"), then during a deeper dive into censorship in China.
As the things being censored go from his own show to grassroots feminist movements, Minhaj underlines that his problem with Patriot Act being censored is mostly about the dangerous precedent it sets in terms of how Netflix and other media companies treat vague censorship laws and demands. After all, you have people in China being fired for insulting the president ("that's the only way to get a job in my industry right now," says Minhaj).
The latter half of the episode, which focuses on Liang Xiaowen, a women's rights activist, and China's ongoing attempts to evade and challenge the attempted censorship of the #MeToo movement, is particularly gripping stuff, and starts the season off on a rallying note. It's encouraging to see Minhaj doubling-down on this issue from a new angle, as well as to see a show spotlighting a movement getting little airplay over here. In any case, it's something for other talk shows to aspire to, both on Netflix and traditional TV.
---
Graham Techler is a New York-based writer and comedian. You'd be doing him a real solid by following him on Twitter @gr8h8m_t3chl3r or on Instagram @obvious_new_yorker. A real solid.