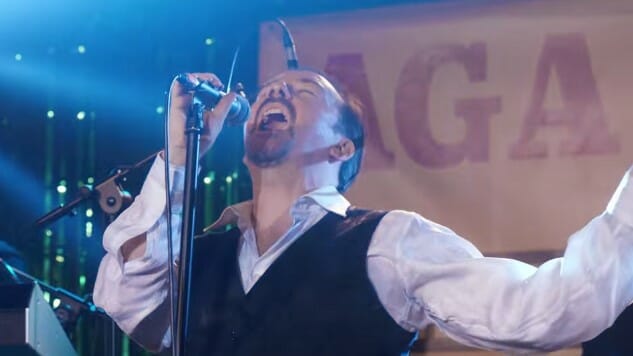 Have you ever wondered what David Brent would look like in a feature film? Well, wonder no more. Netflix has just released a new trailer for the film David Brent: Life on the Road, a new mockumentary based on Ricky Gervais' character from The Office after he decides to become a rock star, or something.
It's the same antics as usual from Gervais' Brent, as he takes the same kind of approach to writing music that he did in office management. For instance, his band, Foregone Conclusion, has an in-house rapper who says, "We're both just trying to make it … but he just has me rapping about a lot of weird shit." Cut to a clip of their performance where the lyrics are, "Black people aren't crazy, fat people aren't lazy and dwarves aren't babies. You can't just pick them up. They've got rights."
So some obvious questions: when is Steve Carrell's Michael Scott getting his own entertainer-gone-rogue movie, and how much are we going to love it?
Check out David Brent: Life on the Road when it comes to Netflix on Feb. 10, but until then, watch the new trailer above.